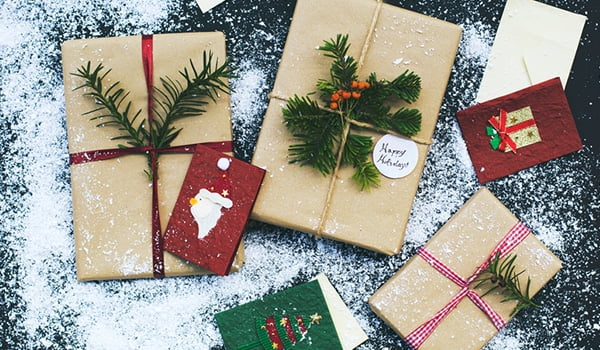 You know it's the holidays when your mailbox is bursting with seasonal greetings and photo cards from loved ones near and far. Don't let these little treasures get lost in the bottom of a drawer: you've got a great opportunity to surround yourself with reminders of family and friends while also creating a festive, wallet-friendly display. Here are four of our favorite DIY tricks for sharing and showing off your holiday cards.
Rule with ribbon
You know and love it as a tree trimming and finishing touch on gifts but you can also use ribbon to make a quick and easy seasonal display.* This setup is super versatile; rearrange or swap out cards in a flash.
Cut a strip of ribbon and secure the top and bottom to a base like a cabinet or the upper frame of a window or door (this only works if you don't need to open and close the door).
Use wide ribbon made from relatively thick fabric; burlap, for example, is sturdier than satin.
Attach clothespins to the ribbon, and add holiday cards to each pin.
Want to get the kids involved? Have them paint and decorate the clothespins to match your holiday theme.
Faux foliage
This modern display is low effort, high impact. All you'll need is a hole-punch, string, a bushel of decorative branches and a vase.
Punch a hole in each holiday card, paying close attention to orientation.
Cut a length of string for each card you want to display; make sure it's long enough to create a loop the card can hang from.
Feed the string through each hole and tie a small knot to create a loop.
Hang the cards on individual branches.
Turn up the festive charm by adding a little tinsel or faux snow to the branches.
Looking for something a bit more traditional? Use a garland instead of decorative branches. Simply attach the cards to garlands you have already hung. For this version, tie the cards directly on to the garland (so don't tie the loops in advance).
It's a wrap!
Many of us have a standard corkboard at home to display report cards, to-do lists and other odds and ends. Here's a quick way to repurpose the display for holiday cards: wrap it!
Choose your favorite wrapping paper or fabric and wrap the board just as you would wrap a gift.
Complete the look with ribbon, mini ornaments and other little touches you would typically add to presents.
Use thumb tacks to mount the cards to the board.
No cork board? No problem! Substitute a foam board to achieve the same effect.
Festive framework
Any DIY enthusiast would agree: there are so many uses for empty frames beyond just photos. And this display idea is one of our favorites. Use a stapler or glue gun, clothespins, twine and a frame (16×20 or larger) to create a beautiful wall decor piece.
Turn the frame over so you are looking at the back of it.
Use tape to attach one end of the twine to one of the top corners of the frame. Pull the twine across the frame at a diagonal and attach it to the opposite side of the frame. Repeat until the twine has criss-crossed the frame all the way to the bottom.
Once you've achieved the overall look, one by one, remove the tape and glue or staple the twine to the frame permanently.
Add clothespins to attach the cards, and you're done.
Want to make it a little more merry? Swap out the twine for Christmas lights and let your display twinkle!
Whichever DIY project you choose, your card display is sure to bring the warmth of family, friends and good fortune to your home this holiday season. For a selection of cards, crafting supplies and holiday decor, visit your local Walmart or Walmart.com.