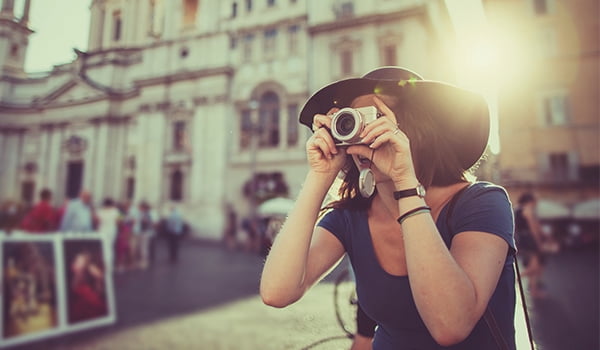 Let's face it: Life is complicated enough without worrying about camera settings, lenses and flash attachments. Instead, just grab a point-and-shoot camera, take the picture and get back to the fun. Capture life's moments quickly and easily while still producing high-quality images that you and yours will treasure for a lifetime. But which one to grab? Let's take a look at a few key features of these handy pocket digital cameras and see which one fits your needs.
On the surface: Size (and weight) matters
Size and weight can make a big difference between a pocket camera that gets used all the time and one that gets left at home. The fewer buttons the better, and of course you'll want them arranged to prevent strenuous finger gymnastics when it comes time to actually use them. Don't overlook practical considerations such the ability to quickly review a photo you've just taken, or how long you'll have to wait for the digital camera to be ready for another shot. A large, bright LCD display is also a must.
Straight shooter: Manual vs. auto
Most point-and-shoot cameras allow switching to manual mode for occasions when you want more control over an image. But since the perfect picture waits for no one, having a point-and-shoot camera that quickly switches to auto mode is your best bet for capturing the moment. With the push of a button, these digital cameras allow you to set the exposure, shutter speed and flash quickly and easily.
Flashy features: Digital photography made easy
Many models offer specialized settings for different environments — a must for families making short work of situations involving kids, pets, sports, fireworks, nighttime and beach settings or even underwater photography. Probably one of the most important features is the continuous shot mode, where the camera keeps shooting until you let the button go. Part of the joy digital photography is that you can take tons of pictures and edit them down to the perfect shot. Movie mode is a nice extra, but check the top-rated cameras to see which cameras have the feature set that suits your needs.
Printer perfect: Share the gift of photography
Digital point-and-shoot cameras are ideal for capturing moments. Whether it's baby's first steps or funny moments at your cousin's wedding, the pictures that you take are worth so much more if you share them. Whether you post them on a photo-sharing site, print them out and frame them or create a quick photo book, sharing these special moments makes a great gift for Mom, Dad, and even distant cousins and old acquaintances. And with the option to touch up images beforehand using software often included for free with new cameras, the right point-and-shoot puts the controls exactly where you want them — in your own hand.
Learn even more about what camera features to consider.