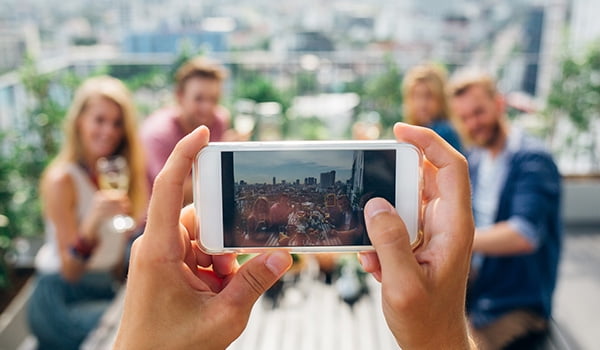 If you've ever snapped a pic with your phone and wished the photo was a bit brighter, sharper, better, you're not alone! While mobile devices take decent photos, the image quality isn't usually perfect straight out of the camera. The good news is, it's easy to make images pop off the screen with the help of one of the many easy and affordable camera apps or photo editing apps that are available online. We'll look at both types of apps and help you choose the one that's right for you.
The basics of photo editing
It's a lot easier than you'd think to vastly improve your images.
The basic areas to focus on manipulating are:
Exposure = the brightness level. Does it need to be lighter or darker?
Saturation = the richness of color. Does the color need to be more intense?
Contrast = the difference between light and dark. Do you need more contrast?
Sharpness = is your image sharp enough, or is it blurry?
We've found 12 of the best editing apps (including many apps with free photo editing software) to help take your smartphone images to the next level.
What to look for in camera apps
Third party camera apps give you more control over the images you take with your mobile device. When choosing an app, look for additional features it offers beyond the native camera app, such as manual controls for exposure and focus, and high dynamic range (HDR).
Camera+. Open this instead of the native camera app to snap better photos on your
smartphone. Advanced controls let you play around with functions such as white balance and shutter speed.  The other part of the app is a photo editor with advanced features to take your photos to the next level.
Platform: iOS (iPhone and iPad)
Price: $2.99 (iPhone), $4.99 (iPad)
Best for: The experienced mobile photographer who wants advanced control over the photos his or her device takes.
VSCOCam. This popular camera and editing app is great for simulating film and being able to adjust things like fade or filter strength. It also lets you import high resolution images and shows you before-and-after comparisons of your edits. The app also features a journal and online community, allowing photographers to showcase their imagery alongside text and engage with other photographers' stories.
Platform: iOS (iPhone and iPad), Android
Price: Free
Best for: The photographers who loves the film look and wants to take, edit and showcase exceptional images on the fly with a community of other modern creatives.
Camera Awesome. The "Awesomize" button is the best bit about this camera and editing app. One click lets you brighten and sharpen an image.
Platform: iOS (iPhone and iPad), Android
Price: Free
Best for: A beginner who wants one button to improve their images.
Photo editing apps
Photo editing apps should be easy to use, have an intuitive interface and not degrade the quality of your photos. The best smartphone editing apps include filters and manual controls that let you do things like adjust the filter strength and edit more than just saturation and contrast.
Fotor. Edit, collage and share images with this easy-to-use app. Fotor has the world's first "focus" feature,
allowing users to select a focal point in the image and move the slider to emulate changing the focal length on a dSLR.
Platform: iOS (iPhone) and Android
Price: Free
Best for: dSLR users who want similar control over their mobile device.
Facetune. Remove unwanted wrinkles, freckles and blemishes in a flash. This powerful photo editor lets you make subtle changes to skin tone, hide bags under eyes and even reshape facial features.
Platform: iOS (iPhone and iPad)
Price: $0.99
Best for: Photographers who want to be able to retouch skin tones on the fly.
Snapseed. A popular app with all the basic tools you need to retouch your photos, with the additional ability to adjust perspective (meaning you can put a different part of the image in focus).
Platform: iOS (iPhone and iPad) and Android
Price: Free
Best for: The photographer who wants to push themselves past the basic editing tools.
Afterlight. A snappy app that allows for fast, straightforward photo editing.
Platform: iOS (iPhone and iPad) and Android
Price: $1.29 (iPhone), $0.99 (Android)
Best for: Beginners to photo editing who want an easy-to-use editing app with lots of bells and whistles.
What to look for in collage and text apps
After you've mastered the basics of photo editing, try your hand at arranging photos in a collage or layering fun words on top of images. A good photo collage maker and text overlay app will be easy to navigate, with multiple options to customize your images creatively.
PicLab HD Create inspiring images with PicLab HD. The app has full editing features and filters, plus typography you can add on top to create inspiring images.
Platform: iOS (iPhone and iPad), Android
Price: $1.99 (iOS), free (Android)
Best for: People looking for fuss-free text overlay and editing all in one app.
Path On. Add text to images by drawing the path you'd like the words to take and then typing in the message to follow the path. Play with custom options like font, letter spacing and alignment to create a fun meme.
Platform: iOS (iPhone and iPad)
Price: $1.99
Best for: Creative image makers who want to wrap text around elements in their photos.
Frametastic. Select frames to create a collage of images. One of the best apps in terms of frame offerings, it also lets you create a video montage of the images in your finished frame to save or share.
Platform: iOS (iPhone and iPad)
Price: Free
Best for: Photographers who want a good range of frames and collage options.
Layout. If you like Instagram, check out the collage app they created. After adding your pictures, you can
move beyond the basic photo layout to flip and rotate images to create cool arrangements and mirror effects. A nice bonus feature is the Photo Booth. Tapping it starts the countdown to capture multiple images in a row that are instantly added to a layout.
Platform: iOS (iPhone) and Android
Price: Free
Best for: Simple, elegant collages, with seamless Instagram integration.
Once you've fine-tuned your images and shared them on the web, take the next big step and get them printed. From Instagram-style square prints to canvas wall art, the caliber of mobile photography has made it possible to turn your gorgeous snapshots into long lasting memories in minutes.