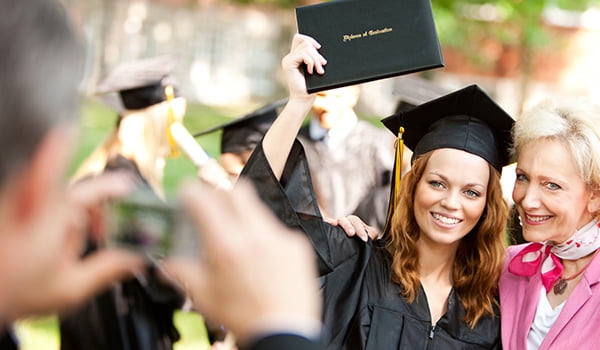 Finishing school is a huge milestone. After years of hard work, it's time to honor your child's high school or college graduation with a big celebration and graduation gifts. We've saved you the added expense of paying for pictures of the special day with these easy graduation photography ideas. The eight tips below will help you capture this once-in-a-lifetime day like a pro.
1. Select your camera lenses
A general mid-size zoom lens is flexible enough to capture the ceremony and also the before-and-after shots. Since seating for families is usually at the back of the ceremony, far from the action, now is the time to put your long zoom lens to use, if you have one. For example, a 70-200mm or 200-300mm lens is great for capturing graduation pictures from a distance. If you have a portrait lens (like an 85mm) in your kit, you can use it to capture posed and candid shots before and after the ceremony.
2. Consider the lighting
If the graduation is indoors, the lighting situation is likely to be on the poor side. Be prepared to shoot inside and also outside, where bright sunlight will create a different kind of lighting challenge. For indoor shots, remember that the range of a flash is generally only 10 to 15 feet, so get in closer or change your camera settings to compensate. When shooting outdoors, find a shady spot to avoid harsh sunlight on people's faces — the culprit responsible for those pesky raccoon eyes and dark undercircles — or sun shining into their eyes, causing them to squint.
3. Bring a tripod
Check beforehand if you will be allowed to set up a tripod at the ceremony. Tripods are the perfect way to ensure your images don't suffer from the shaky hand movement that comes from handheld shots in low light. Tripods also make it super easy for you to jump into the shot with the whole family.
4. Prepare your gear
Before the day of graduation, charge your camera battery and clear your memory cards. If you're bringing an off-camera flash, make sure you have fresh batteries for it. Bring a spare camera battery and extra memory cards if you have them, too. It's always better to be over prepared than miss a big moment on a day like this.
5. Arrive early
You're not the only person who is going to want to get the perfect senior picture of your child. Stake out a spot at the ceremony for your tripod, and find a good seat. If you're not bringing a tripod, try to get a seat close to the action and on an aisle, so you can easily pop out from your seat to snap a photo without getting the backs of people's heads in it. Arrange yourself or your tripod in a spot where you can photograph your graduate's face, not back, when she receives her award.
6. Graduation portraits
Before the ceremony starts, remember to snap the perfect senior portrait while your grad is looking fresh in his graduation cap and gown. Let the graduate know you'd like to take this shot in advance so he can make time for it.
7. Nail the ceremony picture
Before the ceremony begins, double check all the settings on your camera. This is the big moment, and there's no do-over if it doesn't work out. Take a few practice shots of other graduates before your child gets up, and look at the images in the back of the camera to ensure that you are capturing the images sharply. Get in position a few numbers before your own graduate, in case the program changes at all.
8. After the ceremony
Now is the time to use a portrait lens to capture some candid photos of your child with her friends and teachers, laughing and chatting. When people start grouping together and posing, switch to a longer lens, take a few steps back and zoom in. Move the groups of people around between setting up shots to change the background. After you've captured images of your graduate with all the people who are important to her, get a photo with the graduate and yourself, either by setting up the camera on a tripod, or handing it off to someone else to take it for you.
Your graduate has worked hard to get to this day. He or she deserves to remember it with top-notch photos — and so do you.