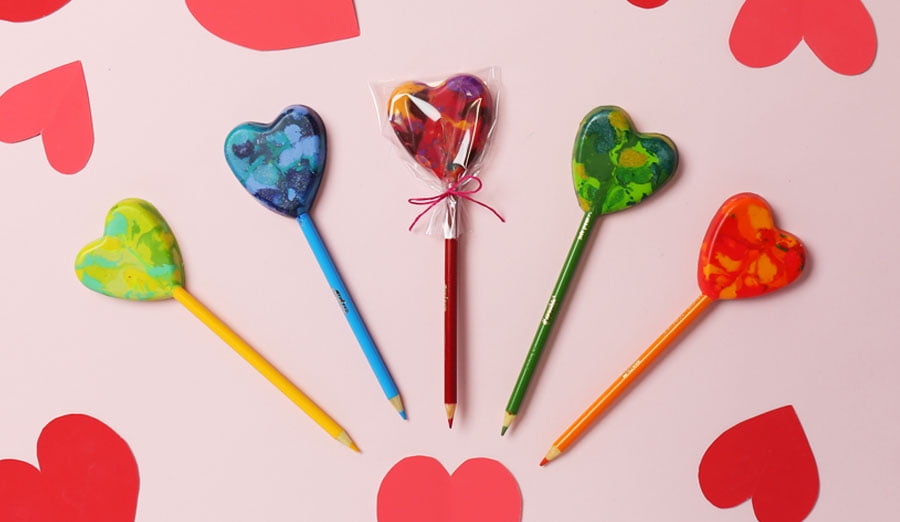 There are so many fun ideas for melted crayons, but we think there's room for at least one more. Especially if it's as fun, cute and functional as this melted crayon and colored pencil drawing "lollipop." Perfect as a craft to do with kids or to give as a gift for the budding artist in the family. 
This heart lollipop pencil is a great way to use up leftover pieces of crayon or a great excuse to buy a big new set of crayons (maybe one that includes metallics, glitter and neon!) and start cutting up fresh crayons for a palette that is a truly custom creation. 
Warning: Do not eat! 
More than a few adults have seen these and thought they were edible, so if you suspect someone (yes, even a grown-up) might go in for a bite or a lick, make sure to tell them before snack time that this lolly is made for drawing, coloring and writing—not for eating. 
Grab those crayons and let's get crafting! 
Project supplies
Hover & click to shop the supplies we used to create this colored pencil & melted crayon heart lollipop.
Crayons (about 5 per baking cup)
Scissors or knife
Instructions
Step 1. Preheat oven to 200 degrees F. 
Step 2. Find the lowest point on the tip of the silicone heart baking cup and mark the point with a felt pen. 
Note: The lower you can punch the hole, the better. A lower hole means you won't have to add a lot of crayons to cover the pencil. The more crayons you have to add the heavier the heart will be and that will make it somewhat difficult to use the pencil because it will feel top heavy.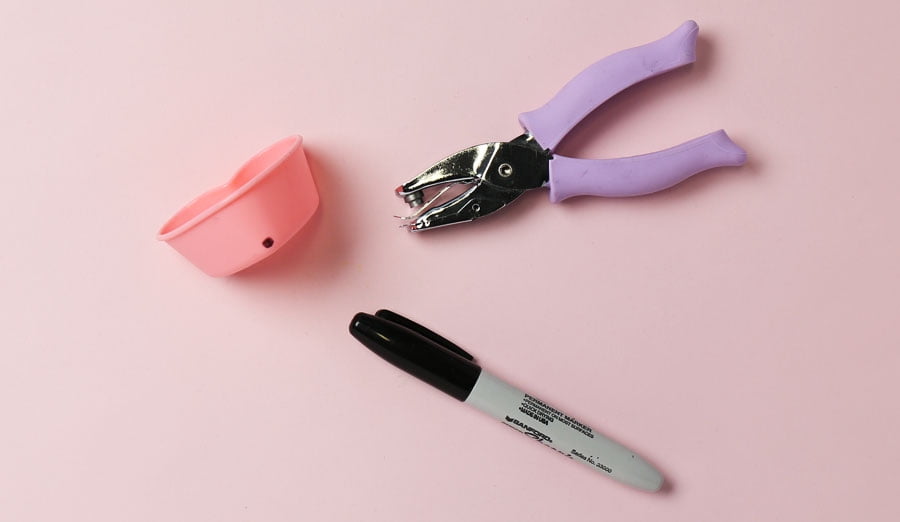 Step 3. Using a 1/4″ hole punch, punch a hole at the mark you just made.
Step 4. Insert a colored pencil into hole so that the blunt end of the pencil is about 3/4 of the way into the cup or about 1-1/2" into the mold.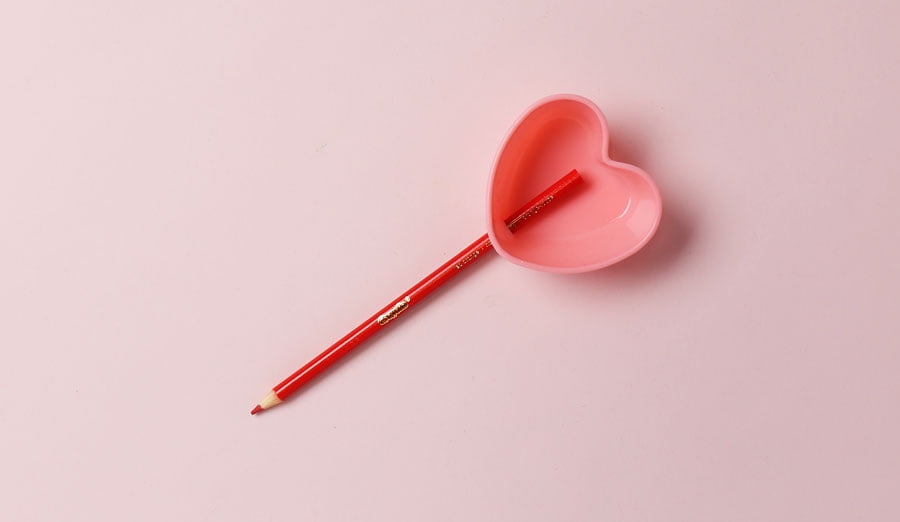 Step 5. Cut or break crayons into pea size pieces or smaller. You'll need about 5 full crayons' worth of crayon pieces.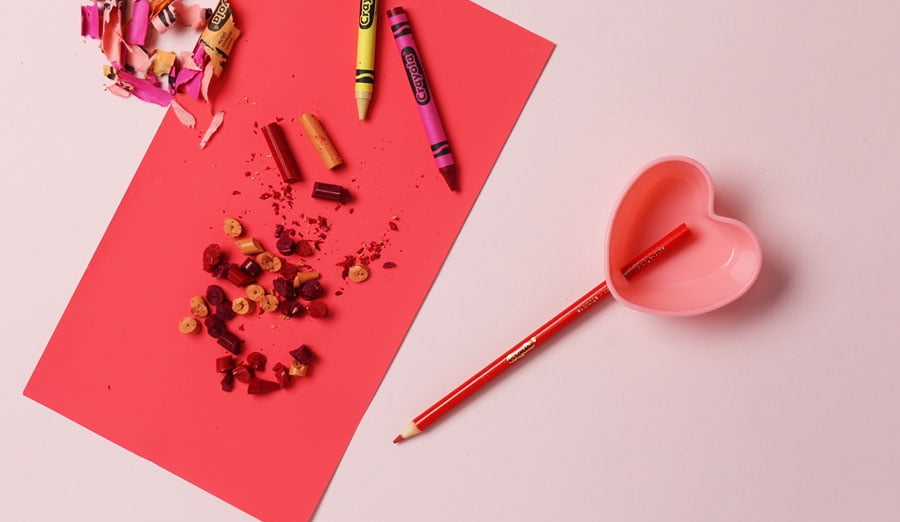 Step 6. Fill cup with crayons about 1/3 full so that the crayon pieces cover the pencil. As you're doing this make sure your pencil stays flat and isn't tilted at an angle.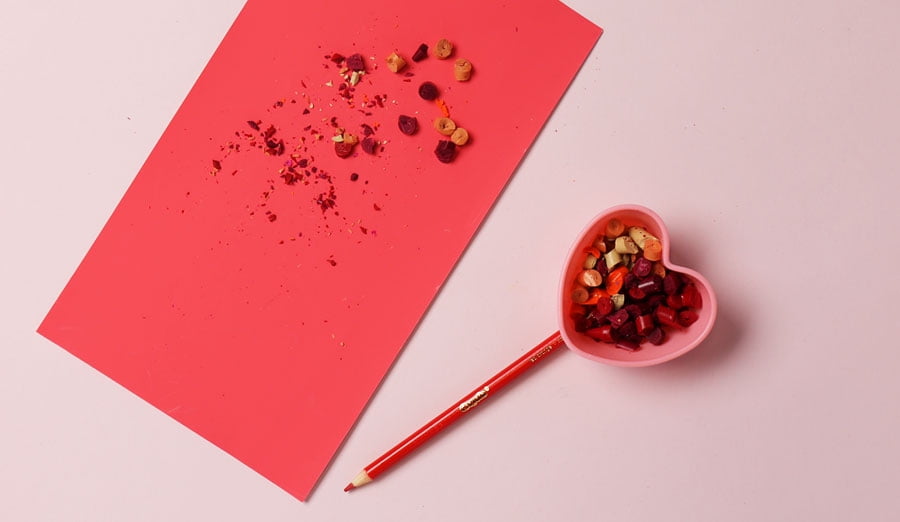 Step 7. Gently place cup onto cookie sheet and place into oven. Bake for 10–15 minutes or until the crayons are completely melted.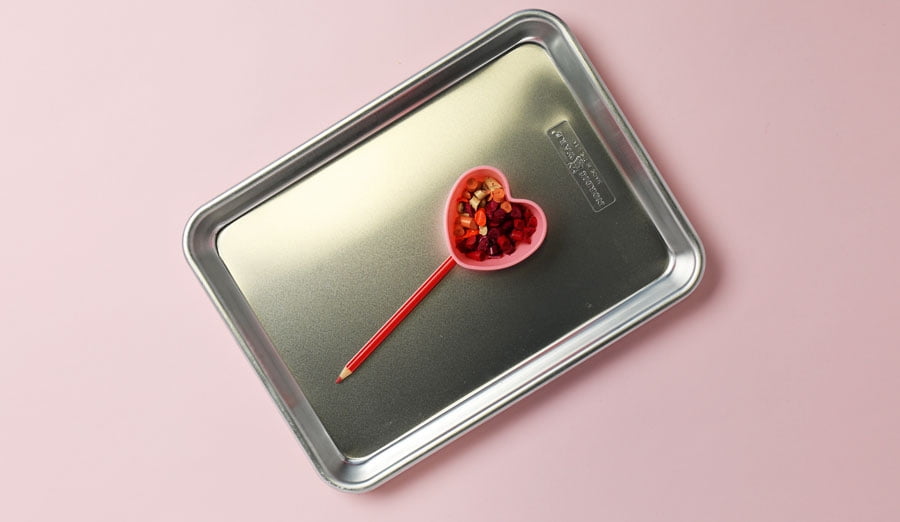 Step 8. Remove from oven to let cool. Then let the crayons cool and harden, at least an hour. 
Note: If your pencil has shifted and is poking out of the melted crayons, you can straighten it after it comes out of the oven but be very gentle and do it within the first few minutes out of the oven.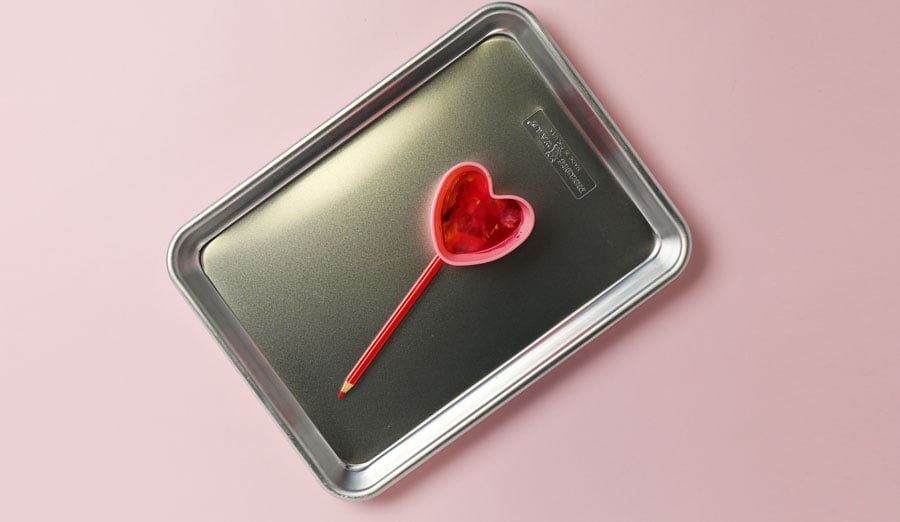 Step 9. Remove crayon "lollipop" from the mold. You'll need to turn the silicon mold inside out and then pull the pencil out through the interior side of the hole.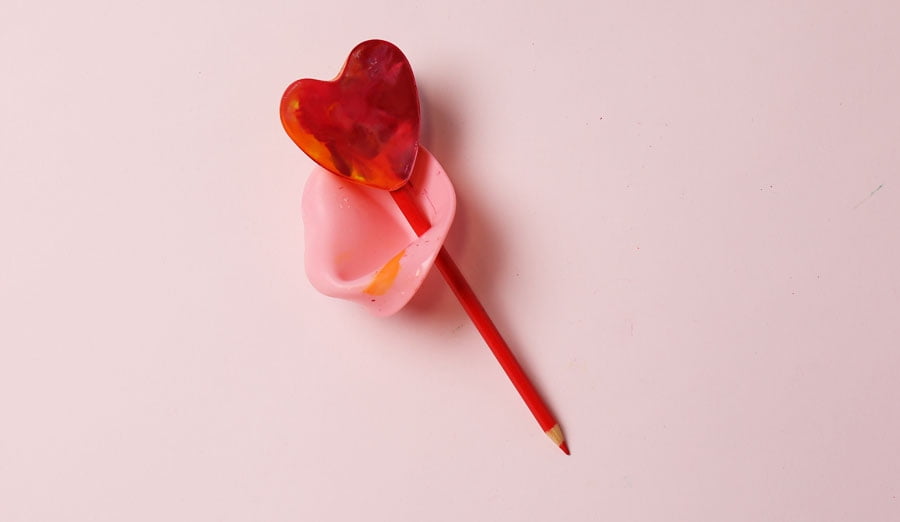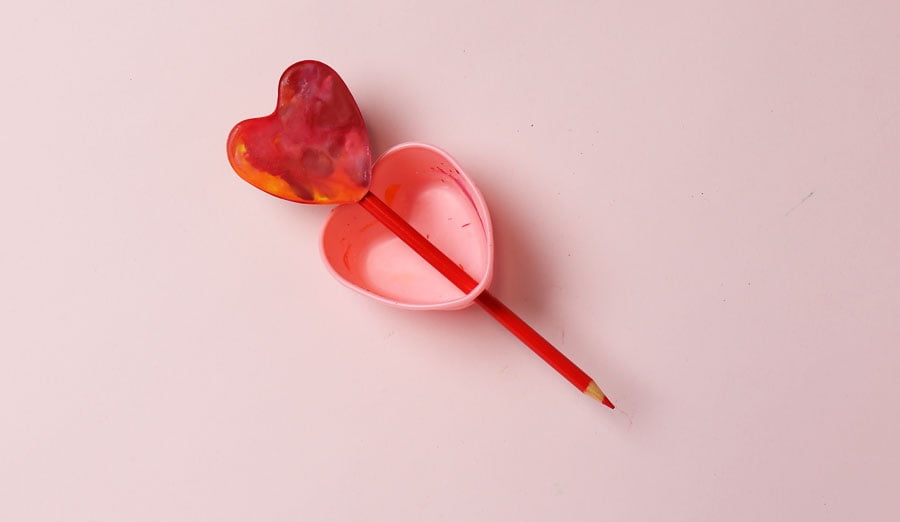 Step 10. For a fun gift, wrap like a lollipop by placing the crayon heart into a small cellophane treat bag and tying with a bow.