Any beach day can be even more fun with a beach scavenger hunt. Whether it's kids or adults, looking for items on the beach is a great way to learn about beach life and pay attention to our natural surroundings. 
If you're not familiar with the idea of a beach scavenger hunt, the idea is to create a checklist of items you would normally find on a beach (this would work for salt water or fresh water). Then throughout the day or for an hour, find and take note of the things you've found and mark them down. The goal is to see how many things you can find on the checklist. (And if you want to make it a little more challenging, who can find them first!)
A common way to administer a scavenger hunt is for someone to make paper printouts. But who wants to deal with soggy paper or a printout that you have to run after if the wind blows?  
Instead, we offer you this double-function scavenger hunt checklist/beach towel craft idea that's made with fabric markers (so that your design won't bleed) and a Turkish pestemal-style towel (flatter weave, not terry cloth, and a lot easier to draw on). This DIY towel lets you leave the paper at home, have a great scavenger hunt, and use the towel like a normal towel at the beach (before or after your scavenger hunt is done).  
Pretty cool for a warm day! So let's get crafting. 
Project supplies
Hover & click to shop scavenger hunt beach towel supplies.
Instructions
Towel how-to
Step 1. Wash & dry towel. 
Step 2. Download & print out the 9 templates for starfish, seashells, sea glass, sand dollar, sand castle, kelp, feather, driftwood, & beach ball. 
Step 3. Cut out shapes from templates.
Step 4. Arrange & place the templates on the towel in an arrangement that feels balanced (or follow our example using the full towel image at the end of the article). Make sure to leave room for the text labels.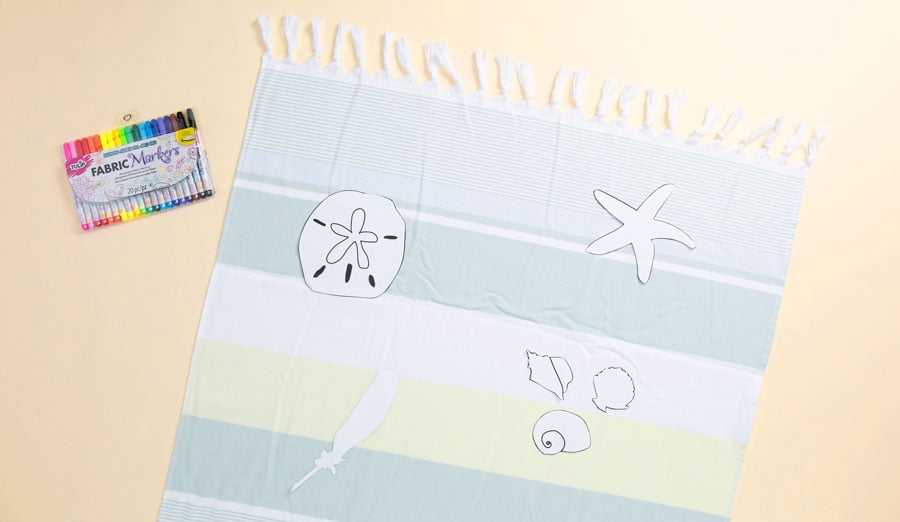 Step 5. Starting from top to bottom, outline the shapes with a black fabric marker, & use the templates to mark any important lines. If working with younger kids, the outlining part might be better for an adult to do.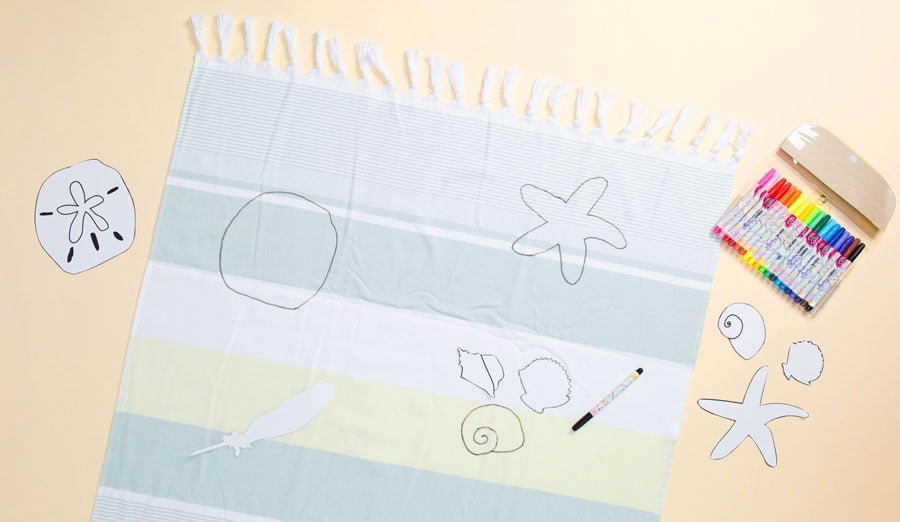 Step 6. Fill in the shapes with color! This is just like coloring in a coloring book. Don't be afraid to use bright colors or layer colors on top of other colors to create cool effects. Let the kids help with this part too!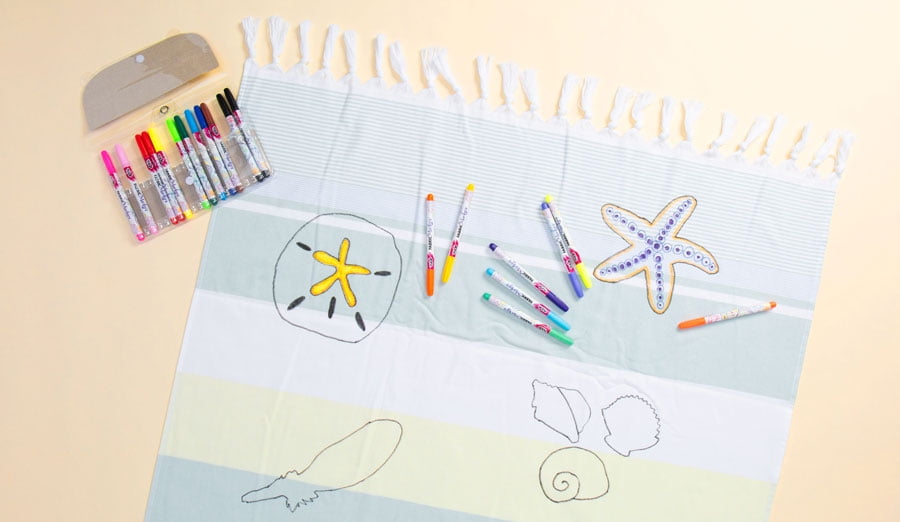 Step 7. Write labels next to the drawings using the black fabric markers. If you're worried about this part, it's okay, just go slow! The great thing about a striped beach towel is that the stripes can help you write straight. Use a stripe as your guide and you'll be fine!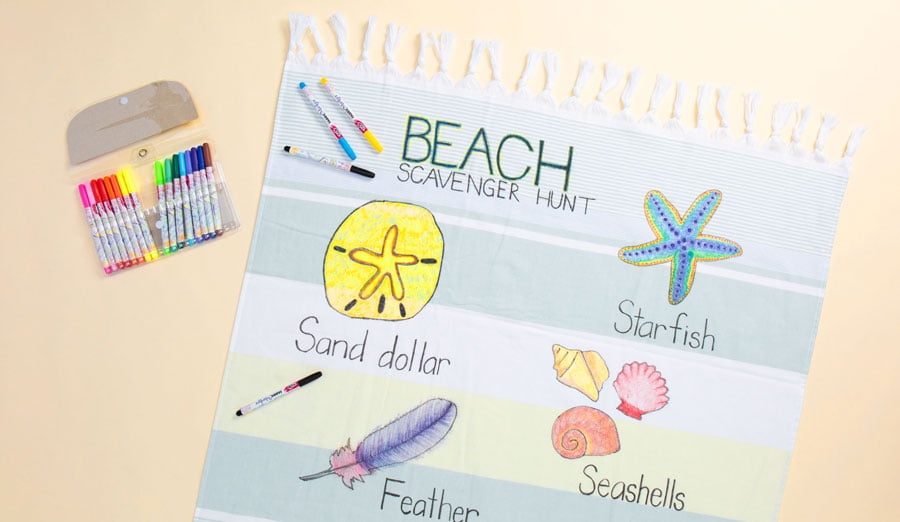 Colored bead marker how-to
To make this scavenger hunt a multi-person activity, use color-coded markers to keep track of what each person has found. Make 9 markers for each person: everyone gets their own color. This simple bead "bracelet" style allows adults & kids to put the markers on their wrist while looking for all the scavenger hunt items. 
Step 8. Take 9 beads, & using the fabric marker, draw a line around the bead.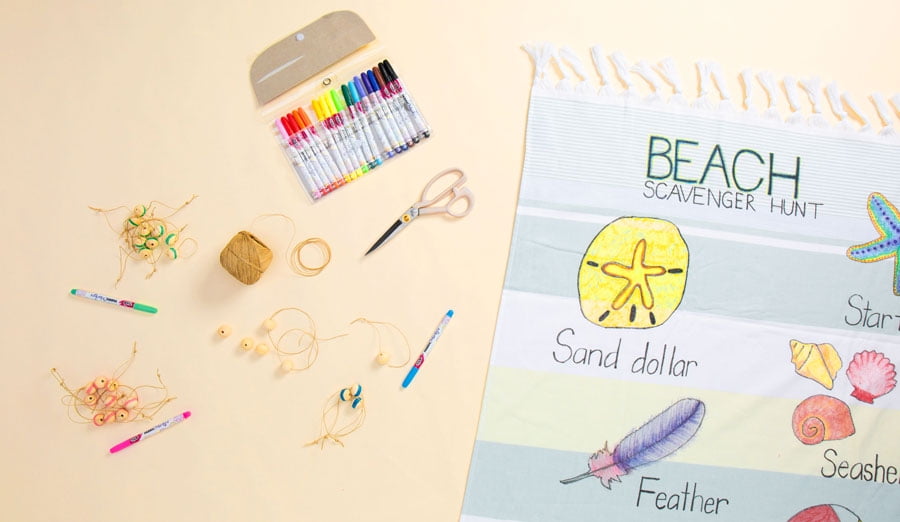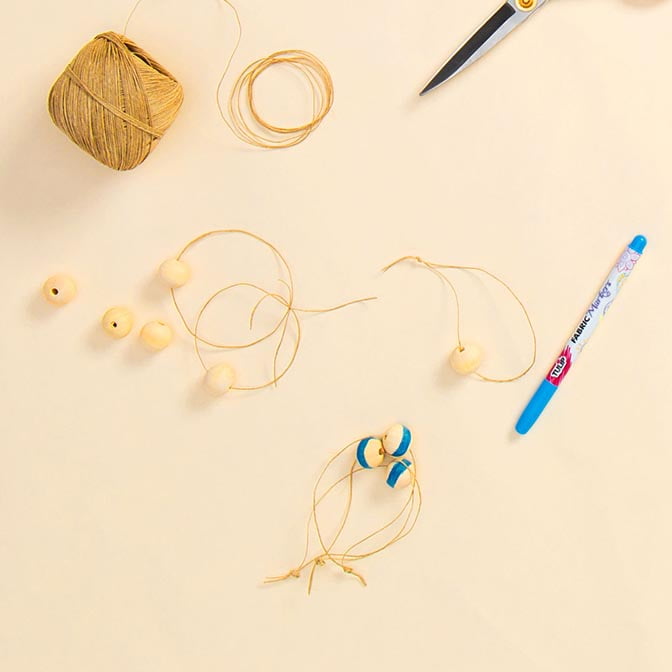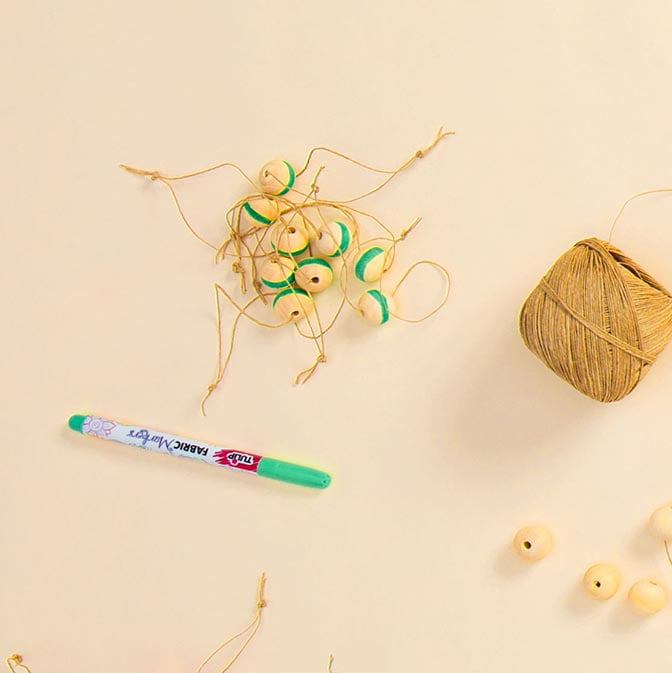 Step 9. Take a length of cord (about 12 inches or so) & string a bead onto it. Tie the ends. Everyone can have their own color of marker to place on the scavenger hunt checklist when they've found that item on the beach. 
Step 10. Go to the beach—& have a great scavenger hunt!