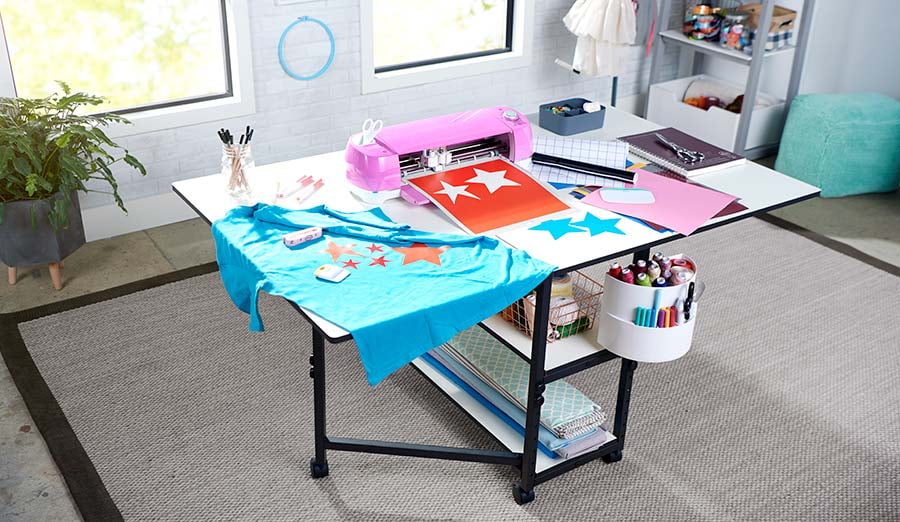 It's every crafter's dream to have a room entirely dedicated to their favorite hobby. Picture it: space to spread out, all your supplies organized and in view (not tucked under a bed or crammed in the closet) and not having to migrate your supplies from the kitchen table—especially when you're in the middle of a project. It's living the crafting dream!
This dream may seem out of reach, but it's not. If you're an empty nester or have a guestroom that's not used all the time, you can make an amazing craft room with a few key pieces. Don't have a dedicated room? That's okay too! Most of these ideas can also be used to organize a partial space, like a corner of an existing room or a small utility space or closet.
A great work table
The focal point of a great craft room is the crafting table. Most crafts require both a prep area and a making area. (For instance, in sewing you'll have an area where you cut fabric or iron and an area where you sew.) A multi-functional table in your craft room that can accommodate both the prep and make portions of the craft is an essential in the perfect craft room. 
Key features of a great work table
Because craft tables are key pieces of furniture (and they're generally pretty big), you'll want to maximize that space as much as you can. Look for tables that include:
Built-in storage. Having an area within the table to house your go-to tools will save you space on the tabletop as well as space in your storage area. 
Expandable. A table that folds up into a smaller size is great for times when you're not actively working on a project. Alternatively, a table that expands gives you room for those extra large projects. 
Room for friends. Whether it's a quilting bee or scrapbooking party, sometimes you may want to have a visitor or two. A table with room for crafting buddies is a great feature if you have room for it. 
Die-cut machine: a tool with many uses
In the last few years the next generation of die-cut machines has moved beyond just paper crafting circles. Die-cutting machines now support cutting of craft mediums like fabric, vinyl, iron-ons, mat board, leather and even balsa wood. It's safe to say that this easy-to-use tool isn't just for scrapbookers anymore. 
Consider the possibilities of this tool. Even if your medium isn't something that needs precise cuts, there may be adjacent work that could benefit from a die-cut machine such as:
Mat for drawing & watercolor
Pattern pieces for sewers
Fabric appliques
DIY business cards
Iron-on labels for home sewn clothes or quilts
Labeling drawers with vinyl decals
Negative cuts for stenciling
Storage & organization
Set up your storage space with clearly organized areas in a way that inspires your creativity. Whatever tool of organization you use, be it shelves, tubs, peg boards, wall mounted baskets or clear plastic bins, a key to keeping things in their place is to know what goes where. Label what you can, in a way that makes sense to you. 
Inspiration can come from anywhere but for creative types it's often the materials that inspire us. One key element of being inspired by materials is being able to see them and knowing where to find them. Right? You're likely not going to come up with a great use for say, glitter iron-on, or the perfect floral stamp if you forgot you had it because it's tucked out of sight in a box somewhere.
Keep those things you use all the time near your main workspace. 
Inspiration
Last but certainly not least, don't forget the inspiration. Make sure to find areas in your craft room to decorate with things that inspire you. Consider making a mood board using a painted cork board or a ribbon board. Or hang calligraphy of words by your favorite writer. And of course, showcase some of your favorite crafts.  
Get crafting
The key to making the perfect craft room is to make it functional but also to create a space that's inspiring and fun to work in.