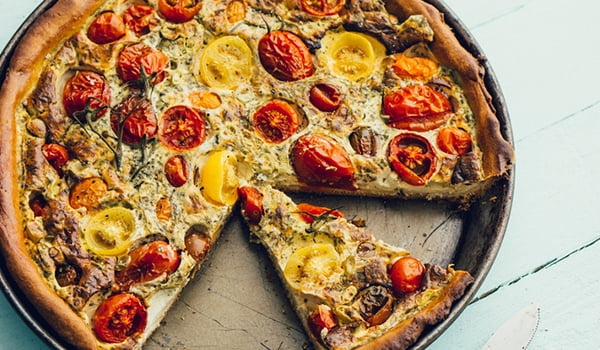 When you think of pie, you (along with lots of other folks!) may think of the sweet varieties that are served for dessert. If that's the case, you're missing out! It's worth getting to know the savory pie, which includes classics like Chicken Pot Pie, Shepherd's Pie and spanakopita. We'll look at four simple and delicious savory pie types and fillings, as well as tricks for getting it right. The hard part? Deciding which one is your new favorite.
Savory pies, in short
Generally speaking, a savory pie is a flaky crust filled with delicious main-dish ingredients. It's not complicated, either. All you need is a crust (often pre-made) and a delicious filling: any combination of meat and/or vegetables, sauce and cheese. Easy to make and enjoyable for omnivores and vegetarians alike, savory pies are a warm, comforting and hearty way to welcome fall and winter, and perfect for anything from weeknight dinners to potlucks.
Crusts you can count on
Any great pie starts with a great crust, and that's true whether your savory pie will be open-faced or be finished with a top or lattice crust. If you are making your crust from scratch, it's perfectly fine to use your favorite pie dough recipe, just eliminate any sugar for a more savory crust. An addition of whole wheat flour works especially well with hearty savory pie ingredients, in a ratio of 1:1. Short on time or crust-making experience?
Here are some ideas for pre-made savory crusts.
Canned biscuit or crescent roll dough. Just roll out as large as you need it.
Pre-made pizza dough. Great for pizza-type fillings, and comes in white or whole wheat.
Packaged, precooked polenta. Slice and line your pie pan with the slices.
Packaged fillo dough. Filo is typically used for spanakopita is but it's also great for vegetarian pies.
Traditional pre-made pie crust. Look for crusts that are lower in sugar to keep things savory.
Types of pies & filling options
Breakfast pies. Breakfast is a great way to introduce savory pie into your life. You can make one on the weekend, bake, cool and slice, freeze and then reheat slices as needed. Or if you're entertaining for brunch, one pie serves a crowd. Egg-based (after all, it's breakfast!) varieties are endless. One-half cup of milk to one large egg is an ideal ratio for creamy, fluffy egg-based breakfast pies.
Classic quiche. Egg custard favorite. Make with ham and cheese or vegetarian, topped with tomatoes.
Pork and greens. Bacon, cheese and chopped, sauteed greens in fillo dough.
Meat pies. Meat pies are a hearty, complete meal and because there is a starchy element built in, there is no need to serve sauce on the side. The idea behind this type of pie is to have a saucy meat that is generally either topped with pie crust or the bottom is pie crust. Why is that? Because these pies are moist, you want to make sure all the sauce isn't absorbed by the pastry, so one crust is usually enough. Sauces can be either creamy or tomato based.
Hamburger pie. Crescent rolls form the top and bottom "buns" that are filled with ground beef and shredded cheese.
Easy crescent taco bake. Ground beef, cheese, salsa and seasoning unite in this easy-to-assemble main dish.
Veggie pies. Vegetable-based pies are a delicious way to get a lot of the good stuff into your family. You can stick to a classically vegetarian pie recipe, such as spanakopita or you can make a typically meat-based recipe (such as pot pie) into a veggie pie simply by substituting tofu or tempeh for the meat protein, and vegetable stock for the meat stock. Another great way to get more protein into a veggie pie is to use eggs, either to bind your ingredients or as the main event. Veggie pies are a good choice for potlucks where some guests may be vegetarian.
Greek spinach pie. Try an easy version of the Greek spanikopita by adding spinach, feta cheese and fresh herbs to a basic egg filling, then topping with halved cherry tomatoes.
Vegetarian shepherd's pie. Add tempeh or tofu to the standard peas, carrots and gravy for extra protein.
Hand pies. Basically small turnovers, hand pies are cute, warm, portable bundles of goodness. While a bit more labor intensive to make, hand pies make up for it in the cute-and-portable department. Perfect for making ahead and freezing, hand pies are also great for kids, who love easy-to-hold foods.
Chicken and veggie hand pies. Chicken and fresh vegetables together with cream cheese make these the hand pies that everyone will love.
Cheesy chicken empanadas. Shredded chicken, chipotle-flavored mayo, melty cheese and fresh cilantro taste even better when tucked into pockets of empanada deliciousness.
Tips & tricks
Get a crisp crust. Pre-bake the crust to ensure a crisp bottom.
Keep it moist. Use a moistening/binding ingredient such as cheese or canned soup, but make sure the filling is not too wet.
Ensure perfect texture. Make slits in the top crust to allow steam to escape while baking.
Pre-cook meat ingredients. Cook meat thoroughly before adding to filling mixture.
Partially cook vegetable ingredients. Do this unless the recipe calls for them to be fully cooked.
Make single servings. Hand pies are a grab-and-go option that kids love.
Stock the freezer. Fully cooked hand pies are especially good for freezing.
Now that you have the basics of savory pie making down, try experimenting with flavors and ingredients you love.