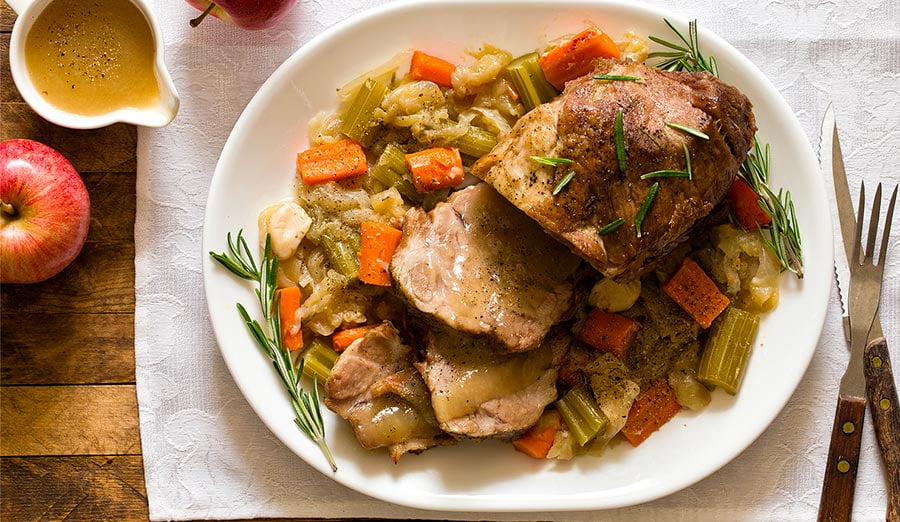 As the weather cools down for fall, it's time to start thinking about your favorite comfort foods. A hearty pork roast with carrots, celery, apples and rosemary certainly comes to mind, but usually that meal is reserved for Sunday dinner because of the long cooking time. Now, thanks to the Instant Pot Pressure Cooker, you can make pork roast in half the time.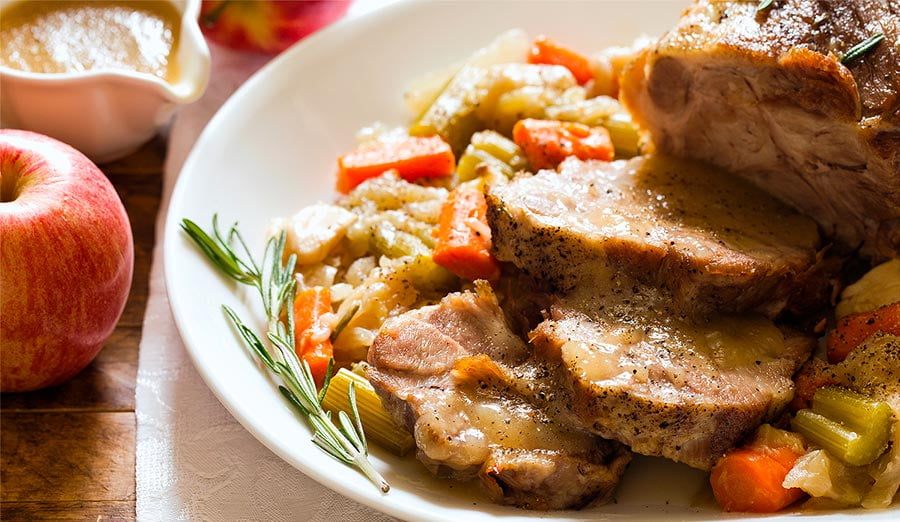 Get the printable recipe: Instant Pot Pork Roast with Apples & Rosemary
How does an Instant Pot work?
You may have heard of an Instant Pot, but do you know what it is? It's a multi-functional cooking appliance that includes a pressure cooker designed to cook food faster using steam pressure. Pressure cooking isn't new to the culinary world, but most home cooks have never used one (traditional pressure cookers are stove top cookware). Luckily the Instant Pot is an electric device (no stove top needed) and designed with home cooks in mind.
One major benefit to a pressure cooker (and why the Instant Pot is becoming more and more popular) is that steam pressure cooks meat faster than the oven. For example, if you baked this Apple Rosemary Pork Roast in an oven, it would take you a few hours until the meat is tender. In the Instant Pot, it takes about 40 minutes for a three-pound roast.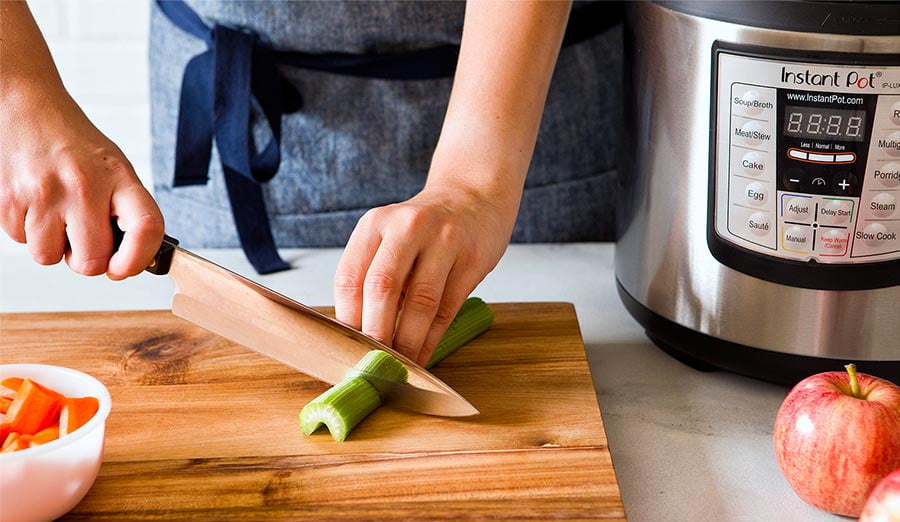 How is cooking in an Instant Pot different from a slow cooker?
Most models of Instant Pots contain a "slow cook" function—so when people refer to cooking something in an Instant Pot, that generally means they're using the pressure cook setting of the Instant Pot. But because this appliance also has a slow cooker setting, so you can still make your slow cooker recipes without using a separate appliance.
The pressure cook setting is different than a slow cooker because a slow cooker doesn't use pressure and steam but instead uses low steady heat. It would take about four to eight hours to cook this pork roast in a slow cooker or using the slow cook setting only on the Instant Pot. If you don't get your food into the slow cooker on time, you may be eating dinner at midnight! An Instant Pot cooks a lot faster. In fact, you can come home from work, use your Instant Pot and have dinner ready in about an hour.
Using the other settings of the Instant Pot
Another benefit to using an Instant Pot is you can sear the meat directly in the pot before roasting using the Saute setting. This means the meat will have more flavor from the browning. With a slow cooker, most inserts aren't stove top proof, so you have to sear the meat in a separate pan then transfer it to the cooker. Not only is there an extra pan to wash, sometimes you don't have time if you're prepping the slow cooker before leaving for work.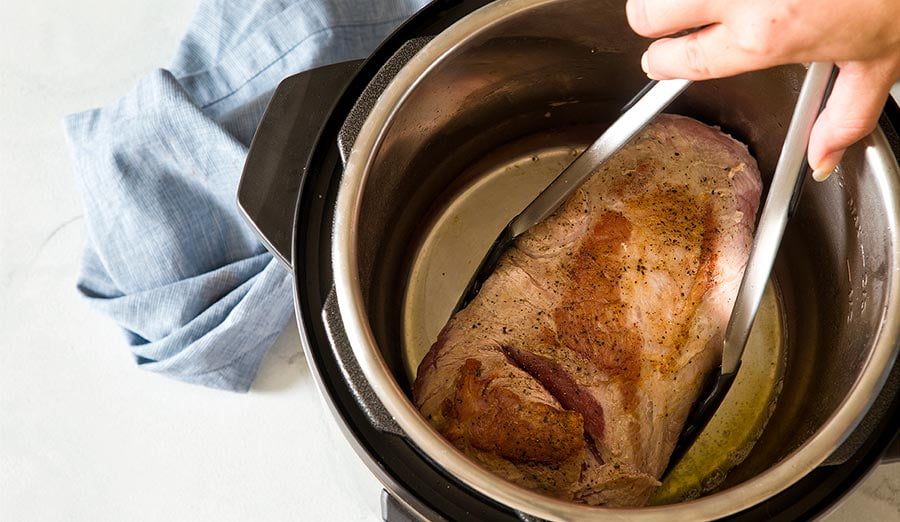 A great Instant Pot beginner recipe is this Instant Pot Apple Rosemary Pork Roast. The recipe utilizes several of the Instant Pot settings and showcases how quickly this tool can cook a large, tough cut of meat. When the meat is done, you can make a delicious gravy with the leftover liquid right in the Instant Pot. It truly is a one-pot machine.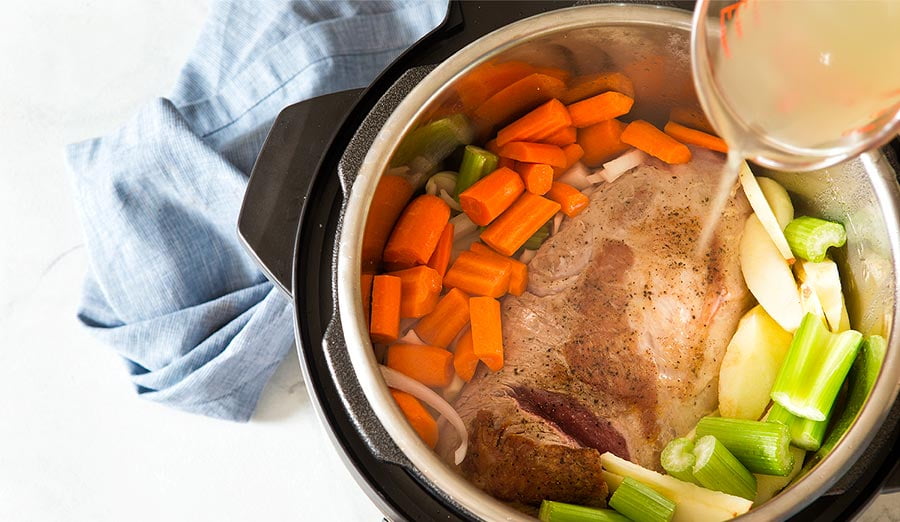 The recipe includes rosemary and Gala apples to make this dinner feel more like fall. But if you're not a fan of rosemary, substitute thyme instead.
Try this beginner recipe and feel like an Instant Pot cooking pro in no time.
Get the printable recipe: Instant Pot Pork Roast with Apples & Rosemary
About Homemade In The Kitchen
Article, recipes and images provided by Carla Cardello. Carla is the recipe developer and food photographer behind the food blog Homemade In The Kitchen, where she writes about small batch recipes and recipes for two. She currently lives in Pittsburgh, PA, where she was born and raised.