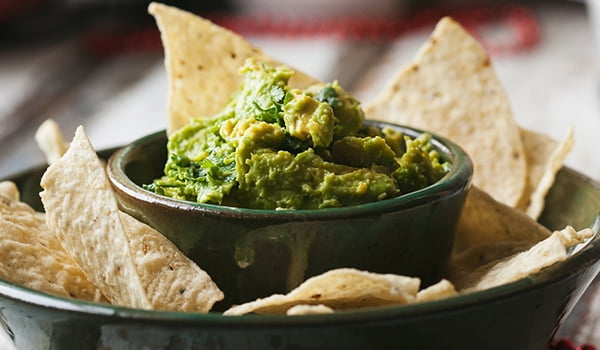 Planning your next big-game party? Serve healthier snack options and beverages for a guilt-free game day.
Serve healthy beverages
Forget the cola, and offer healthy beverage options instead.
Limit sweet, carbonated drinks. It'll help your guests cut back on empty calories.
Try serving iced tea, flavored water, fresh juice with club soda and low-calorie beverages.
How about a healthful sweet treat? Make smoothies! Just blend frozen fruit and yogurt or milk. Then, serve them up in miniature paper cups with colored straws.
Keep plenty of ice on hand — not only does it keep drinks cold, it helps dilute sweet drinks.
Choose healthier ingredients
Some basic ingredients can be substituted for healthier options.
Choose reduced-fat versions of milk, cheese and other dairy products.
Depending on the recipe, replace sour cream with low-fat yogurt or low-fat cream cheese.
Substitute half the butter or oil in a recipe with unsweetened applesauce.
Use whole-wheat flour and whole grains instead of bleached, all-purpose flour.
Cook with leaner proteins. Replace ground beef with ground chicken, and switch pork bacon for turkey bacon.
Bake with natural sweeteners like honey and molasses instead of refined white sugar. Check packaging for substitution guidelines.
Include organic foods and ingredients whenever possible.
Encourage grazing
Both adults and kids love nibbling on healthy finger foods.
Create a dip bar. Add healthy choices like fresh salsa, turkey chili and yogurt dip.
Cut easy-to-dip fresh fruits and vegetables into small cubes. They make great snacks!
Serve low-fat cheese cubes and cheese sticks with whole-grain crackers.
Try whole-grain pita bread and baked chips instead of regular potato chips.
Grill bite-size pieces of vegetables and lean meat on skewers.
Cut sandwiches into small, decorative shapes with cookie cutters.
Offer healthy desserts
Don't skimp on flavor. Serve a variety of healthy yet delicious desserts.
Create some walnut-topped yogurt-and-fruit parfaits. Walnuts contain heart-healthy fats.
Serve low-fat ice cream, frozen yogurt and fruit sorbet.
Experiment with healthy recipe alternatives before the big game. Try reduced-fat, reduced-calorie dessert recipes, like a carrot-cake recipe that uses fresh carrots, walnuts and applesauce. Top with low-fat cream-cheese frosting. Then, cut it into small squares instead of serving large pieces.
Treat your kids to homemade popsicles. Just freeze juice and applesauce.
Some guests won't want dessert. Brew coffee or tea for an after-game treat; serve with skim milk instead of cream.
Practice good defense
Promote healthy eating habits on the sly.
Choose baked over deep-fried foods whenever possible.
Smaller plates encourage smaller portions. Serve food on dessert or appetizer plates instead of large paper plates.
Offer a salad; serve reduced-fat or reduced-calorie dressing on the side.
Serve small snacks with toothpicks or skewers instead of forks and spoons.
Limit the amount of food displayed on platters and in bowls. Refill as needed.
Don't serve food directly in front of the TV. Your guests are less likely to overeat if they have to get up and move to snack.