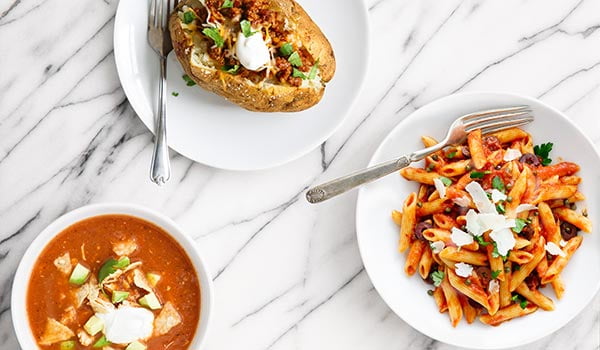 Lindsay and Taylor of Love & Olive Oil have such a natural knack for whipping up quick, delicious, wallet-friendly meals, we just had to have them share some of their favorites with us. We love this Nashville-based husband and wife team not only because they've been cooking together since college and have authored two cookbooks (Breakfast for Dinner and The Cookie Dough Lover's Cookbook), but also because they are self-taught cooks. So who better than them to show us how to prepare a last-minute meal with just a few pantry staples and refrigerator regulars.
=============
In addition to olive oil, chicken broth, pasta, and a well-stocked assortment of spices and seasonings, the one thing that we ensure is always in our pantry is canned tomatoes.
Types of canned tomatoes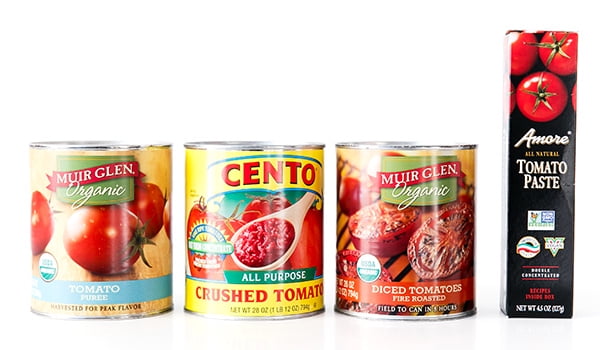 Canned tomatoes come in a number of different forms, all available at your local Walmart or online at Walmart.com. The varieties we like to have on hand are diced tomatoes, crushed tomatoes, tomato puree, and tomato paste.
Diced tomatoes
Diced tomatoes are simply that: diced up tomatoes in juice. They are great in situations where you want to see bits of tomato, but also work in recipes where the final product will be pureed.
Crushed tomatoes
Crushed tomatoes are smoother, more uniform in texture, with a loose texture somewhere in between diced and puree, but that still taste like fresh tomatoes. Crushed tomatoes are great in pasta sauces and soups.
You can often find fire-roasted diced and crushed tomatoes, which are charred and roasted before processing, giving them a unique smoky flavor perfect for Mexican dishes like tortilla soup.
Tomato puree
Tomato puree is generally made by mixing tomato paste and water, so it is often thicker with a more robust tomato flavor than crushed tomatoes. It is perfect in situations where you want a smooth, even texture, like pizza sauce. You'll also see cans labeled tomato sauce, which is very similar to tomato puree and can be used interchangeably (not to be confused with jarred pizza or pasta sauces, which have added seasoning—check the ingredients if you're unsure).
Tomato paste
Tomato paste is cooked-down tomato puree, with a concentrated flavor. We often add tomato paste in recipes like taco meat where you want a kick of tomato flavor and color without adding a lot of extra volume. It is also a great way to add thickness and body in stews, pasta sauces, and other recipes. Tomato paste is often sold in small 6-oz cans, though I prefer the tubes, since you usually use only one tablespoon or so at a time.
Now that you know the main types of canned tomatoes you'll find in your local Walmart, let's explore some easy pantry recipes to use them in!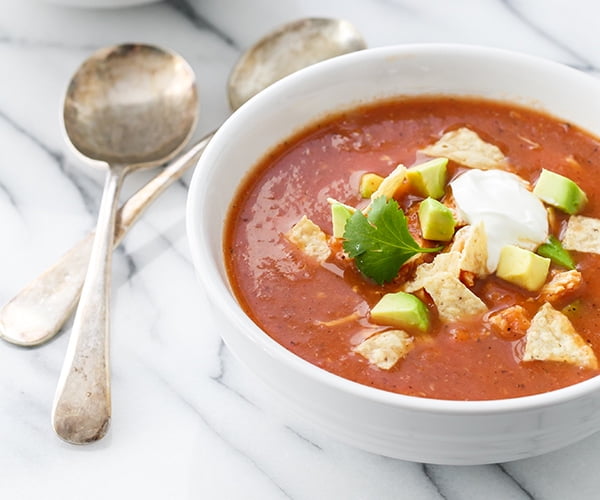 Tortilla soup is one of our favorite hearty and comforting recipes. This slow cooker version is easily assembled in the morning and served that night. Don't have any chicken in the freezer? You can also use beef, pork, or even dried black beans here as well.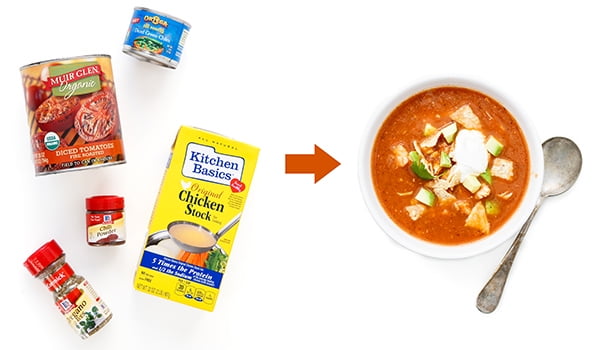 How to make it:
In a slow cooker, combine 1 28-oz can fire-roasted canned tomatoes (diced or crushed), 1 can fire roasted green chiles, 1 32-oz container chicken stock, 2 boneless skinless chicken breasts (thawed if frozen), 1 coarsely chopped onion, 3 crushed garlic cloves, 1 teaspoon dried oregano, and 1/2 teaspoon ground chili powder. Set to low heat and cook for 5 to 6 hours or until chicken registers at least 165ºF using an instant-read thermometer.
Remove cooked chicken breasts and shred using two forks. Transfer soup base to a blender and puree until smooth (use caution blending hot liquids, working in batches if necessary). Return to slow cooker along with chicken. Season to taste with salt, pepper, and a squeeze of lime juice. Serve warm topped with whatever toppings you have on hand, including crushed tortilla chips, shredded cheese, sour cream, avocado, and cilantro.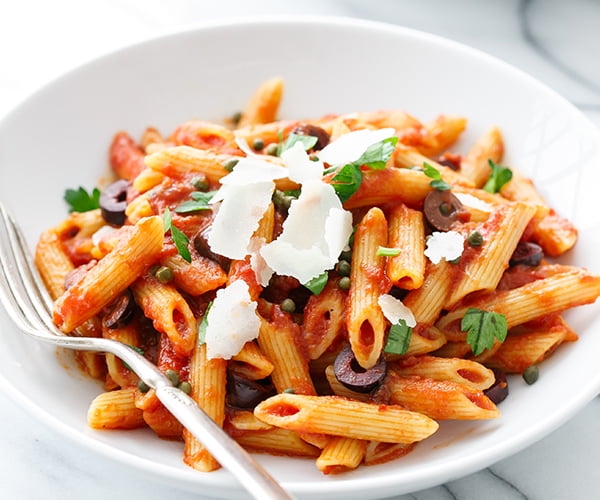 This spicy pasta is one of our go-to recipes when we don't feel like cooking a long, drawn-out recipe. With red pepper flakes, olives, and capers, there is no shortage of flavor here. While we often make it using fresh cherry tomatoes, canned tomatoes work beautifully when you don't have fresh ones on hand.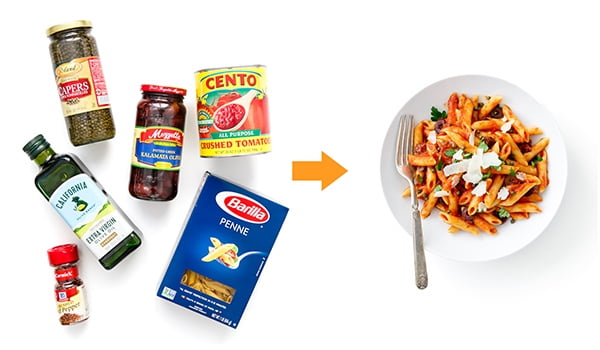 How to make it:
Cook 1 box penna pasta (or whatever pasta shape you have on hand) according to package directions until just al dente. Drain, reserving 1 cup of pasta water.
Heat a splash of olive oil in a large saucepan set over medium-high heat. Saute a few cloves of minced garlic and a sprinkle of red pepper flakes (more or less to taste) for about 30 seconds. Add 1 28-oz can crushed tomatoes, and simmer for 5 to 10 minutes. Stir in 3/4 cup or so of coarsely chopped, pitted Kalamata olives and a few tablespoons of drained capers. Add drained pasta and toss to coat, adding a bit of reserved pasta water as needed. Optionally you can serve topped with a sprinkle of Italian parsley and shaved parmesan cheese.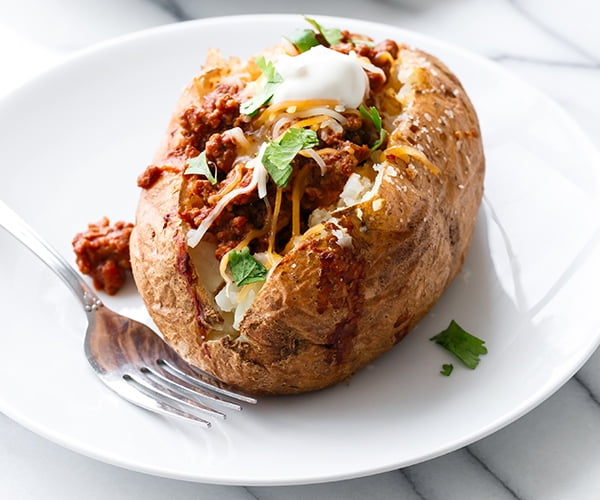 Ground beef and taco seasoning are really all you need to make taco meat, making it a perfect stay-at-home recipe. We like to add a bit of chicken broth and tomato paste, along with some sauteed onion, to up the flavor level even more. Here we've served the meat atop baked potatoes (russet potatoes keep particularly well in the pantry). Sweet potatoes work equally well, or you could also use taco shells or tortillas if you have them on hand. If you don't have ground beef you can also use ground chicken or turkey.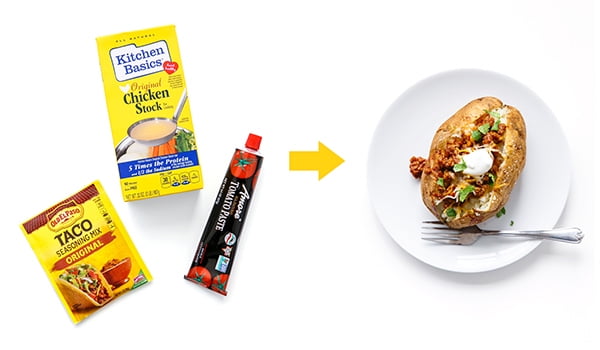 How to make it:
Poke 4 large russet potatoes all over with a fork and place on a foil-lined baking sheet. Bake at 450ºF for 25 minutes, then brush both sides with melted butter, olive oil, or coconut oil (whatever you have on hand) and sprinkle with salt. Return to the oven and bake for another 20 to 30 minutes or until fork tender.
For taco meat, heat a splash of olive oil in a large saucepan or skillet. Add 1 small diced onion and cook until softened, then add 1 pound ground beef, stirring to break up any large chunks. Cook until beef is cooked through and starting to brown. Add 1 packet taco seasoning, 2/3 cup chicken broth, and 1 tablespoon tomato paste. Cook until liquid is thickened and saucy. Slice open potatoes and gently press open; spoon over taco meat. Top with the same toppings as you would a taco, including shredded cheese, sour cream, cilantro, and avocado, or whatever you have on hand.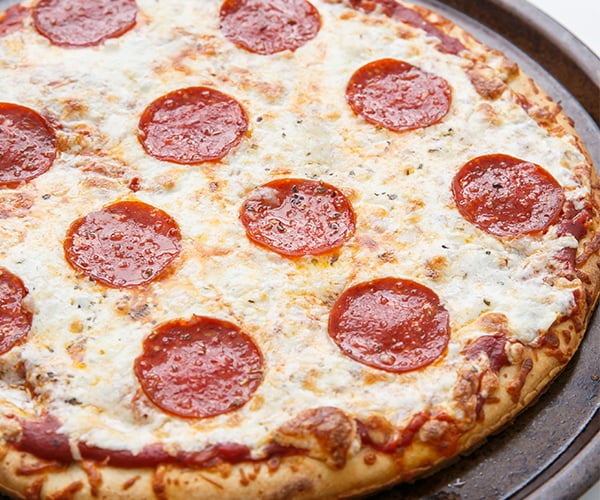 If you have canned pizza sauce, you're already a step ahead to easy semi-homemade pizza. But otherwise, you can easily make your own rich and hearty marinara sauce from canned tomato puree. You can also used canned whole or diced tomatoes, just puree in the blender first until smooth.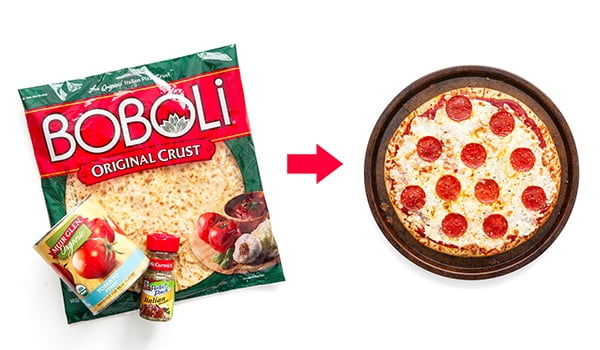 How to make it:
Heat a splash of olive oil in a saucepan. Add a few cloves of minced garlic and saute until fragrant. Add 1 28-oz can tomato puree and saute until thickened, 5 to 15 minutes (some tomato purees are thicker to begin with). Add a sprinkle of Italian seasoning, and salt and pepper to taste.
Spread a cup or so of pizza sauce on a pre-made pizza crust. Sprinkle with mozzarella and parmesan cheeses, and top with pepperoni or whatever toppings you have on hand. Bake for 8 to 10 minutes or until cheese is melted and browned in spots.
Pro tip: Shredded mozzarella freezes beautifully and keeps for up to 3 months. I always have some stashed away for emergency pizza nights.
Another pro tip: If you have leftover sauce (one can of tomato puree makes enough sauce for 3–4 large pizzas), it freezes beautifully, portioned out into freezer-safe bags and containers for later use.
=============
Husband and wife team Lindsay and Taylor bring the perfect combination of sweet and savory to the dinner table. Their food blog, Love & Olive Oil, chronicles their culinary adventures in and around the kitchen. The recipes there are approachable but still impressive, unique and creative yet still true to their culinary roots. The couple began cooking together in college, when their dorm kitchens served as a welcome escape from the horrid cafeteria food. It became an activity they could do together, and something they've both come to love, and the blog grew out of that love. Lindsay and Taylor currently live in Nashville, Tennessee with their three crazy cats.