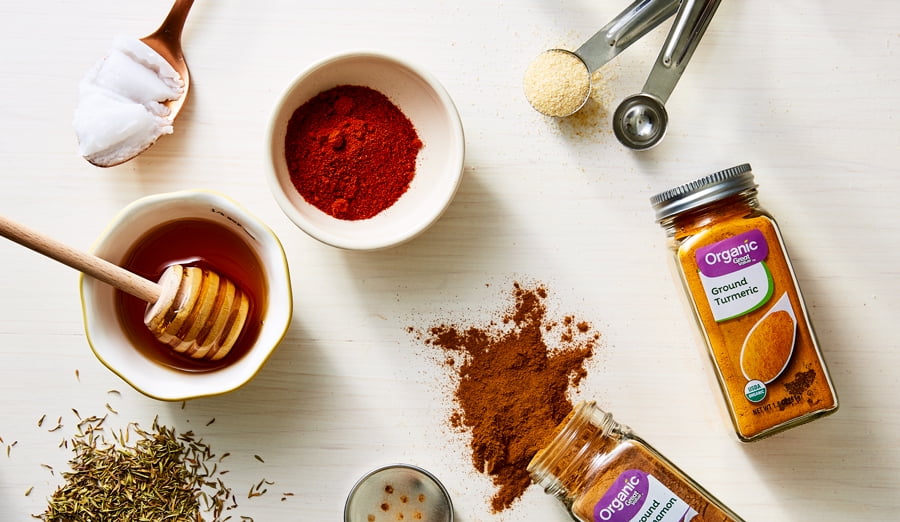 The grocery store spice aisle can be intimidating—especially if you're setting up a kitchen for the first time, or accustomed to seasoning with nothing more than a sprinkle of salt and a grind of pepper. What are you supposed to do with cardamom, for instance, or sumac?
Relax—you can bypass all those mysterious and exotic seasonings for now, and just stock up on these 12 must-have spices, which will help you spice up your meals like a pro.
Spice cabinet basics: storing & replacing spices
To keep spices tasting and smelling fresh, store them away from sun and heat—if you can, in your fridge or freezer. How to tell if it's time to replace a spice? Depending on storage, spices will last around a year. If you're not sure when a year ago was, do a sniff test or taste them: if you don't smell anything or can't taste much, it's probably time to replace it.
12 must-have spices, dried herbs & seasonings
1. Kosher salt
Kosher salt differs from regular table salt mainly by virtue of the larger size of its grains. This makes it a favorite with chefs; it's easier to pinch up with your fingers and control how much you're adding to a dish. Substitute it for table salt for all your cooking needs; just add about 1/4 teaspoon more of kosher salt compared to each teaspoon of regular table salt.
2. Black peppercorns
Whole peppercorns are perfect for adding to liquid dishes like soup stocks and drinks like chai, when you want the flavor of pepper but don't want to slurp up a mouthful of powder. They also stay fresher longer if you grind them yourself, so you'll want to keep a pepper mill on hand.
Shopping tip: Black pepper should appear plump, and have a sharp aroma.
3. Turmeric
This earthy and mildly bitter spice enriches Asian and South Asian dishes and is a key component of masalas, or spice blends (such as curry powder). Whether you're experimenting with Thai coconut curries or easy Indian dals, turmeric is an absolute spice cabinet must. Turmeric is considered to have antioxidant benefits, helping to reduce inflammation, so whether you cook with it or consume turmeric in herbal supplement form, this is a spice to get to know.
Shopping tip: Check to make sure turmeric is a vivid orange when buying.
4. Cumin
Cumin turns up in foods across the Middle East, South Asia, Greece, parts of China and Mexico. Your favorite kebabs, curries, moles and, likely, grilled legs of lamb get their deep, earthy flavor at least in part from this essential spice.
Shopping tip: Cumin should smell pungent and slightly nutty.
5. Garlic powder
Garlic powder should be just as nose- and tongue-tingling as fresh garlic, and when sprinkled on your homemade pizza or into a salad dressing, will add zip to dinnertime. It's rough for keeping your breath sweet-smelling, but considered to be good for your heart.
6. Cayenne pepper
Want to add some spice to your chilis, stews, scrambled eggs and beans and rice—but don't want to set your taste buds on fire with the fiendishly hot peppers in the produce aisle? Cayenne lets you add a little heat, and scale up as necessary.
Shopping tip: Cayenne pepper powder should appear bright red in the jar.
7. Ground cinnamon
This essential baking seasoning is good for a lot more than gingerbread and apple pie. Dust it onto squash soup, pork chops and Moroccan-style couscous dishes. Even from across the room, you should be able to smell its sweet, spicy aroma.
8. Thyme
Thyme is a popular ingredient in savory dishes, and appears frequently in recipes. Dried thyme makes a delicious dry rub for chicken, pork and hearty white fish like cod, when mixed with a little Kosher salt and garlic powder.
Shopping tip: When fresh, thyme should have a bright green color and a nice, clean smell.
9. Bay leaves
This hot-weather herb is a must for soups, adding a subtle minty flavor to chicken broths, fish soups and even borschts. Use whole, and discard when your simmering's done.
Shopping tip: Leaves are a dusty pale green, even when fresh.
10. Lemon pepper
Lemon pepper blends are usually black pepper mixed with dried lemon peel and can also sometimes contain garlic, onion and salt. Toss lemon pepper with a little Kosher salt and you'll have the easiest tool for turning salads, crab cakes, sauteed chicken breast and grilled vegetables into a tangy meal. Or add to garlic powder, mix with softened butter, and you're in for the zippiest garlic bread ever.
11. Italian seasoning
This mixture of oregano, basil and other savory herbs and spices perks up almost any Italian dish you're craving—marinara sauce, stuffed clams or roasted red peppers. You could make your own, but this mix get you one step closer to a stress-free dinner.
12. Cajun seasoning
If you love the flavors of New Orleans, Cajun seasoning's must-have blend of cayenne, paprika, garlic and other spices will get you up and cooking like a Big Easy chef in no time. Dazzle a dinner party crowd with your seafood gumbo, jambalaya or crawfish etouffee.