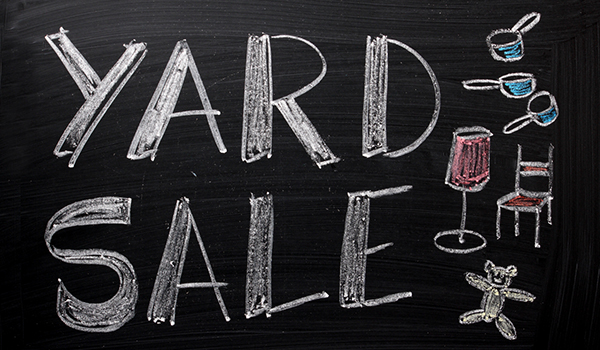 Clear out closet clutter and make some additional money at the same time by sorting and selling your old and unwanted items. It's easy with a little planning and preparation.
5 to 7 days in advance
Obtain permits. Many cities and towns require a permit in order to have a garage, yard or other community sales event. The fee is typically less than $10 and the permit should be prominently displayed during the sale.
Buy or create yard signs and price stickers. It's easy to purchase weather-proof sale signs or simply make your own using standard construction paper and markers. Pick up some pricing stickers at the same time — they save a lot of time and irritation for just a few extra dollars.
Post classified advertisements. Local newspapers and free websites like Walmart.com's Classifieds are a great way to get the news out about your big sale. Specify the date, time and major types of items to be offered. Remember, bargain hunters start early, so be sure to select a time that will help you get the best traffic without making you feel stressed or rushed.
3 to 4 days in advance
Sort items. Although it might sound easy, getting rid of old items is often a lot harder than it might seem. Items of sentimental value, tools and trinkets can be difficult to part with. Fortunately, it is possible to clear the clutter of even the most dedicated pack rat with these tried and tested strategies:

Use the buddy system. Team up with another family member or trusted friend during the selection process. It's easier to be objective about someone else's "stuff" than your own.
Stick to the "one year" rule. As a general rule of thumb, if you haven't used the item in at least a year, you probably won't use it any time soon. Put it into the sales box and keep moving.
Focus on the future. A special outfit, gag gift or other outdated items may have strong sentimental value, but instead of holding on to the past, take a picture of your favorite items then put them to good use elsewhere. Remain focused on the future by envisioning the extra space, money and convenience you will have once everything is well-organized.

Prep. Make sure all items are washed, cleaned and prepared for the sale. Find user manuals, parts and pieces to games or toys, then secure in place with tape or put into a big box or bag to make sure they stay together during the sale. Include important information like dates, product number or other relevant data for technology products, tools, etc. Test anything with a motor and be sure to remove any dangerous parts prior to placing outside. Damaged, expired or severely stained and soiled items should be thrown away rather than resold in order to prevent potential problems like accidents, injury or even illness.
Schedule post sale pickup. After the big sale, the easiest way to clean up and assure a clutter-free zone is to donate all unsold items to charity. Not only is it a great way to help those in need, but donations typically qualify for a tax deduction.
1 to 3 days in advance
Price. Pricing items for sale is easy once you know how. Start by doing a little homework based on the current sales price of an item at a value-based store like Walmart, then use the following discounts based upon condition:

Like New / Never Used Condition: 25 to 35 percent discount if still in box with paperwork.
Good Condition: 50 percent off regular retail price of item.
Used Condition With Life Remaining: 75 percent discount from regular retail price of item.
Poor Condition / For Parts Only: 90 percent discount or create a dollar bin or grab bag
To price unique items like antiques, handmade objects or other unusual creations, it is a good idea to perform a search for similar items on Walmart.com's Classifieds or one of the popular online auctions.

Prepare. You will need a variety of bills in different dollar denominations, including coins for change, several sturdy tables to display items and a comfortable chair for yourself. Stock up on drinks and snacks to stay refreshed during the big day.
Post. The night before the big sale, make sure the permit is visible (if necessary) and post signs on street corners, in front of the home and at nearby major intersections.
Sale day!
If you have followed each of the above steps, sale day should be a breeze. Simply set up your items and get ready to collect the cash while you clear out the clutter.