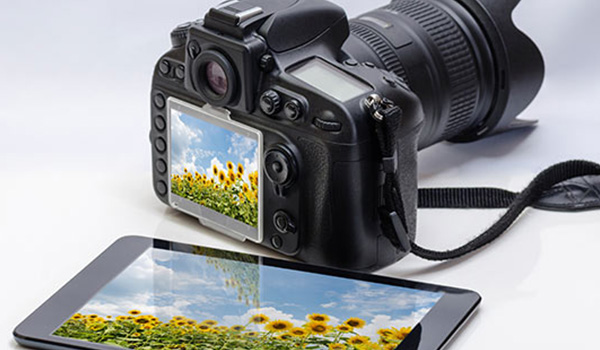 Smartphones have replaced a variety of formerly stand-alone devices. How many of you carry around a separate MP3 player, personal organizer or portable gaming system these days? You probably also take photos with your smartphone, but evolving Wi-Fi capabilities may soon have you carving out space in your pocket or purse for a separate camera.
A new wave of systems combines the flexibility of a mobile device and the power of a dedicated digital camera. Here are some of the many advantages the latest Wi-Fi-enabled cameras provide.
Connectivity
With Wi-Fi, your camera appears as another device on your network. So retrieving images from Wi-Fi-enabled cameras like a Canon Powershot or a Samsung wi-fi camera is as easy as opening a folder on your computer.
Easy sharing via social networks
In the age of the "selfie," smartphone cameras have made it easy to share pictures on social networks. Now, as with smartphones, Wi-Fi cameras such as the Canon Powershot N can directly connect users to Facebook, Twitter and other social networks—enabling almost seamless sharing of your favorite captured moments.
No more tiny view screen
Bypass the small monitor on the back of your camera, and link your Wi-Fi camera with another mobile device to see your shots enlarged and at higher resolution, even as you take them. Plus, most Wi-Fi-enabled cameras, including those by Canon and from Nikon's Coolpix family, include an app that enables you to easily transfer images from your camera to an iOS or Android device.
Access to a world of apps
When you can seamlessly move photos from your camera to a mobile device, you also have access to the wide range of useful apps already on that mobile device for sharing, editing and storing images.
We're also starting to see a wave of dedicated Wi-Fi cameras that run the same software as your phone, such as the Android-based Samsung Galaxy Camera. With an HD touchscreen display and access to all the same software as an Android phone, users can, for example, share photos to Instagram or edit them with powerful apps like Snapseed—directly on the camera.
Mobile tethering
Tethering enables users to control a camera with a mobile device. Traditionally enabled using a cable, Wi-Fi connectivity offers another option. Take the innovative Sony DSC-QX10, for instance. You simply clip it onto your smartphone, and then control it through your phone's screen.
Double the benefits
Wi-Fi-enabled compact cameras share benefits with both smartphones and dedicated digital cameras—the best of both worlds. The average resolution for a phone camera is 10 megapixels. For less than $200, you could own a Wi-Fi-enabled compact camera with a resolution over twice that. And it's not just the picture resolution that's improved. With features like physical zoom, better lenses and larger sensors, dedicated digital cameras simply take better pictures than most mobile phones.
Now that you can share those memories so easily with a Wi-Fi-enabled camera, why compromise?