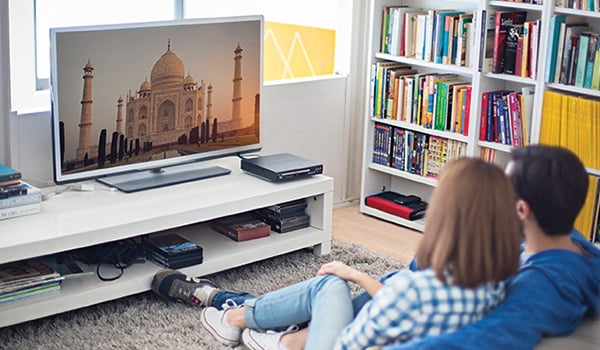 Choosing a new TV is easier when you know what you'll be using it for. Are you a sports fan or a movie buff? Will the kids (and Mom or Dad) need it for gaming, or for family time streaming your favorite shows? We'll cover the top features to look for so you can make sure your new TV satisfies every entertainment enthusiast in your home.

TVs for film buffs and TV fanatics
Size matters. For movie fans looking for the biggest and best viewing experience, the best advice is to go with a larger screen TV. Resolution and refresh rates are all important, but in the end it all comes down to the size of your screen. For your living room or entertainment space, go with a minimum of 50″ screen, with 60″ or larger providing the best experience.
Multiple HDMI ports are vital for film fans, too. The highest quality comes from Blu-ray and most movie buffs will have a big collection in this format. Make sure you can connect all your devices, including your Blu-ray player.
Blu-ray, all the way. Blu-ray discs provide high-definition digital visuals. To make that digital content look its best, choose a television that offers a 1000:1 static contrast ratio. This will allow users to enjoy video with rich blacks, bright whites and vibrant colors.
Streaming video devices. Want to supercharge your existing TV with all the movies and seasons of your favorite shows you can binge watch? Make any TV "smart" just by using a plug-in streaming device. Apple TV is one of the biggest players in the market with dozens of video apps and access to iTunes. If you are working with a smaller budget, the family of Roku streaming players along with the Google Chromecast gives you access to the immense VUDU media library in full HD, and all come in at under $100.
Smart TVs for streaming. Know someone who can't get enough entertainment? With an Internet-connected TV (also known as a smart TV), you'll be able to enjoy streaming content from providers like VUDU, YouTube, Netflix, Amazon, Hulu and Vimeo from the comfort of your couch.
Cut the cable. Bring it all together — watch your favorite TV shows, movies and even your local broadcast channels — by dropping your expensive cable subscription and switching to digital streaming services. With a few devices (some you may already have) like a smart TV and an HD antenna, you can save hundreds of dollars a year.
TVs for the gamer
Ultra-high resolution. Game consoles like the Xbox One, PlayStation 4 and the new Nintendo Switch need a high-resolution (HD) display to make games look their best. Look for a TV that offers resolutions of at least 1080p or the new 2160p, available on 4K Ultra HD TVs like Vizio's line of 4K TVs.
Fast response time. Today's games move at breakneck speed. Will the TV you're about to buy be able to keep up? Shop for a television with a response time under 6 milliseconds (6ms) and a refresh rate of at least 120Hz. The low TV response time + high refresh rate = less blur on screen when objects move. This means movies, TV shows and sports will look great, too.
Multiple HDMI ports. Look for a television with two or more HDMI ports. Why multiple? You may need separate ports for several devices. You may want your TV to do double or even triple duty with gaming, streaming movies and watching Blu-ray discs, and each of these requires an HDMI port.
TVs for the sports fan
Go big or go home. Sports fans will want to try to squeeze the biggest screen they possibly can onto their wall or entertainment center. We say indulge that impulse; more than any other feature, a bigger screen size will get you the most bang for your buck. Of course, choose a screen that fits your space and budget, but the big game will never be bigger than on that massive 70″ HDTV mounted to your wall.
Use a simple sound bar. Sound bars are a necessity for a single reason: those speakers mounted in your slim flat panel HDTV don't put out much sound. To experience the best sound during the big game (or movie or video game) slide a slim sound bar neatly underneath your TV. Some even pair to your TV with Bluetooth, so you won't need to plug it into your set.
High-definition sports. You're going to need at least 1080p resolution for sports. Go up to 4K if your budget can stretch to it. Clarity and high resolution are essential for seeing that ball soar over the outfield… And sports are high-speed activities, so do anything you can to minimize blur. That means getting a TV with a great response time and refresh rate.
Need some extra help? Check out our TV glossary to get one step closer to choosing the right TV.