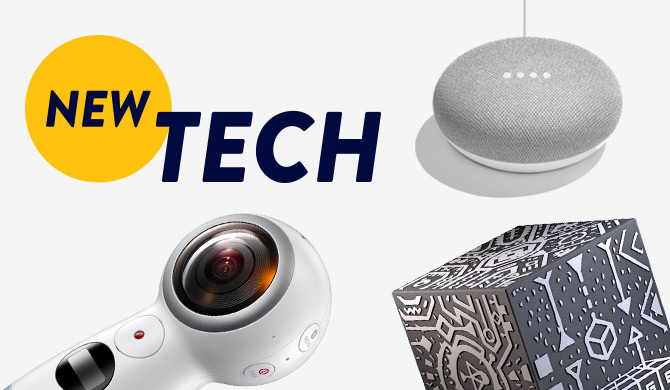 The latest tech gadgets are on just about every person's wish list. So, we've rounded up 10 of the top pieces of new tech for 2017 to help you choose the right gift for every type of tech lover (and every gift-giver's budget). Check out these hot items that are changing how we communicate with each other, to how we get our entertainment and even how we shop.
The Google Home, a voice-activated speaker featuring the Google Assistant has been around since 2016, but the Google Home Mini is a new step in making your home smarter. Fit the diminutive speaker in any room—on a bedside table or on the kitchen counter for example—to keep your Google Assistant close by whenever you need to ask Google about the weather, set your early AM alarm or order essentials from Walmart with your voice.
What's new about it: The Google Home Mini brings the power of your Google Assistant into any room in your house with just your voice. It's a smaller device with a smaller price tag than the Google Home, while still allowing you to control your smart home devices and do things like play music or movies.
Paired with your smartphone, the Merge Cube becomes a "hologram you hold in your hand." Your smartphone screen turns the surface of the cube into a three-dimensional holographic game, from world-building to dogfights in space and even educational materials like astronomy. Gameplay is as simple as rotating the cube in one hand and tapping your smartphone screen with the other. Take the fun up a notch with the Merge AR/VR Goggles—a comfortable, break-proof virtual reality headset that fits most smartphone sizes—and keep both hands free for playing with the Merge Cube.
What's new about it: The Merge Cube is really the first augmented reality gaming device available for kids at a price that won't break the bank. Using your smartphone to play with it makes it familiar while the cube itself is new and clever technology that will only continue to get better.
Your Bluetooth headphones just got a whole lot smarter. Bose, a leader in headphone and speaker design have teamed up with Google to create the first noise-cancelling wireless headphones with the Google Assistant built in. This means that along with listening to your music on high-quality Bose headphones, you can get answers to questions, check traffic, send and receive texts and control your music with your voice. With 20 hours of use per charge, noise cancellation and high-quality Bose audio, these headphones will be a hit with any audiophile.
What's new about it: Of course you can expect the amazing sound quality of Bose audio wireless headphones. The cool factor cranks up to 11 with the addition of the Google Assistant, letting you access information on the internet and even control your smartphone with your voice, with just the push of a button.
This innovative printer from HP creates a solution you didn't even know you needed until now. It's mobile-ready, letting you print documents and photos directly from your smartphone or tablet. Want more? This printer includes a high-quality Bluetooth speaker, letting you play your favorite music through your favorite smartphone music apps, or use the speaker to make phone calls. Designed with small home offices in mind, the HP AMP printer combines two devices into one, saving space on your desk or table.
What's new about it: It's a printer and a speaker. It's a speaker and a printer. Use it to take calls at your desk, listen to your favorite music and of course print your documents wirelessly all from a single device. And you can only find it at Walmart.
Roku has been a leader in streaming devices for years, providing access to your favorite streaming services like Vudu and Netflix on easy-to-use devices that are easy on the budget as well. With 4K Ultra High Definition TVs becoming more common and more affordable, the devices we use to stream our favorite shows and movies have to keep up. The new Roku Streaming Stick+ and Roku Ultra deliver brilliant 4K content to your TV, and include a new voice remote and a 4x stronger wireless receiver, making your connection to Wi-Fi faster and smoother.
What's new about it: The Roku Streaming Stick+ is part of the newest generation of streaming devices to support 4K Ultra High Definition. Now all you need is a new TV.
Speaking of brilliant and beautiful 4K, the Samsung QLED 4K TV is on the cutting edge of incredible viewing experiences with Samsung's proprietary Quantum Dots creating a billion unique colors. Basically, this TV makes you feel like you're on the field at a football game or racing down the road in your favorite action movie. The Smart QLED TV knows which devices, like a Blu-ray player or a streaming device, are plugged into the TV and controls them with the Samsung OneRemote. Features like Invisible Connection and One Connect Box make connections to the TV streamlined and keep cables out of view.
What's new about it: Samsung is constantly pushing the envelope on what is possible with TVs. The Quantum Dots and High Dynamic Range (HDR) might give this TV the clearest and closest to perfect color of any TV on the market right now.
One of the most common issues with a standard home wireless router is the signal doesn't spread through the entire house. This makes it frustrating to stream movies or share photos when you are in another room or another floor from where the router is. Mesh Wi-Fi systems are sets of small wireless routers that can be placed around the house—living room, bedroom and office, for example—to distribute the Wi-Fi signal around, creating a mesh of access points throughout your home.
What's new about it: Mesh Wi-Fi systems are quickly replacing the standard single home wireless router. Google Wifi features an easy-to-use app with family controls and device management, while a three-pack of Wifi points can cover a home up to 4,500 square feet.
360 cameras are quickly becoming the hot new  gadgets to have for those who love to take and share photos or videos. This is the second generation of Gear 360 camera from Samsung, offering higher resolution, full 4K video capture and a removable memory card slot so it can be used without a smartphone. The Gear 360 offers multiple shooting modes you can change with buttons on the camera, and allows you to live broadcast events via Bluetooth connection to Facebook, YouTube or Samsung VR.
What's new about it: 360 cameras are fairly new on the market; this updated Gear 360 upgrades to full 4K video and the memory card slot means you don't have to be connected to a smartphone to take amazing 360 degree photos and video.
Fitbit has been known for their innovative fitness and activity trackers for years. With the advent of connected smartwatches, Fitbit has had to up their game to keep up with the likes of Apple and Samsung. The Fitbit Ionic marries cutting-edge smartwatch tech with what we know Fitbit for so well: fitness tracking. The Ionic boasts compatibility with both iOS and Android devices, a mobile payment app, storage for music and a robust battery life.
What's new about it:
The Ionic is one of the few next-generation smartwatches that are compatible with both iOS and Android devices. Most notable is how well it integrates smartwatch technology like mobile payments and text notifications with fitness tracking—the Ionic is waterproof to 50 meters for swimming (it tracks your laps, too!), built-in GPS and multi-sport tracking.
2017 is the year of the 4K camera. While GoPro is the big name in action cameras, the HERO6 ups the ante by squeezing a powerful 4K 60 frames-per-second camera into a tiny package. Earlier cameras have shot in 4K, but at a slower framerate. The upgrade may only be important to the most particular action cam enthusiasts—but if you are picky about the quality of your snowboarding video, this is a worthy upgrade.
What's new about it:
The big update really comes in the guts of this powerful little camera. Without going into all of the technical jargon, a new processor lets the HERO6 shoots 4K video at a higher framerate (60 frames per second) making your ultra-high def mountain biking videos much smoother, and slo-mo skateboard action super slow.