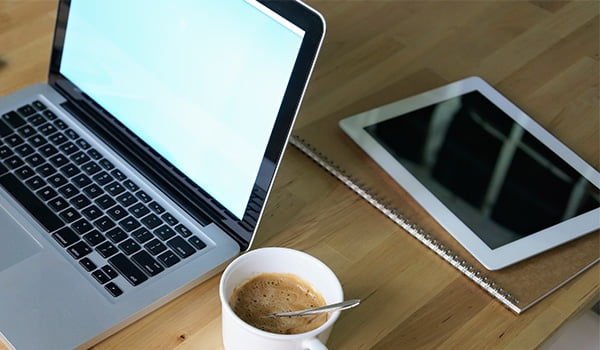 You may think laptop and tablet features are similar, but in reality they're quite different. Put simply, laptops are best suited for longer stretches at the keyboard and the precision of a mouse. They are great for creating content, such as videos, slide shows or writing Word documents.
A tablet's strong point is mobility, and they're best suited for consuming content—viewing a slide show, browsing email or reading that bestseller you just purchased. Before you decide where to put your money, here are a few key points to consider:
Benefits of a laptop computer
Keyboard. Can't type in all text-speak? Then only a real keyboard will do. It's important to note that accessory keyboards can be purchased separately for use with certain tablets like the iPad and Microsoft Surface.
Compatibility. Need full compatibility with the office suite that you use at work? You'll need a laptop with a full version of the program for that.
Content creation. A laptop has the edge over tablets in editing videos and photos. You can burn them to a disc, too, if it has a DVD or Blu-ray burner.
Real browser. Tablet browsers are very good compared to a smartphone's, but most websites are still designed for the full-featured browsers that are used in laptops.
Benefits of a tablet computer
Excellent battery life. Tablets typically offer a full day or more of use before needing a recharge, while most laptops max out after a few hours.
Instant on. Need to quickly check a recipe? Forget the two-minute startup of a laptop. A tablet turns on in a second and lets you find information fast.
Touch screen. Once you get used to scrolling a page with a swipe of your finger or zooming in on a photo by pinching the screen, it's hard to go back to anything else. Keep in mind many laptops now offer touch screen technology, too.
Lightweight. A typical tablet weighs just over a pound, with smaller units coming in under a pound. Because they're so slim, you can easily slip a tablet into your purse or backpack and barely notice that it's there.
Benefits of having both, all in one device
New 2-in-1 convertible laptops offer the convenience of a laptop and tablet in one device. Detach, flip, click, spin or slide the device depending on whether you're working or playing. Be sure to research exactly what you need in terms of features, because it's often just as cost-effective to purchase a laptop and tablet separately.
If you are still undecided on whether a laptop or tablet is right for you, check out our laptop and tablet buying guide.