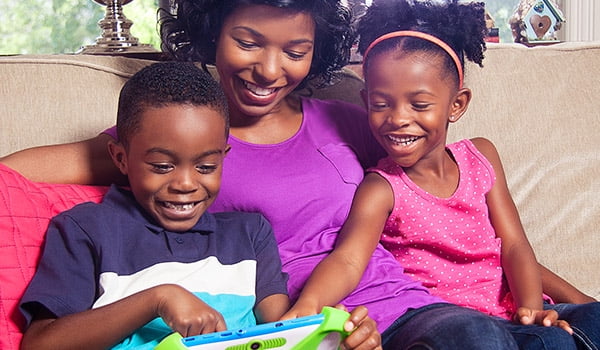 As a parent today, you are faced with a difficult choice regarding when to introduce your child to technology. Back when this was just a question of whether to allow a child to watch TV, there weren't too many factors to consider. But with Internet-connected devices like tablets, there are many new questions that arise even after you decide that they (and you) are ready to take the plunge.
Do your children need their own tablets, or is it enough to let them use yours? If you are going to buy them a tablet, which devices are the most child-friendly? How much time should you let them spend on the device per day? Is there strong educational content available for the tablet? How can you make sure your kids aren't buying apps, music or video content without your knowledge or approval? How do you verify that content is appropriate for them?
With so many questions to consider and ultimately answer, this may seem a little overwhelming. But there is no need to panic. We have consulted with a technology expert and conducted interviews with a number of parents to put together this guide designed to help you manage your child's tech life.
iOS or Android?
Among the parents that we interviewed regarding tablets for children, the iOS-based iPad mini and a variety of Android tablets were the most popular choices. If price is a factor, then an Android-based device may be the way to go: A kid-focused Android-based tablet like the Sprout Channel Cubby or Nabi, for example, has similar functionality to an iPad for about a quarter of the price. With that said, both the iPhone and Android platforms offer hundreds of thousands of apps and extensive media libraries, so whichever you choose, there will be plenty of content available for your child.
Parental controls
Once you have purchased a tablet system, you will have to set it up so that your child can efficiently and safely use it. Tablets like the Nabi 2 allow you to select and moderate the apps and media you download, so the content your child sees is appropriate to their age.
The first thing you should do is enable parental controls. Regardless of which platform you chose, there are built-in features to help you do this.
On Android-based devices, you will set up a "restricted profile" by going to the Settings menu and creating a new user, which will allow you to decide exactly which apps your children can and can't use. On iOS-based devices, go to Settings and then Restrictions. From there you can disable whichever features you would like on your children's accounts. Only one of the parents we interviewed for this article was aware of these parental-control options, so you are really going to be ahead of the game by carefully controlling your children's tablet use.
Screen time
The amount of time children should spend in front of a screen (of any kind) has been widely debated. In fact, among the parents we interviewed, sanctioned screen time for children ranged from 30 minutes to a max of about two hours. Ultimately, the decision will depend on what your children is doing with their tablets. If they are reading or playing strictly educational games, then chances are something toward that higher end will be acceptable to you.
Monitoring use and purchases
Of the parents we interviewed, only one indicated that he does not monitor his child while the child is using a tablet. (It is worth noting that this is the parent who had set up parental controls.) All of the parents we interviewed said their children must check with them first before making a purchase via their tablet. Parental controls make this much simpler, as the App Store and Play Store can be disabled to avoid the temptation for the child completely.
Educational content
Almost uniformly, parents said they limit content on their children's tablets to educational apps and videos. Before adding anything new to the tablet, parents said, they read the app descriptions and reviews. One advantage of a device like the Sprout Channel Cubby is that it comes pre-loaded with Sprout Channel videos and apps that parents can trust.
Final advice
In the end, parents say the key to keeping your children safe and productive while using a tablet is all about sitting down with them and having discussions about the dangers and benefits of the device.