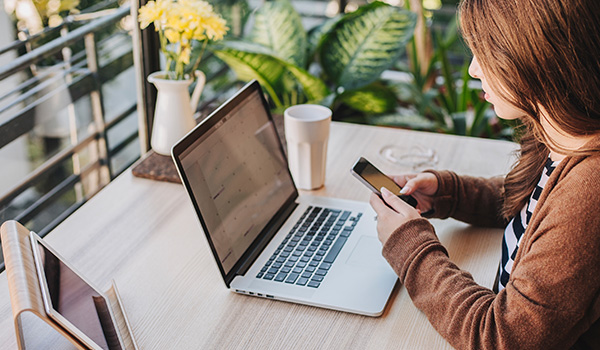 A laptop or tablet are useful and powerful devices for any part of your life. The line between what is a laptop and what is a tablet has become fuzzy – many laptops now have touchscreens and many tablets come with detachable keyboards, making both more versatile than ever before. With so many options, and depending on what you plan to use it for, it can be challenging to know which is the right device for you. We've taken a look at some common uses to help you make sense of all the choices and decide which one you need.
What activity are you using a laptop or tablet for?
Creativity
One of the classic arguments against tablets when they first became popular was that they were for content consumption and not creation. That doesn't really hold true today, but there are still some areas where laptops have the upper hand.
Editing video, audio and photos, whether it's as a professional or a hobbiest—these tasks are better left to a laptop. The larger screens make multitasking with apps open side-by-side a possibility, and the screens are often of superior quality, which means better color reproduction. Photo editing and sound editing can be done on an Ultrabook or any Windows 10 laptop. For something as intensive as video editing, a gaming PC is the answer, since you need all the power you can get.
Sharing content created on the spot—whether it's a quick video for Vine or YouTube, or a photo for Instagram or Facebook—is a job that a tablet will handle with ease. Tablets offer the fastest and easiest path to social sharing since they can capture photos and videos directly on the device and then use native sharing apps. The iPad has a slight edge here with a greater number of powerful apps available for photo or video editing, but for social media-level creative work, an Android tablet will do just as well.
Watching movies and TV
While it might seem like tablets are the obvious winner in this category, with the screen being the only important piece, it is still worth considering a laptop.
Big screen viewing for people who are going to use their device as a stand-in for a small TV: go for a laptop. Now, gaming laptops typically have better speakers and larger high-resolution screens than your typical laptop, but you don't need all the power they offer for watching videos. So unless gaming is also high on the priority list, any laptop with at least a 1080p screen will meet their needs.
Video on the go is clearly the realm of iPads and Android tablets, as they are smaller, offer longer battery life, and often feature higher-resolution screens than all but the most expensive laptops. With streaming media apps like VUDU and Netflix, along with the native iOS and Android stores, there is endless entertainment available. The Microsoft Surface is another option here—with its amazing screen, built-in stand, and separate keyboard, it can do double duty as a full laptop as well.
Gaming
Both laptops and tablets are excellent gaming machines, but which one is right for your gamer depends entirely on what kind of games you likes to play.
Hardcore gamers that like to play graphically intensive games with impressive sound to match are going to be best served by a gaming laptop with a keyboard and mouse or gamepad. For the best of the best, look at brands like Alienware from Dell, which pack an incredible QHD+ screen, a dedicated graphics card and 16GB of RAM so your gamer won't miss a frame of the action.
Casual gamers who prefer laid back gaming experiences or gaming on the go will probably prefer a tablet; it'll last much longer on a charge and, of course, is a lot easier to casually toss in a bag. Apple's iPad lineup has some of the best hardware out there and the largest games library. But some Android tablets and tablets from Samsung can be more budget-friendly, include specs comparable to the iPad, and offer most of the hottest titles out there. If gaming is just an occasional pastime for your loved one, you should also consider a 2-in-1 laptop; they have great casual games and then quickly convert into a laptop when play time is over.
Productivity
This includes most of the things that we think of as "work" on a computer: emailing, writing documents, preparing spreadsheets or presentations and scheduling appointments.
Business users who handle a high volume of these activities would do well with an Ultrabook laptop, which blends portability with processing power. With screen sizes larger than the average tablet, and a real keyboard and large trackpad, this device makes it easier to navigate, multitask and get work done faster.
Frequent travelers might like a 2-in-1 laptop, including the Microsoft Surface line, which has a physical form that can easily be switched back and forth between laptop and tablet as needed. When you want the laptop to convert to a tablet, simply detach the screen from the included keyboard.
Reading and homework
Students hold an interesting place in the laptop versus tablet debate, as reading is definitely a strength of tablets while writing and research are usually the domain of laptops.
On-screen reading is going to be best achieved on a tablet, whether it's an iPad or an Android tablet; these devices are thin and light and comfortable to hold during long reading sessions.
Typing is easiest on a laptop. If writing and research are the primary tasks for your student, a Chromebook is a fantastic option. They are typically faster than comparably priced laptops, thanks to the minimal requirements of Chrome OS, and all files are stored in the Cloud, making them accessible anywhere there's an internet connection. For those with a reading focus but some typing to do, a tablet could still be the right choice if paired with a Bluetooth keyboard to make long typing sessions easier.
The best of both worlds can be found with a 2-in-1 laptop, which lets people kick back and read tablet-style or clip back into the keyboard when it's time to get to work on that big writing project.
Everyday use
For a device that is going to do general duty, like handling personal email, web browsing, social media, YouTube and the like, there is really no wrong answer.
Around the home a Windows 10 laptop or Ultrabook will handle these tasks with ease. A Chromebook is a compelling option if multiple users are going to be sharing a computer: it seamlessly shifts between users, thanks again to virtually all of its data being stored in the Cloud.
People on the go will appreciate how a lightweight tablet can help them keep on top of things without weighing them down. An iPad is sure to have the perfect app for any of these tasks, and with Siri you can just dictate rather than having to type on a keyboard. Android tablets offer similar voice control and dictation capabilities and, in many cases, at a more affordable price point.
Kids' learning
Younger children can benefit tremendously from exposure to tablets and laptops, as there is excellent content geared towards their needs.
Pre-school learning is better done on a tablet. Children tend to benefit from being able to directly interact with the content on screen rather than having to use a touchpad, mouse or keyboard. You can opt for a purpose-built kids tablet that has apps on it geared towards learning and is built with a child's not-always-gentle play habits in mind. If you don't want to go that route, a basic Android tablet is incredibly affordable and more than capable of handling any educational app that piques your child's interest.
Grade school kids will appreciate some of the advantages of a Windows 10 laptop or a Chromebook, thanks to the full Web experience both provide. There is a great deal of educational content available directly through the Web, including sites that will allow kids to learn the basics of computer programming; for this kind of task there's no replacing a laptop.