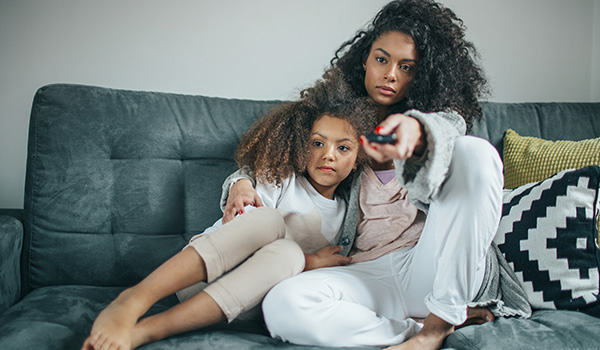 No need to brave the sticky carpets at the multiplex these days. Movie night at home is easy and enjoyable while saving you the hassle and expense of a trip to the movie theater. Let's take a look at everything you'll need to know to put on the best movie night and still be in your PJs.
Streaming services deliver endless entertainment
Streaming services have become a part of our lives and continue to get better. Available on demand, sites like VUDU, Netflix and Hulu all offer quality entertainment for the whole family. Sites you're already on, like YouTube, are starting to offer original content as well as classic films for a small fee.
While it's simple enough to connect a laptop to your television, and many Blu-ray players have the ability to access select apps for video and music streaming, a dedicated digital streaming device is an ideal option for your home entertainment system when you want to minimize the clutter.
One device, thousands of movies
Small and affordable, streaming players have the single purpose of streaming movies, music, photos and video games to your TV. Even though this is still a relatively new industry, Roku has made a name for itself with its low-cost, simple setup and excellent set of watching, listening and game-play choices. These mini media centers come with access to great content from VUDU, Netflix, YouTube, Hulu Plus, Pandora, MLB and many other services built in and ready to go.
Roku isn't the only option. Apple TV has been streaming for years using the same technology and interface as the iPhone and iPad. Currently, it delivers HD-quality movies and videos to your TV with support from Netflix, Vimeo, YouTube as well as archived sports. Apple TV also employs AirPlay to allow you to stream your music, pictures and videos right from your iPhone, iPad, Apple laptop or desktop computer.
And we can't forget about Google Chromecast. Its unique selling point (besides its sub-$40 price) is that it's small and easy to use, plugging directly into the HDMI port of your TV. But like any streaming device, it's all about content and support. Right now, the Chromecast only works with Netflix and YouTube as well as with Google Play through your web browser when appended with the Chromecast extension.
Little sound bar, big sound
For the ultimate home movie experience, you'll need superior sound. There are two main types of sound bars that deliver big. Traditional sound bars sit in front of your TV or can be wall-mounted, and usually come with a wireless bass speaker or subwoofer. Sound bases are sleekly designed to go underneath your TV like a stand; however, they generally don't come with a separate subwoofer. Both have far fewer wires than big speaker sets, and some can even deliver full 5.1 surround sound in a single box. Learn more about sound bars and sound bases.
The right TV: is bigger better?
To find the best TV for movie night, it has to be the right size and have HD resolution. The right size can vary, so go the extra mile and take some measurements of your home. Experts suggest you should divide the distance from couch to screen by two to get the optimum TV size. So, if you'll be sitting 80 inches from the TV, you'll feel most comfortable viewing a 40-inch set.
The next choice will be whether to go for LCD or LED. LED TVs, especially OLED TVs, are slimmer, use less energy and generally render shadows and highlights very well. Though LCD models still look great, and are generally less expensive, the price of LED TVs is dropping rapidly. But if you want a TV with the latest and greatest resolution, look no further than 4K Ultra HDTVs. These new screens boast more life like colors and a vivid picture to provide a more vibrant viewing experience.
Finally, you can get everything you want in a smart TV. With a selection of streaming media services built in, there may be no need for an external box. But remember a smart TV is only as good as its apps. Make sure the TV you buy has the apps you want.