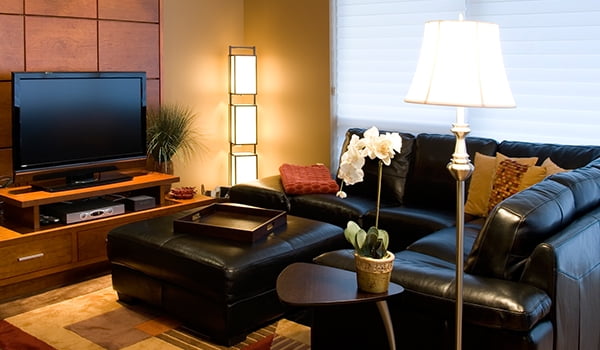 Whether you are looking for that new piece of gear to complete your state-of-the-art home entertainment center or just update your TV viewing experience, this guide will help you choose exactly what you need, regardless of your budget. Along the way we'll also tell you how to optimize whatever space you have to turn your home theater into the envy of the neighborhood. Whether it's to catch the big game, watch your favorite show or for a family movie night, your new home theater will take that experience to another dimension.
We're going to need a bigger screen
The centerpiece of any home theater is the screen, and it's easy to get lost in the sea of options available today. Depending on the type of content you like to watch and the room that you have selected for your home theater we can narrow this down. A bigger screen will make for a better viewing experience, but choose for your space and budget. A good rule of thumb is the TV should be about half the size of the distance from your seating to the screen, so if you sit 100 inches from the TV, you should be good with a 50 inch screen.
Flat screen HDTVs
For a smaller space or a bright room, a traditional flat screen HDTV is going to be a great solution. With a wall mount, you can achieve a clean look and then store your components in a smaller AV stand or rack below. HDTVs are very affordable now, but you can future-proof your home theater with a 4KTV without spending an arm and a leg. Just about every HDTV in production now is a Smart TV, so take the selection of apps available, including VUDU and Netflix streaming services, into account. For some recommendations on what to look for based on your watching habits, check out our TV buying guide.
Projectors
If you have complete control of the light in your home theater space, as in a basement, then a projector is worth considering. With at least 15 feet of space from the wall, you can create the equivalent of a 100-inch screen or even larger. Flat screens in this size do exist, but they cost tens of thousands of dollars. For a movie buff this is an optimal setup, as it will leave you with the feeling of being in the theater, with the screen taking up your entire field of view. A projection screen will give you the best image quality, but if you want to save money you can hold off and stick with projecting directly on the wall at first.
May the surround sound be with you
The image is the showpiece, but the audio component of your home theater system can make it truly immersive. A sound bar will be the least expensive and easiest way to augment your audio; read our sound bar buying guide for some specific advice on what to look for. Stepping up to the next level, a full surround sound setup will draw you even further into whatever you are watching. This means at least five speakers, a subwoofer and a receiver. Check out our guide for setting up your home theater for help arranging your surround sound speakers.
Show me the Blu-ray!
Now you just need something to deliver that beautiful image and sound to your system. A Blu-ray player is one of the best options here, as it can offer the best possible picture and audio quality. If you opted for a 4KTV, look for a Blu-ray player with 4K upscaling, which will make regular HD content look its best on your screen. If you have a gamer in the house, you might consider going with an XBox One or Playstation 4 instead of a dedicated Blu-ray player. Either one will play Blu-ray discs and will also include all of the popular streaming video apps like Netflix, Hulu, VUDU and more.
Stream it
With a streaming device, you have access to thousands of movie titles and TV episodes. Many devices, such as the VUDU Spark or the Google Chromecast, are inexpensive and plug directly into the USB port of your TV. These devices come standard with apps for VUDU and other streaming services allowing you to rent or purchase your favorite shows and movies with the touch of a button.
One remote to rule them all
Unless you want a coffee table filled with remotes to go with all of these devices, then a universal remote is going to be an excellent investment for you. Look for a remote that makes things as simple as possible so everyone in the family can enjoy your home theater without help. The Logitech Harmony line, for example, offers the ability to turn on all the relevant devices to "Watch a DVD," or "Listen to Music," by pressing just a single activity button.
Now you've got the checklist to put together a home theater that anyone would be thrilled to own, and some tips to get it set up right. Get ready to see big smiles this holiday season.