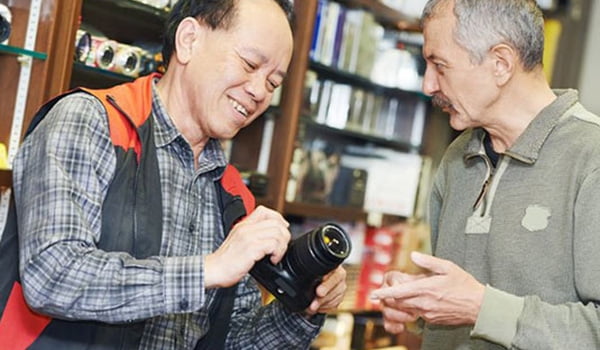 Megapixels. SD memory. Red-eye reduction. Image stabilization. What do these digital camera features mean, and which ones actually make a difference when taking photos? If today's camera technology is just too much, this handy guide can help you make sense of it all.
Megapixels:
Manufacturers frequently say their products have the most "megapixels," a technology buzzword that determines how large an image can be printed without losing quality. Megapixels alone won't make for better photos, so if you only plan to make small prints — 4″ X 6″ or 5″ x 7″ — anything over five megapixels may be overkill. But if you want to zoom or crop your images, or blow them up, a camera that shoots with more megapixels might do more for you.
SD memory:
Digital cameras save images on flash memory instead of film, with SD (Secure Digital) cards being the most common method. Most cards can hold up to 2GB (gigabytes) of data — enough for 1,000 or more images, depending on camera settings. The higher the megapixels, the more space each image will take up, so buy with an eye toward the future. Large-capacity cards are convenient, but it's always a good idea to frequently upload photos to a computer for safekeeping.
Image stabilization:
To ensure a crisp focus, consider a camera with image stabilization, which will help compensate for shakiness that causes blurry photos in low light.
Red-eye reduction:
Red-eye reduction prevents the camera's flash from ruining good photos by turning your family into red-eyed zombie look-alikes. This tool and other in-camera features — like filters for altering the appearance of your photo — can come in very handy.
Zoom:
If you're planning to shoot sports or nature, a camera with optical zoom is preferable. Digital cameras with optical zoom are able to zoom in on subject matter using the camera's lens as opposed to its digital sensor. This produces crisper, more life-like images. The higher the optical zoom number, the closer you'll get to better pictures. If a camera is marked as having 10x optical zoom, it is capable of zooming in to increase your subject matter by 10 times more than if no zoom lens was present.
Wi-Fi:
Wi-Fi–enabled cameras are becoming popular among social networkers. Want to send a picture to Facebook or Flickr? Just find a wireless Internet network and you can upload pictures from airports, coffee shops and hotels anywhere.
LCD displays:
Color LCD displays have replaced traditional optical viewfinders, making it easy to review stored photos or manage camera features. Bigger is generally better, with many models now offering touch-screen displays.
SLR cameras:
SLR cameras allow you to experiment with manual settings or even interchangeable lenses for full control of your photography. And thanks to larger image sensors and the wider dynamic range offered by SLRs, digital photos look crystal clear, with richer contrast and more vivid colors. Digital SLRs also allow you to take more photos in a shorter amount of time, with precise focus adjustments that simply aren't possible with the smaller lenses found on point-and-shoot cameras. What's more, HD video recording has become a hot feature on many digital SLR models.
Now that you're armed with all of this camera-technology know-how, you've got everything you need to find the right camera in a snap. This Camera Buying Guide can help too.