Where can you go with Bluetooth audio? The obvious answer is: everywhere. Without that tangled mess of cords, music, podcasts, movies/TV shows and audio books are just better. And that's true no matter where you are. But these six places are extra amazing with the help of Bluetooth headphones and speakers that get high scores from our customers. So why are we still here? Let's go!
Parties & BBQs
Because we all know most parties end up in the kitchen anyway. Or the patio. Or basically anywhere other than where your main stereo system seems to be — so make sure you choose a design that's highly portable. Fun design features like colored LED lights and water displays can instantly make Bluetooth speakers the life of the party.
Top customer pick
SuperSonic SC-1127BT Mini Bluetooth Water Fountain Speaker
Average star rating: 4.5
Love it!
11/24/2015
by Stina
This speaker is great and mesmerizing to watch. Great sound and the lights and water are cool.
Runner-up customer pick
Blackweb BOLT Portable Wireless Bluetooth Speaker
Average star rating: 4.5
At home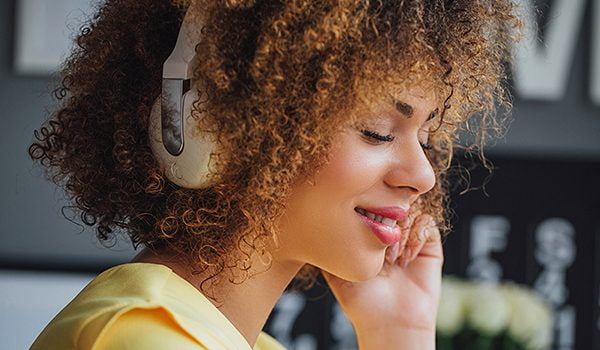 Bluetooth headphones that can immerse you in your favorite video game. Speakers that can make your living room feel like your own personal movie theater. Why would you want to leave? For speakers, go for a stylish, portable model that works great in any room of the house, whether you're cooking dinner, watching a movie or relaxing on the patio. With headphones, look for features like noise-canceling and foam ear pads that go over the ear — for comfort and to block out other sounds.
Top customer pick: speaker
Hitachi L-Model W200 SMART WIRELESS SPEAKER for Larger Spaces has Built-in WiFi, Bluetooth, NFC, and a FREE App
Average star rating: 4.5
Awesome
11/19/2015
by Denise
Love this speaker. Sound is great, not distorted at all! Used for a party and actually had to turn it down so you could have a conversation. Thinking of getting a smaller one to put in another area of my house!
Top customer pick: headphones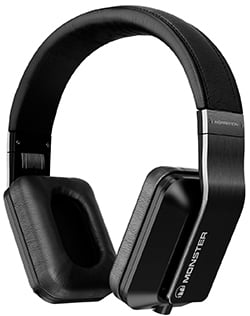 Monster Inspiration Noise-Isolating Over-Ear Headphones, Black
Average star rating: 4.5
Love them!
11/21/2014
by DawnieW23
First pair of Monster headphones and sound is great. I like the volume control on the cables.
The great outdoors
For Bluetooth speakers, look for a lightweight, compact size (especially if you'll take it backpacking), and durable, water-resistant construction that can handle your adventures and the elements (some are even designed to float). And if you take the headphones route, choose a compact
ear bud style that's easy to toss into a backpack. If longer playing time matters more, go for headphones that use eco-friendly rechargeable batteries.
Top customer pick: speakers
Philips Bluetooth Wireless Portable Speaker
Average star rating: 4.5
Awesome!
11/29/2015
by Dave
This is an excellent speaker in this price range! Can't believe this quality of sound comes from such a small package, plus easy setup. Worth every penny and then some.
Top customer pick: headphones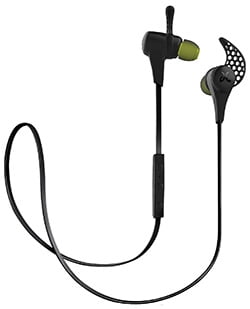 Jaybird X2 Premium Wireless Earbuds
Average star rating: 4.5
Excellent piece of gear

1/11/2016
by bobo
Received these as a gift over the holidays and I could not be more pleased with them. The sound, crisp and loud enough to even wear around my neck, plays my wide eclectic mix of music without failing to hit every note. Perhaps the best part is the fit, it feels like nothing is in there at
all, yet they never fall out. Avid hiker, rock climber, bicyclist and runner and these have performed exceptionally at every sport. Bluetooth is easy to set up, fast charging and long life.
The gym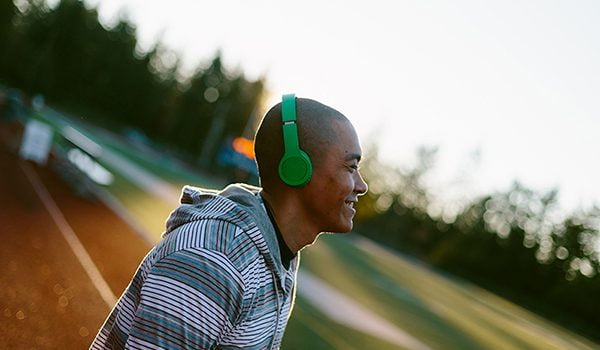 And by "gym," we mean anything you do to get your sweat on — indoors or out. For features, think about your activity and sweat level. Walking or weight lifting? Headphones will probably work well. For sweatier, bouncier pursuits, you'll probably do better with features like over-ear "sport" construction for stability, and a sweat- and water- resistant design.
Top customer pick: ear buds
MEE audio X7 Plus Stereo Bluetooth Wireless Sports In-Ear Headphones
Average star rating: 5
Sits tight but comfortably

2/09/2016
by Darrell
This headset does not budge. I'm very rough with them at the gym. The bass is very deep too with great sound isolation. So basically you've got comfortable and secure fit, great sound, great noise isolation, and sweat proof. What more could you want in a workout headset?
Top customer pick: headphones
Skullcandy Uproar Wireless Bluetooth Headphones with Onboard Microphone/Remote
Average star rating: 5
Can't beat these
12/13/2015
by rockerrick
Great product at a excellent price on Walmart.com. Very responsive bass in a lightweight wireless headphones. Battery holds a charge at max volume for a long time. I had heard them when my gf bought a pair at another store for considerably more. Then a friend told me about Walmart online price and I got a pair. Purchased online and picked up and local store same day. Very good experience.
On the go
Because when we're on the go or on the way to work, most of us just want to tune out the world and enjoy our favorite music, podcast series or that show we missed last night. Plus, headphones reduce the noisy cubicle-mate factor once you actually get to work — especially if you go for a noise-canceling model. Also useful: headphones with built-in microphones for phone calls.
Top customer pick
HMDX HX-HP420 Jam Transit Bluetooth Headphones with Microphone
Average star rating: 4.5
AMAZING HEADPHONES FOR 50$!!!
8/7/2014
by YoungDuckling100
Just purchased these today and I was a bit skeptical on what it had to offer (feature wise). I was looking for some Bluetooth headphones that had some really good BASS, BLUETOOTH, and that is CHEAP. The sound quality is outstanding and the bass really
surprised me and made me feel happy.
Runner-up customer pick
MEE audio Wave Bluetooth Wireless On-Ear Headphones
Average star rating: 5.0
Your Instagram feed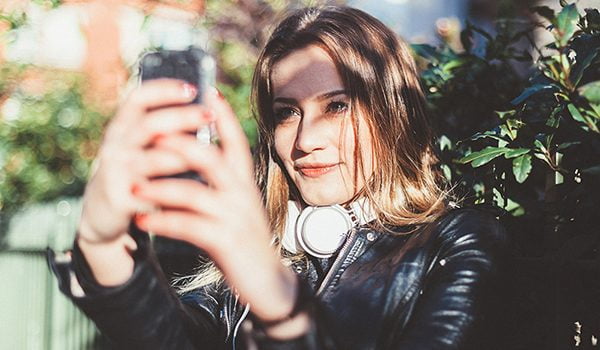 Bonus points for good-looking, high-quality Bluetooth headphones that are also completely selfie-worthy. Look for sleek design and a range of colors that let you express your personal style.
Top customer pick: headphones
Beats by Dr. Dre Drenched Solo On-Ear Headphones, Assorted Colors
Average star rating: 4.5
Pink Matte Dre Beats Headphones
3/21/2014
by PattiieC
This is the best money I've spent lately. Great sound & quality. Overall they're amazing. So happy they come in pink.
Top customer pick: speaker
HEX 808 SL Bluetooth Wireless Speaker
Average star rating: 4
Pair and Play
6/16/2015
by mrsb
This speaker has a great sound, size and is really easy to pair with other Bluetooth devices. I may end up buying several more as gifts.
Bluetooth audio tips and tricks
As soon as you buy your Bluetooth device, pair it with every smartphone, tablet or computer that you might use it with. A few minutes up front will save you hassle later.
Consider picking up an external battery charger, to make sure your device is always charged up and ready to go.