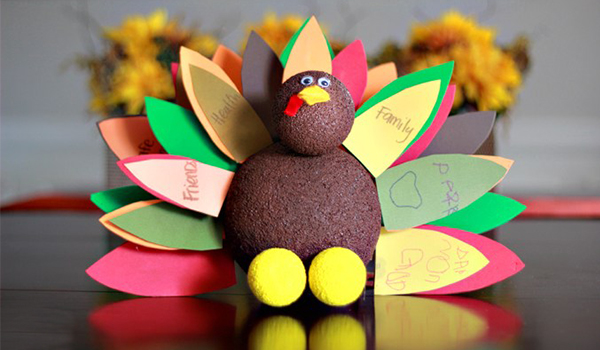 I'd like to introduce you to Mr. Grateful Chicken Duck, the turkey my daughter, Alina, and I made together. For so many reasons, I have relished in opportunities to "get zen" and feel lucky lately. It's easy to feel overwhelmed with life and forget your blessings. This Thanksgiving craft on gratitude is meant to instruct Alina on the power of gratitude while also reminding me to practice what I preach.
We had so much fun making this Thanksgiving craft together. We headed over to Walmart without a plan, but decided to make a turkey craft with layers of feathers for a daily gratitude practice.
Thanksgiving turkey craft tutorial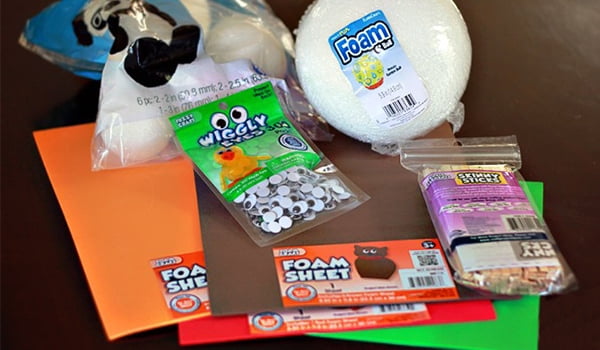 Product List
4 Styrofoam balls (sizes specified in tutorial below)
Paint & paintbrushes
Wiggly eyes
Craft sticks
Sheets of foam (colors described below)
Colored paper
We used a combination of store-bought supplies and stuff we already had at home. We purchased a Styrofoam ball for the turkey's body, head and two small ones for his feet. We bought a package of wiggly eyes , some craft sticks and a few sheets of foam for the first layer of feathers (more on that below).

1. Paint the Styrofoam balls.
Use brown for the two big ones and yellow for the smaller balls. To help you hold each ball, pierce it with a stick, and then you can more easily paint it from all angles. When you're done, stick it in a dead potted plant to dry. (Doesn't everyone have at least one dead plant around?) Wait a few hours until completely dry. You'll be handling the balls a lot, so give them plenty of time. I let them dry overnight.
Alina just loved to paint the balls of the turkey's body. We took our time, sang songs and talked about what it meant to be grateful. I also explained to her my belief that when you are focused on being grateful, you're too busy to feel sad or upset. For a tiny little girl who doesn't know much hardship in life, this was kind of over her head, but simply explaining the sentiment was cathartic for me. I'm not the best at being grateful, but I am focusing on it more and more.
2. Assemble the turkey's body.
Break the smaller balls' wooden sticks down to a reasonable length, and cover the tips with hot glue (for added reinforcement). Poke the sticks into the turkey's body (the large Styrofoam ball), towards the top for the head and in front and next to each other for the feet. Using a hot glue gun, add the turkey's little eyes. Put the body aside while you work on the feathers.

 3. Prep the feathers.
I made a stencil for the feathers. I looked for the type of printable I wanted, and nothing was quite right, so I drew one up. It's nothing amazing, but you're welcome to it if you'd like. Go to DeSuMama.com for the free turkey feather printable. There are two large feathers and two smaller feathers, with varying thickness, to give an organic and natural look to our turkey's feathers. Cut them out onto a thick cardstock or cardboard. You'll want the stencil to hold up for awhile!
As far as feather placement goes, I decided to make two layers of them: 1 using foam and 1 using paper. While I wanted this project to focus on our daily gratitude, I didn't want my daughter to wait until the end of the month to enjoy the actual turkey craft in all its feathery glory. While this might be a great practice of patience and delayed gratification for older kids (adding 1 feather each day in November to eventually display a turkey full of feathers), younger children less than 4 years old who are just being introduced to elements of Thanksgiving, might not be ready. She was so happy to see the entire turkey come together and has been motivated to talk about gratitude ever since.
4. Create the first layer of feathers.
The first layer is cut out of foam sheets of various colors and hot glued to sticks. I did not hot glue the foam feather sticks into the turkey's body so that storing our craft for next year's daily gratitude project would be easy. I arranged them in rows, switching the sizes and slightly staggering them. I trimmed the feathers' lengths as needed. I suggest making sure the lowest feathers on the sides of the turkey body are the biggest and touch the surface where your turkey will be sitting. This will help stabilize the craft. Other than that, just stagger the rows and have fun. Do whatever feels right for your turkey!

5. Make a second layer of feathers.
I used the turkey feather stencil to make another layer of feathers with regular colored paper. I set these aside so that each day my daughter and I can write what she is grateful for. I glue the paper feathers onto the foam feathers using adhesive dots . On November 1st, she was grateful for Dad, Mom, God. I did not prompt her to write this, but it really made my heart happy! These words also happen to be the only ones she knows how to write on her own (other than her name)! Ha!
On the reserve side of the paper feather, I made a note of what she said, which on November 1st (in addition to Dad, Mom, God) included riding her scooter down our driveway really fast. I believe she meant that she's grateful for being brave, but I transcribed what she said literally. Each year, I'll remove these paper feathers and keep them so that we can appreciate her growth and maturity. And her legacy of gratitude.
On the second day of November, my little girl was grateful for the park. We went out as a family to the farmer's market where she got her face painted and played with a friend. I'm not pushing her to be grateful for anything in particular, or even using this project to reinforce our family values. I really just want to use the words of gratitude, grace and thanks in our parenting deliberately. I want to employ the power of gratitude to raise happy kids.

6. Put on the finishing touches.
To finish off the craft, I added the turkey's beak and gobble thing using yellow and red felt and hot glue. For the beak, I cut out a diamond shape and folded it over. For the snood, I just freehanded it. Easy peasy. I also added some sticks in the back to balance the gratitude craft out.
I am excited to see what this silly girl comes up with each day. My daughter has grown so much over the last few months, and I know this holiday season is going to be our best one yet.
Story and images provided by Vanessa Bell of DeSuMama.com, a Walmart Mom.