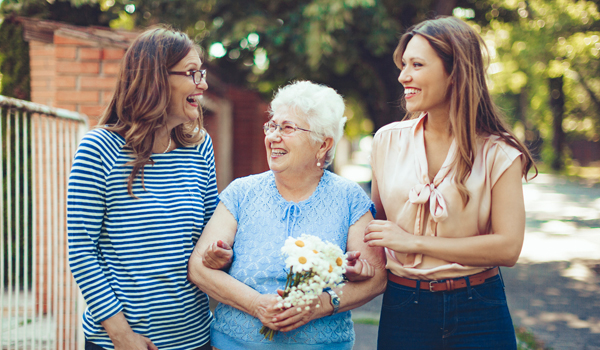 She reigns over every household detail, administers kisses for boo-boos and proclaims all will be well exactly when we need to hear it. For these reasons and more, Mom is the queen of our hearts—so be sure to let her know! Don't worry: Whether you seek a unique experience for Mother's Day, a gift for her birthday or a no-reason-needed treat for an ordinary Saturday, our "Queen for a day" list will make it easy for you to put a smile on Mom's face.
Breakfast banquet
Start her special day with a feast fit for a queen. Prepare a selection of Mom's favorite breakfast foods or delight her with a delicious and impressive-looking dish that's surprisingly easy to prepare. Add a sweet touch by serving jam with heart-shaped toast (cut out with a cookie cutter after lightly toasting). And remember, there isn't a more regal way to start the day than with breakfast in bed. Lap/bed trays complete the experience and will become an instant go-to for moms who read or work in bed.
The royal (spa) treatment
Give Mom a little slice of serenity with an ease-inducing spa experience at home. Select a basket or other attractive container that she can display in the bathroom or on a vanity. Line it with a luxurious bath towel. Then fill it with a collection of relaxing bath and body-care products: rich bath soap (bar or liquid), bubble bath, salts, body lotion, a facial scrub and mask, loofah sponge and candle. Choose products in Mom's favorite scent or go for can't-fail fragrances like lavender and citrus. To up the oohhs-and-aahhs factor, surprise Mom with a soothing foot spa.
Style reigns supreme
If Mom's closet is her castle, give her a subscription to that fashion magazine she always puts in her grocery cart or a beautiful piece of jewelry she'll treasure forever. Or help Mom make her mark with personalized jewelry  and signature perfume in a scent as lovely and classic as she is. Stumped? The fresh fragrance and feminine bottle design of Coach Poppy Flower Eau de Parfum will surely brighten her day.
Crafts wear the crown
"My kingdom for a homemade card!" Give Mom something she values so much that she'd willingly trade her kingdom for it: a homemade card. Not feeling especially arts-and-crafts-inclined? The creatively challenged will be relieved to know that making a beautiful Mother's Day photo greeting card is as easy as uploading Mom's favorite family photo and choosing a card that fits her personality.
The grandeur of gadgets
Even queens have to deal with the go-go pace of life. Bestow Mom with a new tablet or smartphone to help her organize and expand the reach of her kingdom, as well as keep her highness properly entertained. Remember to load up her new device with photos and notes that remind her who her favorite lords, ladies, prince and princesses are.
Domesticity rules
A ruler draws her power from her palace. Beautifully tended gardens and a well-appointed kitchen are marks of a queen's glory. If Mom is a domestic goddess when she's not busy ruling over her empire, add a shiny new small kitchen appliance to her trove of treasures. If she's a morning-time monarch, earn yourself extra praise by giving her a single serve coffeemaker brewing system.
The grandest queen
Grandmothers are moms too. And with two (or more) generations of kids in her family, Grandma has even more reason to celebrate and be celebrated on Mother's Day. Delight her with remembrances of the jewels she prizes most throughout all her kingdom: her grandchildren. Print her favorite photo of them and present it in a beautiful frame that she can enjoy and display with pride.
Ready to make Mom feel like queen for a day? No matter how you do it, remember that the best gifts and experiences come wrapped in hugs, kisses and "I love yous."