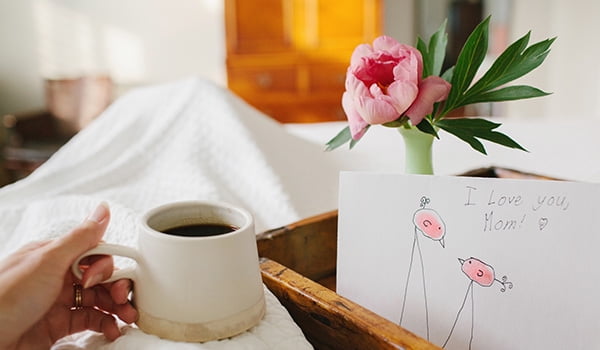 Mothers do so much, and they ask for so little in return. A hug. A kiss. A card on Mother's Day. But not just any card—moms love cards that come from the heart and are handmade with love.
Go beyond folded construction paper and crayons with these unique ideas that will tell the person you're honoring on Mother's Day whether it's your kids' mom, your partner, your own mom, Grandma or someone who is like a mother to you—how much you care.
Types of cards
Photo cards
A picture truly is worth a thousand words, especially when words alone can't express all of your love and appreciation. Photo cards are perfect for Mother's Day and are easy to create with supplies you already have or can easily and inexpensively purchase.
Use your printer and photo paper at home to print out a picture Mom will love—think: her with the kids or the two of you together. Or get your prints through an online service, such as Walmart Photo, or from a local in-store photo department, especially if you're printing out more than one.
In either case, before hitting print, have some fun with photo editing software, and dress up the photo with pretty borders or cute motifs.
Make a simple card
To make the card base, use colorful scrapbook paper on top of thick card stock. Affix the picture to the base with photo corners, which come in a wide variety of designs, from neutral to funky. Make it fun and whimsical by tilting the photo and adding stickers, rub-on transfers, decorative metal brads or 3D embellishments.
Write a story (photo) book
Choose a handful of meaningful pictures and put them together to tell a story. Whether it's photos from your kids' newborn baby days, from family vacations or from Mother's Days through the years, she'll love the trip down memory lane. Acid-free glue sticks, glue dots or double-stick tape are photo-safe and will help photos lie flat on the card.
Give Mom a hand
The mothers in your life will love a reminder that they have raised children as well as grown a family. Trace around your children's hands (or your own!) on a card base. At the top of each finger, glue a mini cupcake wrapper with a round photo of you, your siblings or children inserted in the middle. It will look like a bouquet, with the fingers as stalks and the children as flowers. For this project, photocopied pictures (instead of glossy) will bring back the "old school" look, triggering happy memories of earlier days.
Put it into words
Telling Mom and Grandma how much you care can be as simple as writing "Happy Mother's Day! I love you!" on a card. But this year, try writing something that more precisely describes why she's so important and special.
The acrostic poem
On the front or inside of your card, write an acrostic poem, using the word "Mom," "Mother," "Grandma" or their nickname, if they have one. Write the word vertically down the page, with each letter serving as the beginning of a line. For example, "Mom" might go something like this:
Making cookies with you makes me happy.
One-of-a-kind Mom who teaches me so much.
Magnetic personality draws every one in.
Haiku
For a short-and-sweet sentiment, try writing a haiku—a three-lined, 5-7-5-syllabled poem:
The first line has five.
The second line has seven.
Line 3? Back to five.
Writing prompts
If you or your kids are feeling a little writer's block, try prompts like, "I love you because…," "You're my best friend/hero/inspiration because…," "Mothers are…," "The most important things I've learned from you are…," "My favorite memories of our times together are…" or "What I like doing with you most is…"
Sayings and quotes
Consider including a saying or quote related to motherhood or to something that reminds you of Mom. You can find these in books, songs, poems, movies, books of quotations and more.
Mad Libs
Pick out the perfect Mad Libs to include in the card, or better yet, make a sheet of your own. Write a silly story about Mom, leaving blanks to fill in later with adjectives, nouns, people and numbers. This card will be something fun to complete together.
No matter what kind of card Mom or Grandma gets, she will appreciate the time, effort and thought put into it. Let her know how special she is!