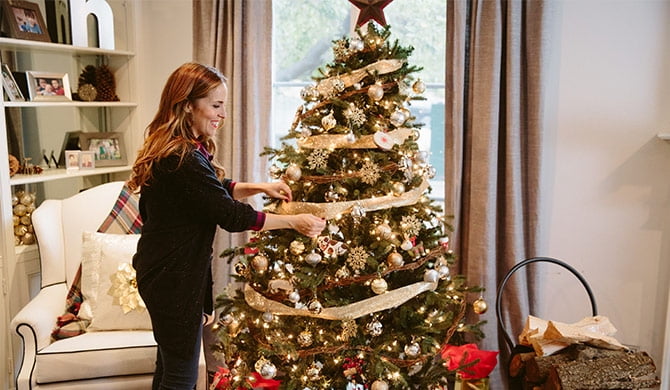 It will come as no surprise to you guys that I absolutely live for decorating during the holidays! Typically I use a lot of the same items over and over, but using the same decorations can get a little…well, what's the word…boring. So, what to do when you want to keep the memories but change up the look? You combine the old decor with the new. Blamo! Fab Christmas where you cherish old memories while making some new ones!
This year I decided to elevate my Christmas decor with the help of Walmart. This is the perfect trick to combining your old ornaments and holiday decor with brand new budget-friendly items to up your holiday game. And because it's Walmart there will be plenty of cash left over to deck the halls and enjoy some eggnog too! Here's a look at some simple (and budget friendly) ways you can enhance your holiday decor the way I did.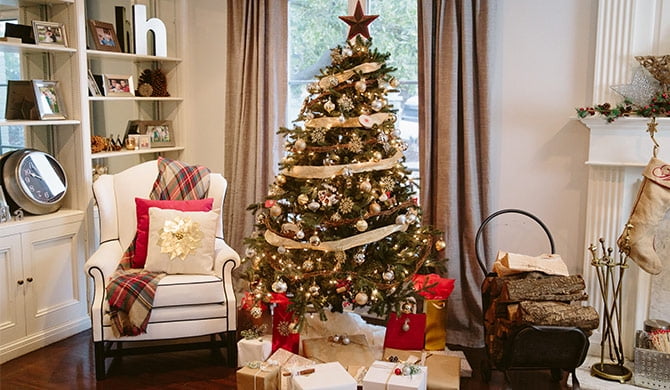 I started with the tree because it's the focal point that ties everything together. Get a little variety this year for your Christmas tree by picking a new color scheme. I went with gold, white and silver. This look is easier to achieve then you think. I bought two tubs of gold and silver matte glitter ornaments for less than $10 each! The addition of these ornaments instantly added some glam the look of the tree.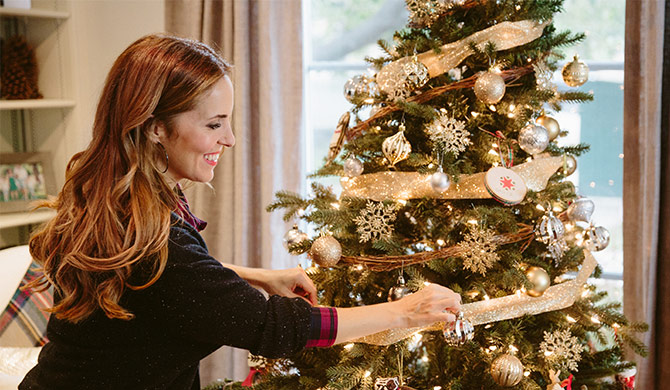 I added some texture with gold ribbon and a few snowflake Christmas ornaments, and my tree was immediately transformed! Then I combined our family ornaments that we love to enjoy every year as a finishing touch.
Bar cart upgrade

Usually we keep our bar cart outside, but since I'd already picked our gold, silver and white theme, I was on the lookout for anything that I already had to help create the look. Don't have a bar cart? You can get one at Walmart too!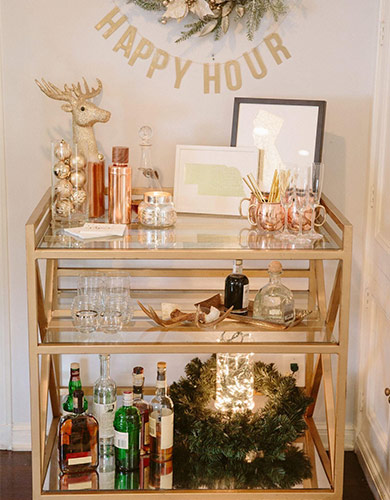 When styling a bar cart there are a few simple rules that will lead you to instant success: pretty glasses, art, something quirky and, of course, the drinks. I started with a beautiful silver wreath as a focal point. Found some copper mugs that served as my pretty glasses and this gold deer tree topper for something quirky. I made some "art" using some of the leftover ornaments and lights from my tree. From there all you have to do is put them in some vases and you've got some festive art pieces for your bar. For the last touch, I added a cozy white shag rug.
Mantel magic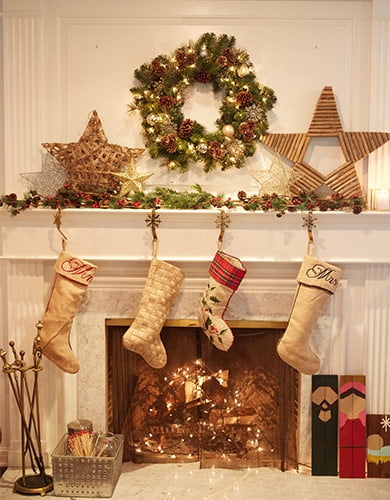 The mantel is my favorite place to decorate! The big stars are a collection of past season's decor and to elevate the space I added a few silver and gold stars, a wreath and some additional star ornaments, pine tree garland and two gold candles with gold holders. I used a mixture of our old stockings, and the entire space felt stunning and new!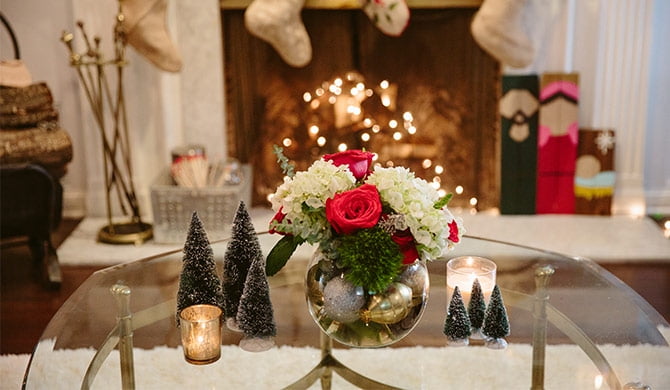 To tie the entire room together I created a DIY flower centerpiece using ornaments from Walmart then surrounded it with these adorable artificial mini Christmas trees.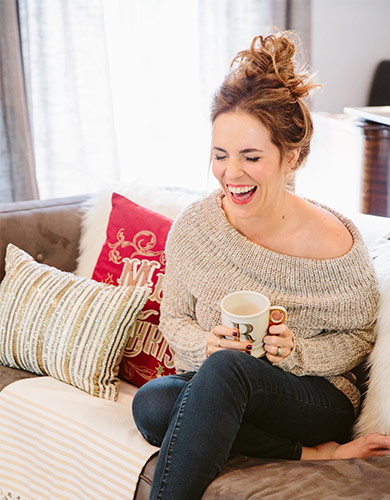 Our living room is usually pretty dark so to lighten the space and really get that winter wonderland feel, I found as many gold embellished and fluffy pillows as possible. I also found this cozy off-the-shoulder sweater. Pair with a messy bun and hot chocolate to live out your holiday fantasy.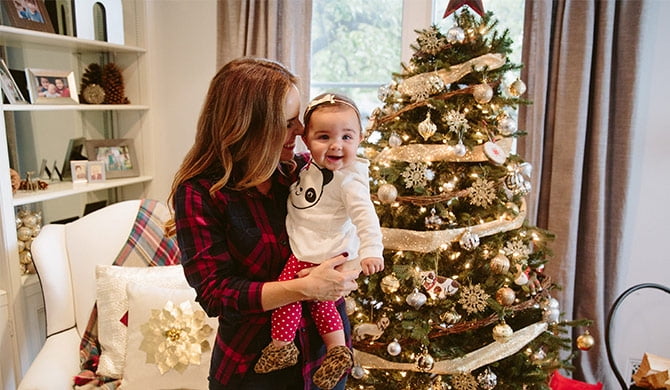 Not only did I completely transform our living room into a Christmas dream but I upgraded Noah's and my style game too! Check out this Minky & Fleece Tunic and Legging set for under $7! Noah approves!
I hope you were inspired to elevate your decor for less this season.
Rachel Hollis is the creator of The Chic Site. A lifestyle website dedicated to creating uplifting, happy, helpful content for women. She says she's a proud working mama with four kids and an ultra hunky husband. She worships coffee like a deity, reads books like her life depends on it and thinks vodka with La Croix is one of the greatest inventions of the last decade.