Sarah Tripp of Sassy Red Lipstick is a San Francisco-based fashion blogger and body positivity advocate who believes that being fashionable is just as much about confidence as it is about style. We asked her to tell us what she'd wear and what she'd bring to three different types of holiday parties. Keep reading to see her holiday party looks and gift ideas! 
It's that time of year again and the holidays are upon us! This is my most favorite time of the year, not only to celebrate with loved ones but also for fashion! There's just something about layering cozy scarves and chic coats during the day, and then wearing sequined dresses and fancy heels for an evening out. Between all the family gatherings and holiday parties, we all want to look our best during this season, but many of us have already started budgeting for gift giving, decorations and our wardrobe. Luckily, we don't have to sacrifice style to stay on budget, and today I'm showing you how.
I'm partnering with Walmart to share with you three different holiday-ready looks for various activities that are on-trend and won't break the bank! I'll also be sharing the perfect gifts to bring to each event.
A family gathering outfit + hostess gift ideas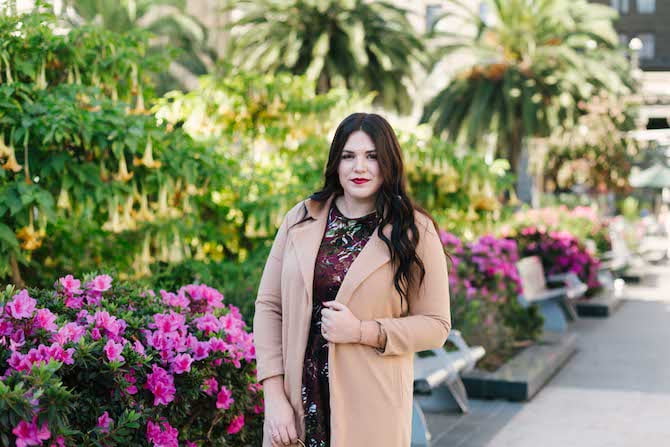 'Tis the season for family gatherings and dinners! I tend to choose an outfit that's fall themed but still comfortable and warm. Whether you're getting together for a dinner out on the town or heading to do family photos, looking put together is key. This floral print dress in rich hues is the perfect way to dress up for your Thanksgiving feast. I'm also pairing a block glitter heeled shoe with it for a touch of glam. There's nothing more classically chic to me than a camel coat, and this one fits the bill perfectly as a layering piece. I swipe on a dark lip for a bit of drama and I'm all set! The best part? This entire outfit is under $100! Can't beat that.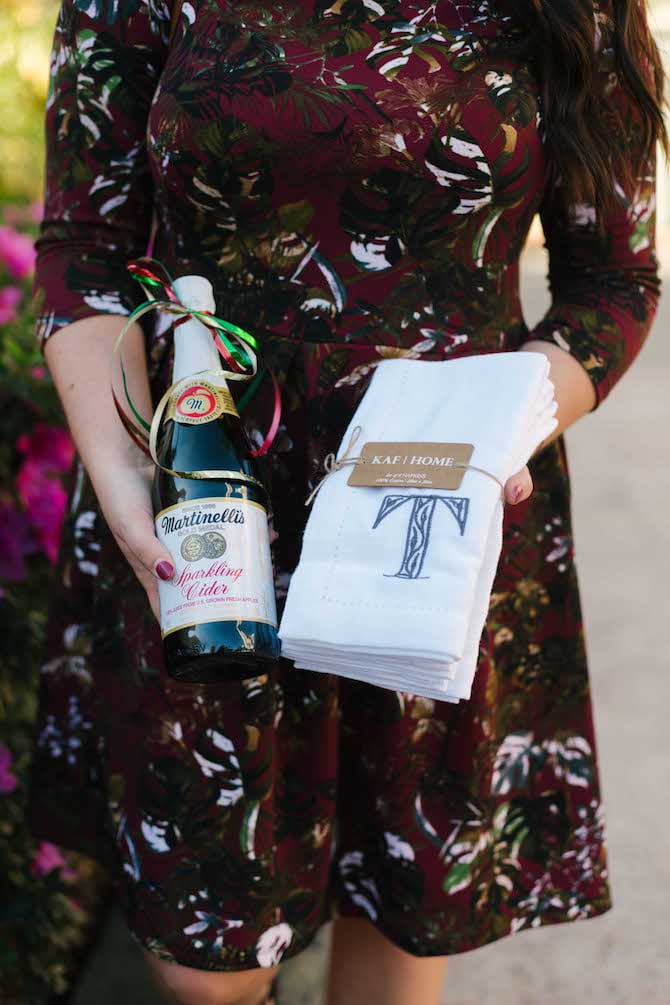 If a family member is hosting you for a dinner, it's always kind to bring your host or hostess a small gift. A bottle of Martinelli's is a great way to bring something for everyone at the table to enjoy. I also like to keep extra candles on hand because I believe sharing your favorite scent with someone is a thoughtful gift with a personal touch. Another great idea is bringing monogrammed napkins for your host! It's a small decor item that can really add to the tablescape.
Work party attire + white elephant gift ideas


Once December rolls around, the holiday work parties begin. These are always so fun because you get to glam it up and let loose! Now, I realize the average woman might not have a formal dress sitting in her closet waiting to be worn for such an event, so I found this gorgeous red maxi dress for under $50! The wrap style is so flattering and the color is perfect for the holidays. I also dressed up this jersey dress by pairing it with a faux fur jacket, embellished heels, and voila! You're party ready! Add even more glam with a gold beaded clutch and matching sparkly choker necklace. I love fun costume jewelry and this is the perfect occasion to add some sparkle to your outfit.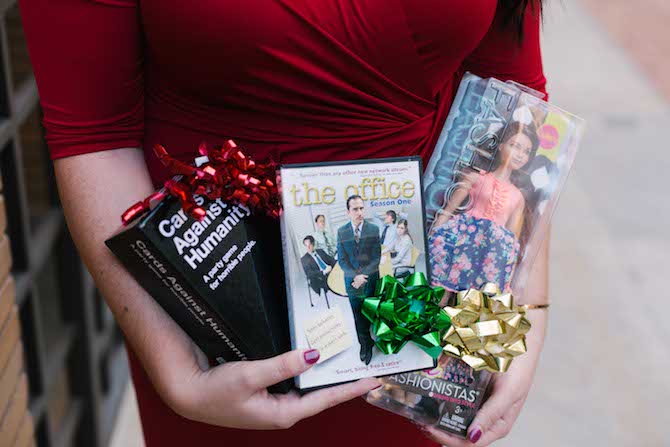 Holiday work parties and white elephant gift exchanges usually go hand in hand. However, when it comes to those gifts, a lot of people tend to bring something extra silly and quirky, but I always prefer to bring something I myself would actually want to get! It can still have a hint of humor of course, but let's be honest: no one is going to use a whoopee cushion or granny panties. Why not give a gift that someone can actually get some use out of? A great idea is a fun adult game such as Cards Against Humanity. Or why not bring the classic first season of The Office on DVD to your work party?! How very appropriate. And lastly, as a proud body-positive girl, you can bet that I would bring a curvy Barbie for someone to receive. All of these white elephant ideas are under $35, so you won't be breaking the bank and yet are still giving gifts worth getting.
Casual lunch with your girlfriends + thoughtful gift exchange ideas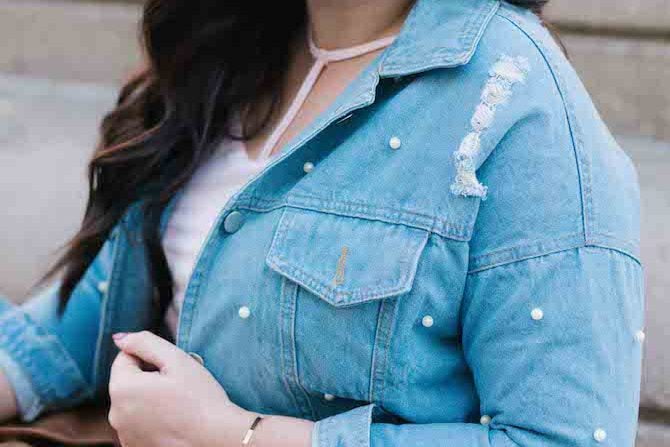 Every holiday season, I get together with my girlfriends before we all head out of town to be with our families. It's such a joyous time of the year, and we spend an afternoon grabbing lunch and catching up on our lives before we say goodbye to the year and usher in the new! We also like to exchange small gifts as well. Whenever we meet up, I'm always sure to wear something stylish because we usually take photos and go out to eat in the City. This year, I decided to switch it up from the traditional holiday colors and wear my favorite color: pink. A detailed tee, suede skirt and booties are the perfect combo for an afternoon lunch. Since I live in San Francisco, a light layering piece is all that's needed, and this denim jacket does just the trick.
Sometimes gifts for the people you love most can be the hardest! I always like to make sure I'm considering their unique personalities when buying gifts, so for my girlfriends I've come up with a few ideas. An initial necklace is a thoughtful gift that has a nice personal touch, and what girl doesn't like jewelry?! Bath bombs are a personal favorite of mine because sometimes we all just need to take a night off from looking at our phones, grab a book and soak in the bath. Lastly, a blanket scarf is the perfect gift for your girlfriend who is fashion forward. I wear my blanket scarves all fall/winter long and even use them as actual blankets on flights!
Thanks to Walmart, all of these styles are right on trend and still allow us to stick to our budgets. It's the perfect fit! I also love that Walmart is a one-stop shop: you can buy your outfits, purchase your gifts and collect your groceries for your holiday meals! Because of the incredible prices, we can spend less and Walmart will provide the best. Have the best holiday season! Be sure to follow me at sassyredlipstick.com for more styling tips and tricks! xx