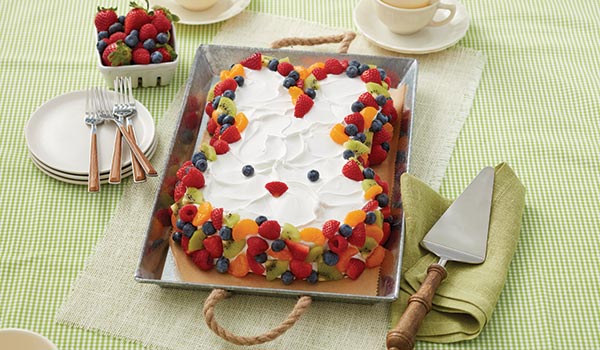 How to make a bunny cake with fresh berries and fruit for decoration.  Light and refreshing, this Very Berry Bunny Cake is a great way to welcome the start of spring. Using vanilla frosting and an assortment of fresh fruits, this cake is both vibrant and delicious!
Supplies:
For the cake:
Favorite cake recipe or mix (4 ½ – 5 cups batter needed)
Cooling rack or grid
For decorating:
13 in. angled spatula
Water
Blueberries
Strawberries, quartered or cut into small pieces
Raspberries
Kiwi, cut into small pieces
Mandarin oranges, divided into segments
Instructions:
Bake and cool cake.
Prepare icing.
Decorate cake.  Use spatula to ice cooled cake.  Use two blueberries and a cut strawberry to create bunny face.  Arrange remaining fruit around edge of cake.
Serves 12