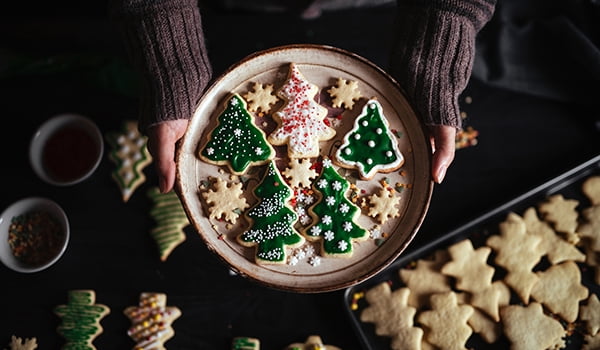 What do you do with a love for baking holiday cookies, a coworkers-and-neighbors gift list as long as your arm and a group of friends in the same situation as you? If  it's the holiday season, you host a cookie swap. It's an ingenious way to get into the spirit of the season, be social and fill up all those cute cookie tins you plan to give as gifts.
Our checklist is filled with tips that make planning easy.
Planning and invitations
Start early
Holiday calendars fill up fast, so send invitations three to four weeks in advance. Limit your guest list to eight people so that the baking duties feel more fun than work.
Go digital
Invite guests via a group email, or use a free online invitation website like Evite or Paperless Post, which can make it easy to manage RSVPs and send updates and reminders.
Keep track
Even when it comes to cookies, you can definitely have too much of a good thing. To avoid duplicate cookies, create a list of what each guest will bake. A simple online spreadsheet created on Google Drive or a similar online application would work well.
What guests should bring
Homemade cookies
Ask guests to pick a favorite cookie and bake a dozen of them for sampling at the party, plus a dozen cookies to give to each attendee. Confirm the number of guests a few days in advance so everyone knows how much to bake.
Printed copies of the cookie recipe
 Ask guests to add his or her name to the recipe and bring enough copies for everyone attending.
Take-home containers
Remind guests to bring plastic containers or tins for filling with an assortment from the cookie swap.
Party setup
Make a special space
Set up a table large enough to display a tray of each type of cookie. Designate part of the table, or a different table, for sampling the cookies. Add festive touches like a red tablecloth, greenery and other accents to the table. Place guests' recipes next to each cookie tray.
Roll out the refreshments
Swapping cookies is thirsty work. Have hot water, tea and coffee at the ready. Savory snacks like cheese and crackers and party mixes can provide a welcome balance to all the delicious sweets.
Set the mood with music
The most wonderful time of the year enjoys a wide variety of festive music, from traditional to contemporary. Make a fun playlist, stream music from a site like Pandora or Spotify, or tune in to Christmas music on your favorite radio station.
Pulling together a cookie swap is that easy. And they're so much fun for everyone, you might just be inspired to make it an annual tradition.
Ready? Set. Swap!