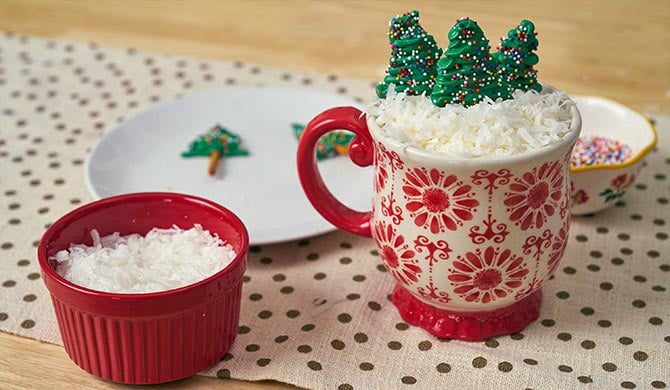 Mug cakes make it easy to whip up beautiful, single-serve holiday cakes faster than you can say "Ho, ho, ho!" We'll give you step-by-step recipe instructions for five festive flavors: cookie butter, chocolate, peppermint swirl, eggnog and snickerdoodle. The hardest part? Choosing which one to make first.
New to mug cakes? They're a modern take on the classic cupcake, with less fuss. These individual cakes are made in a mug, and the batter is baked in a microwave oven instead of a conventional oven. All of which means you can quickly make as few or as many as you like—as long as you have the right number of mugs. Bonus points: they're a great way to grab some baking and decorating time with the kiddos, plus it's really fun to watch the mug cakes bake in the microwave.
Choosing a mug
Before you start, figure out which mug works best for you. We used large 20-ounce mugs to bake all of these mug cakes, which is ideal. You can make these recipes in smaller mugs, just divide the batter into two or three separate mugs and invite friends over to share. Keep in mind that different mug sizes will require different cooking times, you'll need less time for a smaller mug of cake.
No matter what size mug you choose, make sure you use microwave-safe mugs. Oh, and be sure you leave plenty of room for dessert!
Either you love cookie butter or you just don't know what it is yet. But if you're already familiar you're probably drooling at the thought of making a mini cake using this cravable flavor. Cookie butter is a spread made to taste like speculoos cookies (Biscoff cookies specifically). It has a toasty, caramel flavor that's good any time of year but certainly fits into the holiday spirit. So, basically, this is a cake that tastes like a cookie. You're welcome.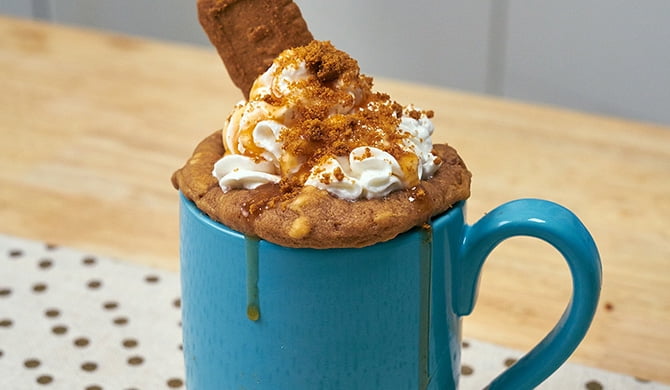 Get the printable recipe: Cookie Butter Mug Cake
One chocolate, two chocolate, three chocolates. Yes, just like it sounds, this cake uses three kinds of chocolate: cake mix, hazelnut spread and chocolate chips. Get ready to give in to your chocolate bliss.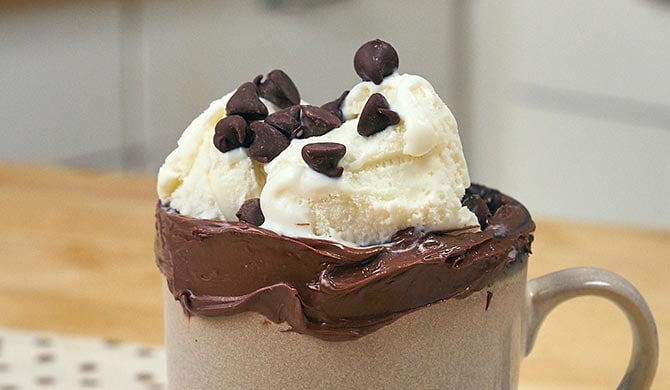 Watch the video of how to easy it is to make your very own triple chocolate mug cake.
Get the printable recipe: Triple Chocolate Mug Cake
Whip up a mug full of winter wonderland cheer with this peppermint flavored mug cake, complete with a fun red swirl, coconut snow and green chocolate pretzel trees (check out our how-to). Get ready to wow the kids, kids at heart and your pals on social media.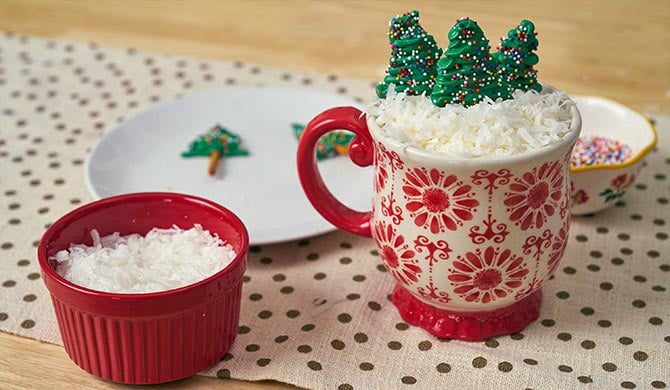 Get the printable recipe: Peppermint Swirl Mug Cake
If peppermint is the king of holiday flavors, then eggnog is surely the queen. We'll show you how easy it is to surprise and delight everyone with a cozy cup of eggnog-flavored cake.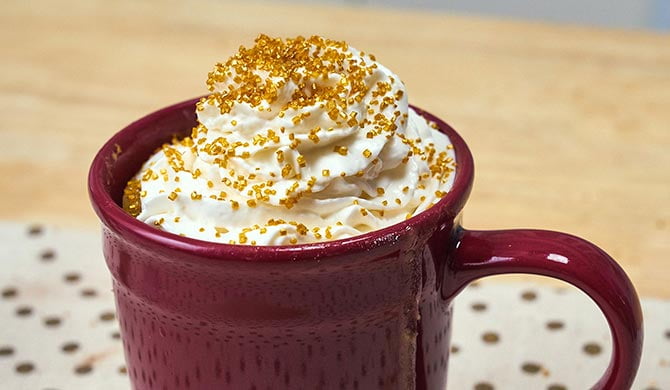 Get the printable recipe: Eggnog Mug Cake
Welcome the season with this easy, snickerdoodle-inspired mug cake that features cinnamon, wintry blue frosting and snowflake candies.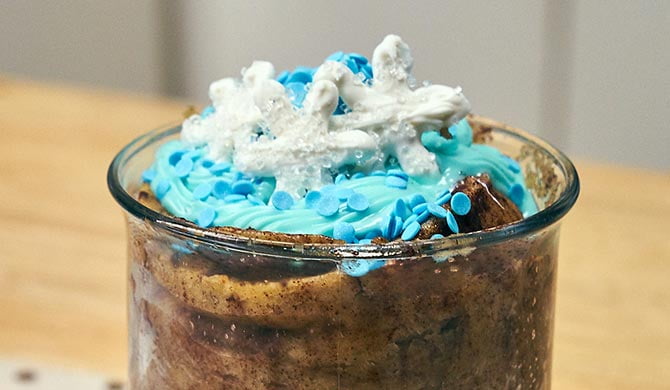 Watch the video of how to easy it is to make your very own snickerdoodle mug cake.
Get the printable recipe: Snickerdoodle Mug Cake