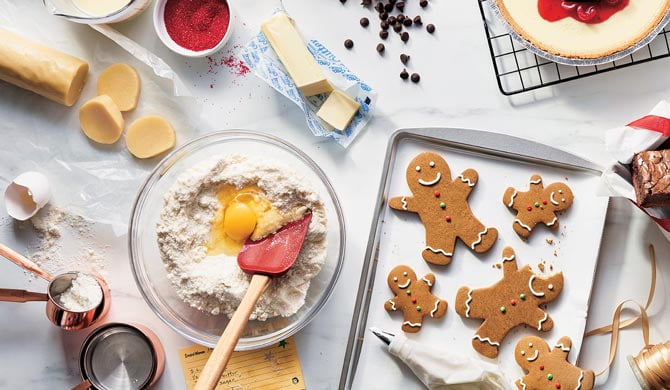 While the cookie swap is not (yet) a competitive sport, you do want to make a good showing. We'll share some easy tips for dressing up basic cookie recipes like drop cookies, spritz cookies, bar cookies, filled cookies and cut-out cookies. Get ready to inspire some oohs, ahhs and more than a little cookie envy. 
Pick a great cookie: types of cookies
What kind of cookies do you make to make? Maybe you're lucky enough to have a cookie recipe that has been passed down over the generations, that you make every year and that everyone wants the recipe for. By all means, make that! We salute you and your generation of baking bosses! But if you're not sure what to make we have a few ideas. While not the most complete list ever, below are some recognizable and well-loved cookie types to help you navigate Christmas cookie lane.
Drop cookies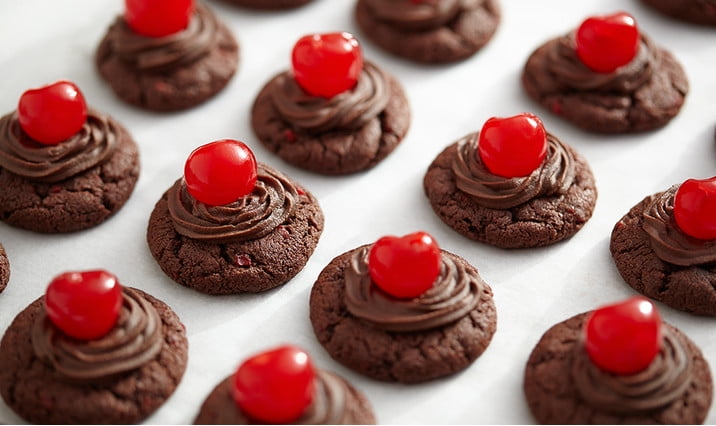 For drop cookies the batter is scooped on to a baking sheet and then baked. Think of the classic chocolate chip cookie—that's a drop cookie.
Drop cookie recipes
Tips: With many doughs, you can give drop cookies a more professional look by
taking just a little time to form the dough. These tools and techniques make it easy to create more consistent sizes.
Technique 1: Use a cookie scoop. A cookie scoop will keep the size and shape consistent.
Technique 2: Roll the dough with you hands. First, refrigerate the dough for at least 30 minutes. Chilling the dough will cause the fats—probably butter—in the cookie to firm up, making them easier to roll and creating less mess on your palms. Then, use both hands to roll the dough into a ball. Depending on the size of the cookie balls, you might have to adjust baking time slightly (the larger the cookie, the longer the baking time).
And while we love simple drop cookies for everyday gift giving, they can be a little overlooked at a holiday-themed cookie swap. Add a little holiday color, texture or variety to this classic cookie recipe by using sprinkles, dried fruit or chopped chocolate instead of traditional chocolate chips.
Spritz cookies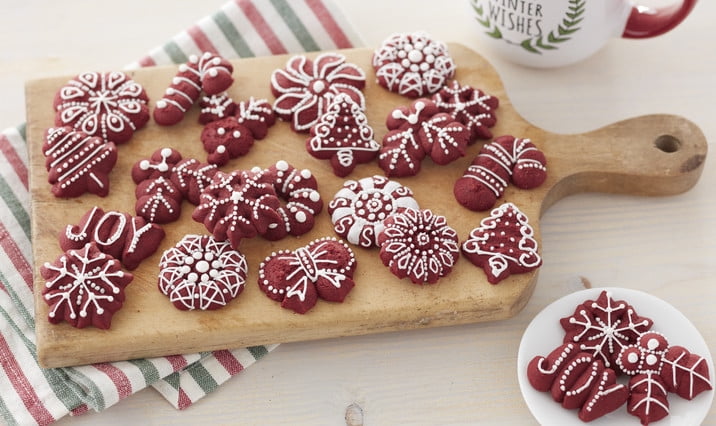 Spritz cookies are a kind of fancy drop cookie formed by using a special tool called a cookie press (alternatively called a "spritz cookie press"). A cookie press is designed to create very specific shapes. Depending on the press you use, you can make shapes like trees, flowers, snowflakes and more. These cookies are almost as easy to make as drop cookies, but they do require this special tool, and some practice using it. Give yourself extra time to get the hang of it and you'll be fine.
Get the recipe: Red Velvet Spritz Cookies
Bar cookies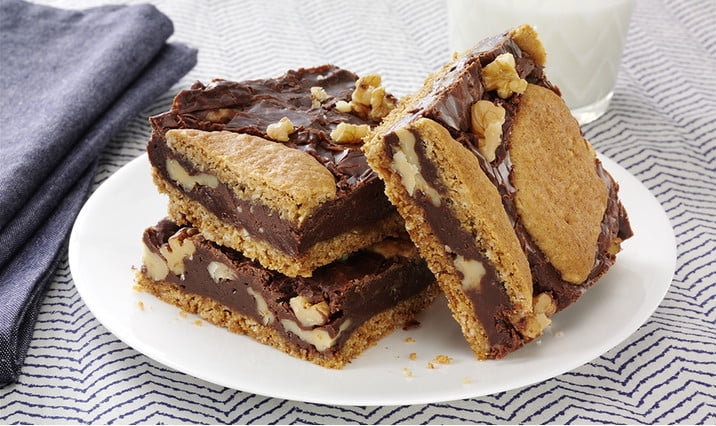 Bar cookies are baked in a pan, and then cut into individual servings. Popular bar cookies include blondies, streusel bars and brownies. Now, while some people think that brownies are not bar cookies, we do. And until there is a periodic table of cookies certified by Betty Crocker herself, we're allowing brownies into the bar cookie category.
Tip: Even when they taste great, bar cookies can sometimes look a little plain. Spruce them up by cutting them into diamond shapes or long rectangles instead of basic squares.
Bar cookie recipes:
Filled cookies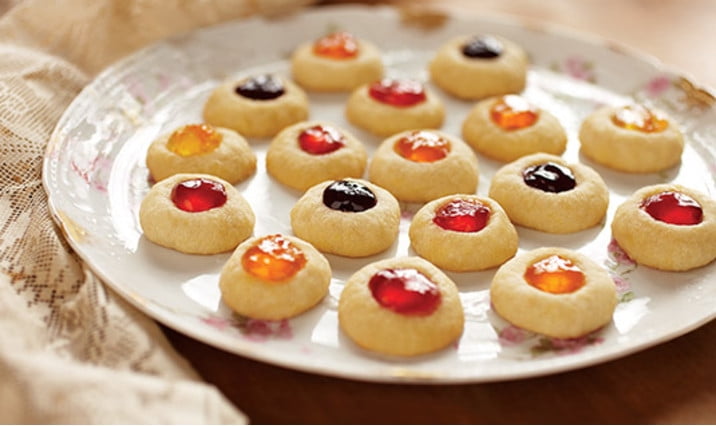 This is a big category of cookies. Basically, if there's anything more to it than the batter of a cookie, it probably qualifies as a filled cookie. Often a filled cookie borrows from one of the other categories (like a drop cookie with filling added).
Blossom cookies are drop cookies with chocolate kisses added right after baking. Sandwich cookies are either drop or cut-out cookies with a filling between two cookies. Thumbprints or Jewel cookies are drop cookies with filling added on top before baking—. Just to name a few.
One of the fun things about filled cookies is that they let you create flavor combinations that you wouldn't be able to achieve using just the dough. Get creative!
Filled cookie recipes:
Cut-out cookies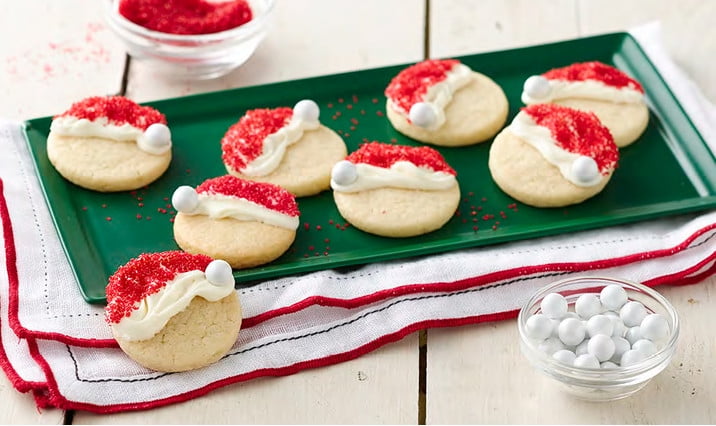 Cut-out cookies use dough that is chilled, rolled out (with a rolling pin) and then cut using cookie cutters or another sharp edge to make shapes. These cookies make a great blank canvas for decorating, and are usually made out of simple sugar cookie dough or gingerbread dough.
Cut-out cookie recipes:
Dressing up cookies made from a mix
We are all about the time- and sanity-saving magic of cookie mixes. They come in a variety of flavors like sugar, peanut butter, chocolate chip, snickerdoodle, oatmeal, molasses and more. Even better, they let you focus on the fun stuff: the decorating and flavor combinations. Here are some easy but impressive-looking ways to dress up cookies made from a mix (they're also great with homemade cookies).
Dipping
For a quick way to gussy up a big batch of cookies, try dipping them into melted chocolate. You don't have to dip the whole cookie, either. Half-dipped cookies are gorgeous, just make them look intentional.
Drizzling
This decorating technique is the fancy cousin of dipping. It requires a little more finesse (less is more here) but is easy to do once you get the hang of it. Practice on a plate before you move on to actual cookies. Up your decorating game by dipping cookies and then adding touches of drizzle.
Coated
An easy way to elevate a cookie is to coat it with either powdered sugar or something with a crunchy texture, like chopped nuts or sprinkles. This works great with drop cookies that you've formed into a ball. Simply take the ball, roll it in the sprinkles, nuts or powdered sugar and then bake. If you're using nuts, make sure to use this technique with smaller cookies that don't need more than about 8 or 9 minutes to bake, or you may burn the nuts.
Individually wrapped
Using cellophane treat bags to individually wrap your baked goods is a great way to present them. At cookie swaps you want to make it clear how many each person can swap (one big cookie or a few little cookies). Portioning and presenting cookies in bags makes this easy and looks pretty, too.
Don't forget the hostess gift
Even though everyone is bringing cookies, don't forget to bring a hostess gift (ideally not cookies) for the host. Your host probably likes baking, so we've curated a great assortment of gifts for baking enthusiasts, even those who seem like they already have everything. (Note: they still want more!)