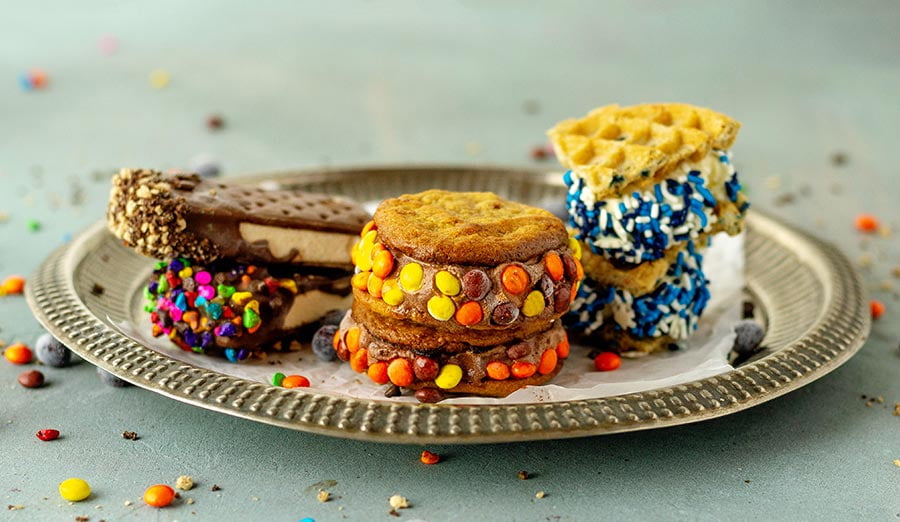 Add a little more fun to your summer by whipping up homemade ice cream sandwiches. Summer is the perfect time to enjoy these frozen treats and to celebrate ice cream sandwich day, any day. All you need are cookies and your favorite ice cream flavor. But there's more. We've taken it a step further with ideas for an alternative to cookies (hint: it's a waffle) and an even easier customization of a store-bought ice cream sandwich. It's time to choose your ice cream sandwich adventure: easy Homemade Peanut Butter Cookie & Chocolate Ice Cream Sandwiches, easier Blueberry Waffle Ice Cream Sandwiches or easiest Chocolate Ice Cream Sandwich Pops.
Each of these easy ice cream sandwiches takes less than 30 minutes to assemble. With a few simple ingredients, you can make ice cream sandwiches at home anytime.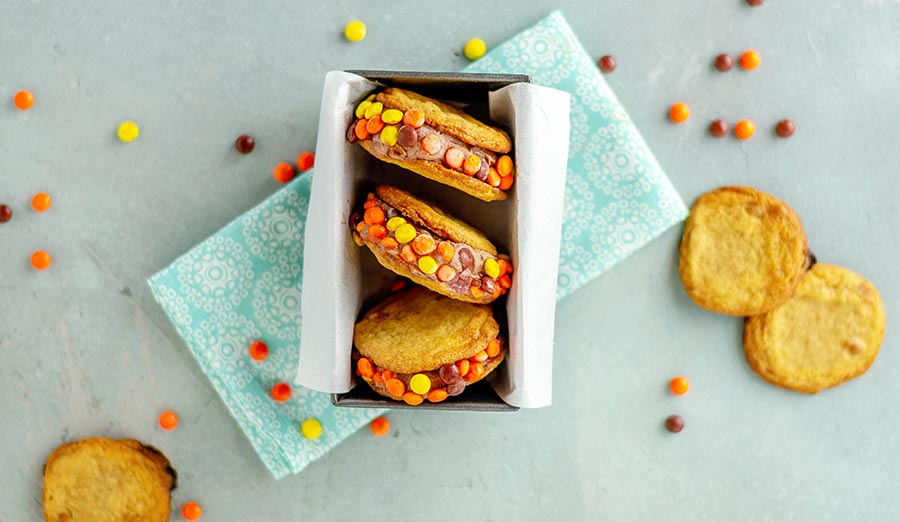 The classic ice cream sandwich is cookies and ice cream, so you can go crazy with any combination you like. But sometimes a classic cookie and ice cream combo is great too, like the age-old combination of chocolate and peanut butter. Using refrigerated dough, creamy chocolate ice cream and miniature Reese's Pieces Mini baking bits, this recipe packs a chocolaty peanut butter punch that we think everyone will go nuts for.
Makes: 12 sandwiches
Total time: 30 mins
What you'll need:
*You can find Reese's Pieces Minis in the baking aisle near the chocolate chips.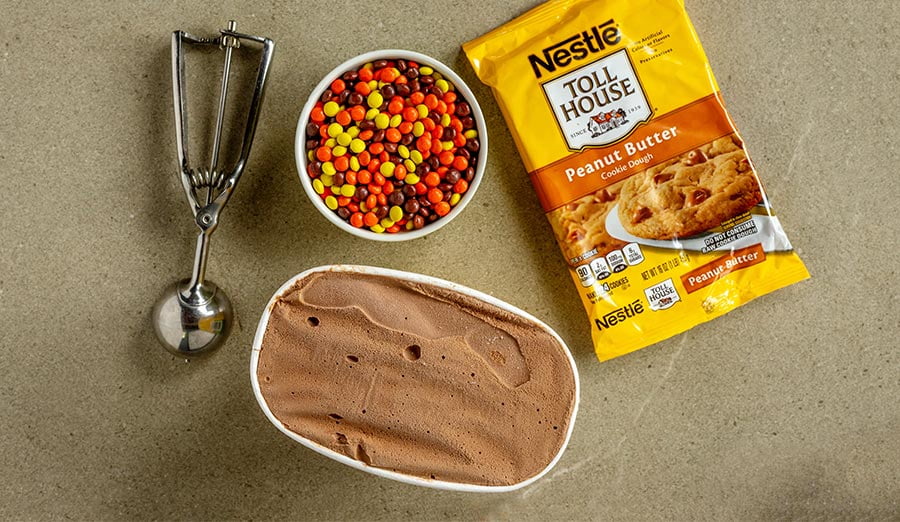 Step 1. Bake the refrigerator cookie dough cookies according to package directions. Once cooled, remove them from the cookie sheet.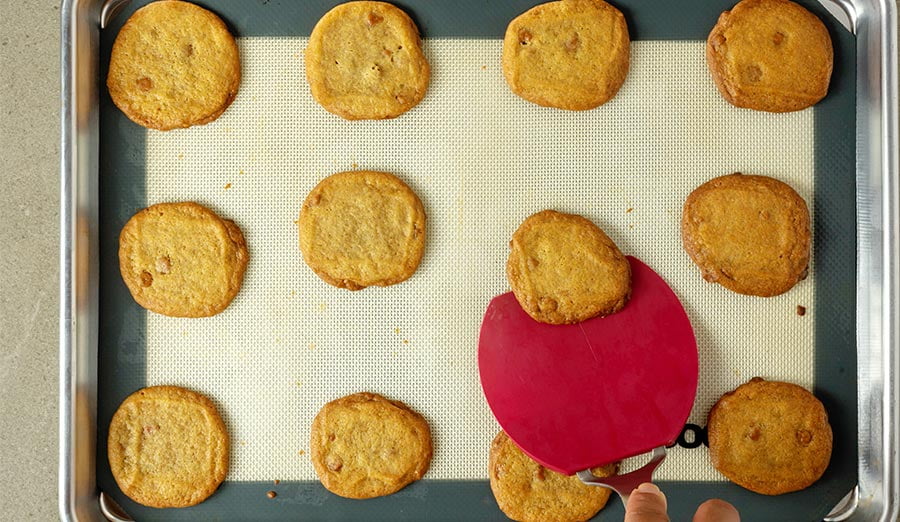 Step 2. Scoop a generous amount of ice cream with the large cookie dough scoop. Place the ice cream on to the flat side of one cookie. Place another cookie on top, with the flat side down.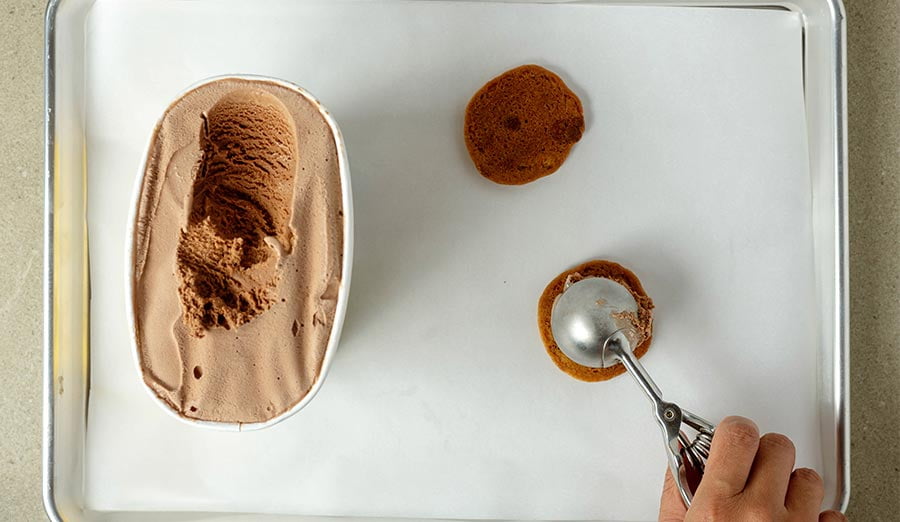 Step 3. Give the cookie a gentle squeeze to get the ice cream to spread to the sides. Dip the edges of each cookie into a bowl of the Reese's Pieces Minis. The ice cream treats are ready to eat immediately.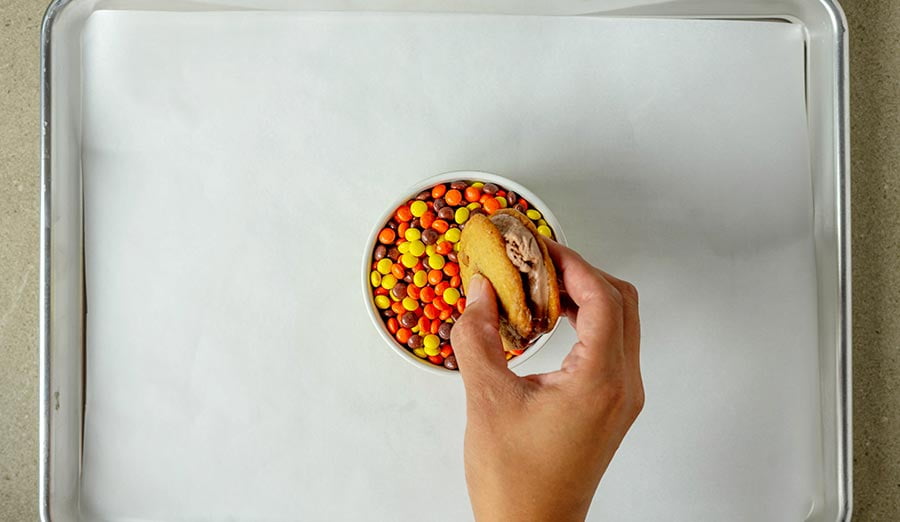 Get the printable recipe: Peanut Butter Cookie & Chocolate Ice Cream Sandwiches
Tips & variations
Freezing: Allow the ice cream to rest in the freezer (not a deep freezer) for 12–24 hours before use. This will help the ice cream reach the perfect scooping texture.
Candy sticking properly: If you are having a hard to getting the candy pieces to stick to the sides of the ice cream sandwich, place the cookies sandwiches in the freezer for about 20 minutes to slightly harden, then try again.
Make it your own: Baking cookies from scratch allows lots of opportunities to to think outside the store-bought cookie box. Have a favorite peanut butter cookie recipe like this one? Or another favorite family recipe? By all means, use it!
Even quicker: Make this even quicker by picking up your favorite bakery cookies.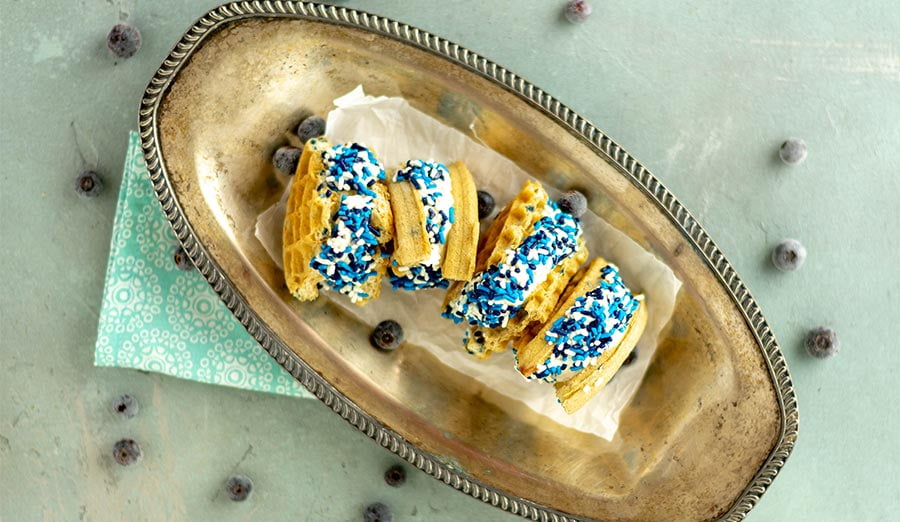 Breakfast isn't the only time of day to enjoy waffles. This ice cream sandwich uses frozen waffles in place of the cookie for a an unexpected and fun treat. Because frozen waffles aren't as sweet as cookies, they're are a great way to get a taste of something sweet without as much sugar or calories.
Makes: 4 sandwiches (two waffles)
Total time: 10 mins
What you'll need: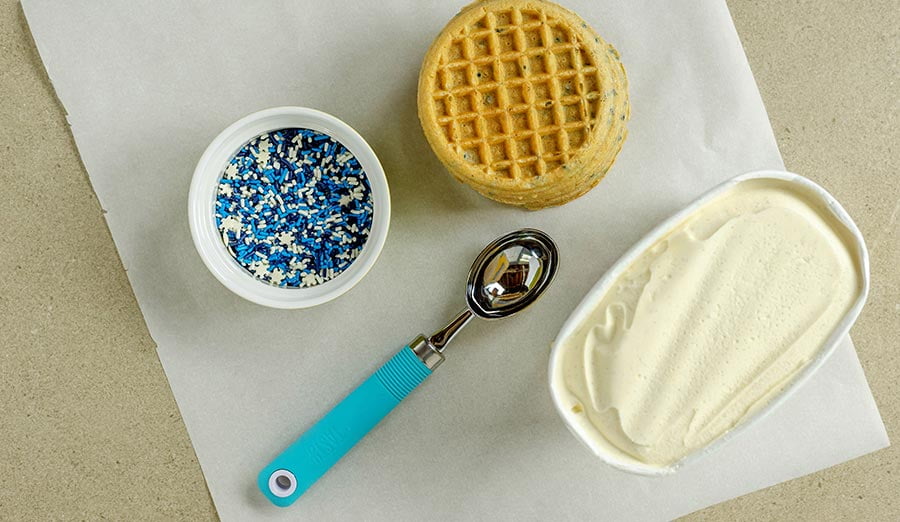 Step 1. Cut the waffles into quarters. (No need to toast them beforehand. Frozen waffles are completely cooked and edible frozen.) Place a generous scoop of ice cream onto one of the waffle quarters.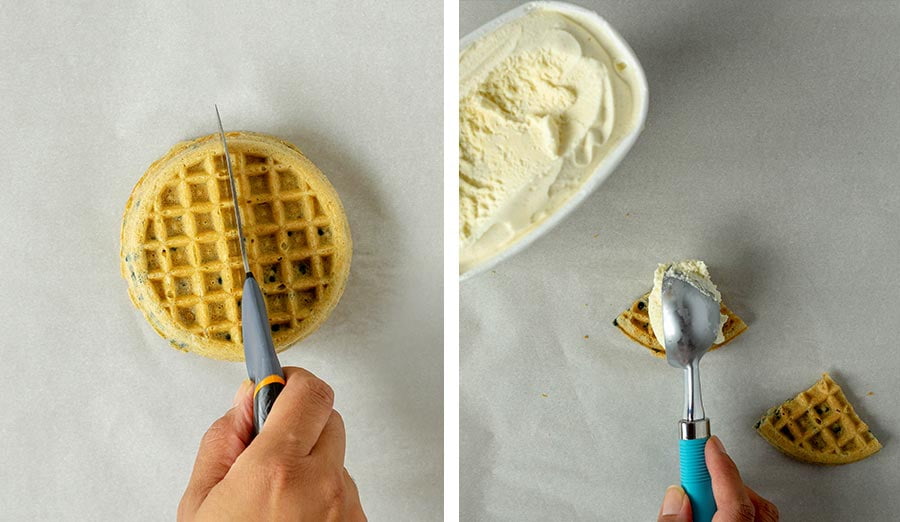 Step 2. Place another quarter piece on top and give it a gentle squeeze to secure. Dip the sides of the sandwich into candy sprinkles. Eat them immediately or freeze for later.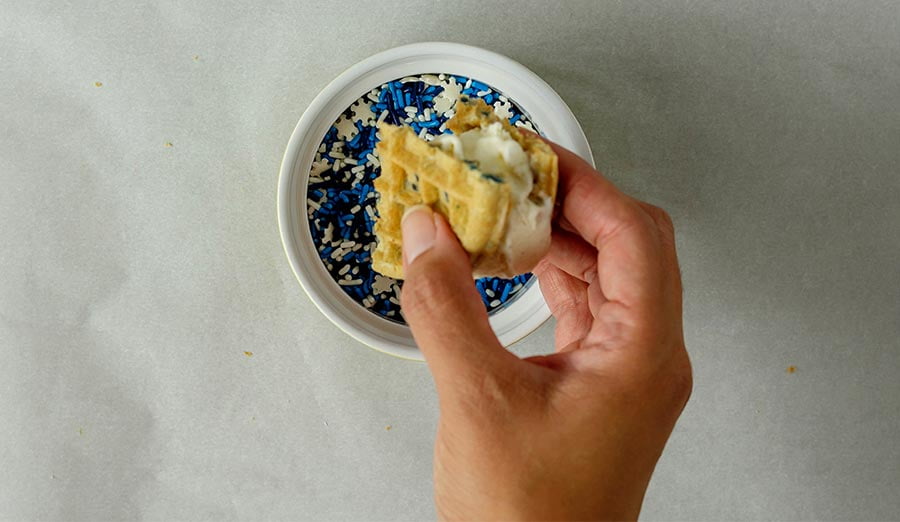 Get the printable recipe: Blueberry Waffle Ice Cream Sandwiches
Tips & variations
Easy waffle cutting: Stack two waffles on top of each other, then cut into quarters to guarantee matching triangles.
Make it your own:  For a lower calorie, lower sugar and higher fiber version of an ice cream sandwich, swap in whole grain waffles and a lower calorie ice cream such as Halo Top.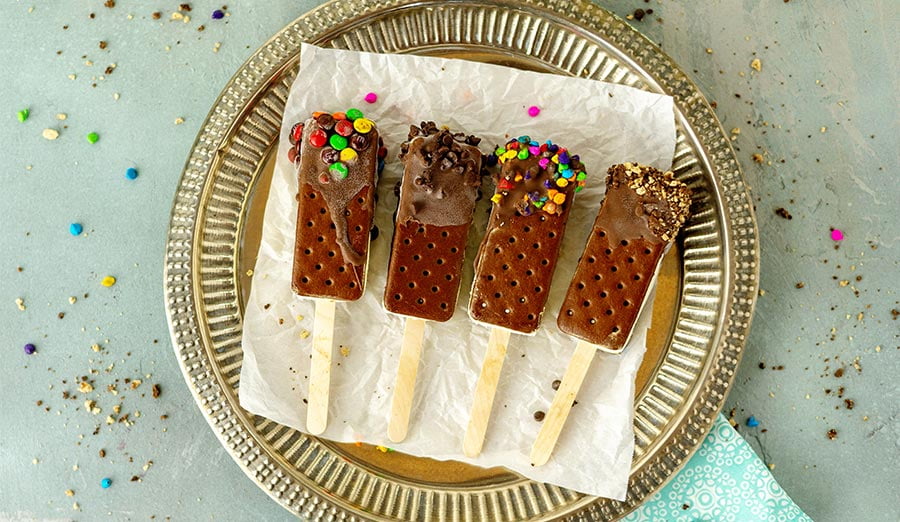 For a quick, no-fuss method of customizing a frozen treat, classic ice cream sandwiches are the perfect palette. Regular ice cream sandwiches can be decorated with a multitude of edible colors and textures. Turn it into a "pop" for extra fun.
Makes: 12 servings
Total time: 10 mins
What you'll need: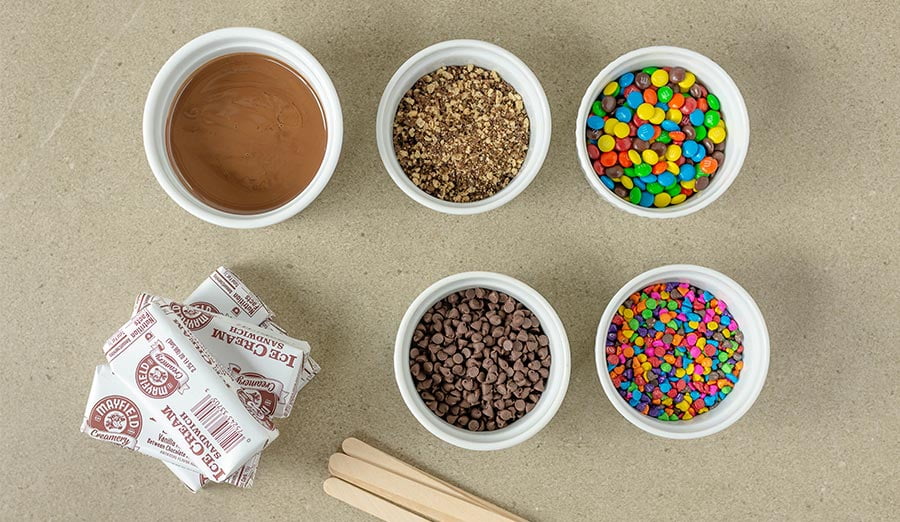 Step 1. Insert a wooden Popsicle stick about halfway through each mini ice cream sandwich.
Step 2. Dip the top of the ice cream sandwich into the Magic Shell Topping. Wait about 10–15 seconds so that the shell topping partially sets up.
Step 3. Dip the chocolate covered ice cream sandwich into a topping. Ta-da! It's ready to be enjoyed.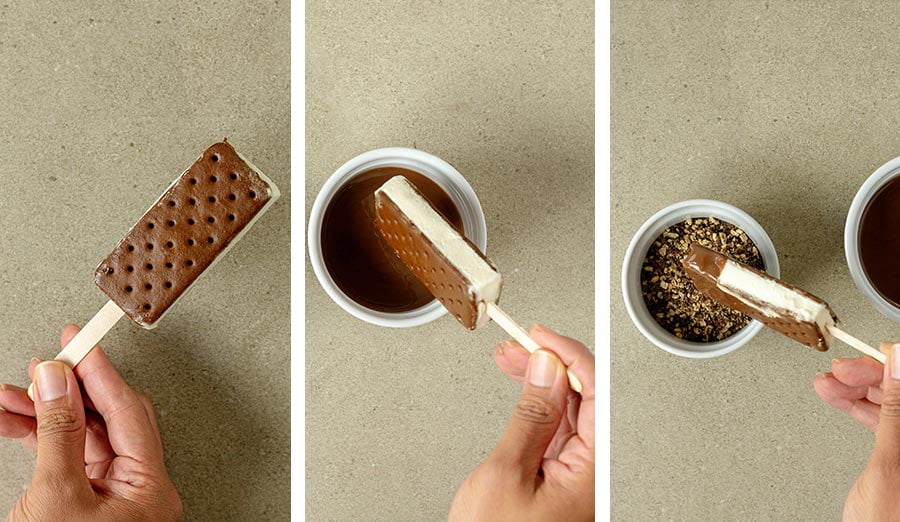 Get the printable recipe: Chocolate & Vanilla Ice Cream Sandwich Pops
Tips
Freezing: Freeze the ice cream sandwiches at least 12–24 hours before you start. This will ensure that the sandwiches are firm, which will make it easier to insert the Popsicle stick.
Candy sticking: If the toppings do not stick to the Magic Shell Topping, let the ice cream sandwich pops set up in the freezer for a few seconds and try again. The shell topping needs to be slightly set for the toppings to stick.