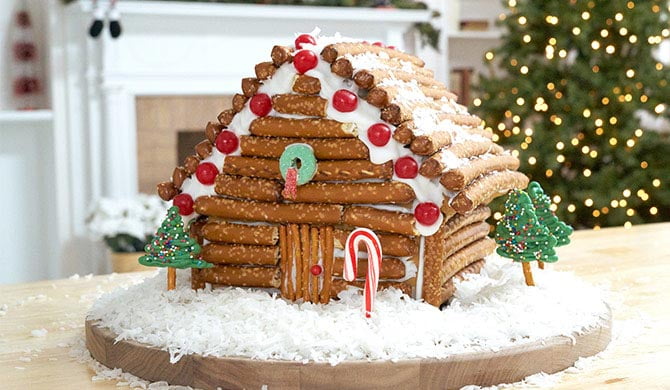 Get the step-by-step instructions for how to create a snowy and rustic log cabin gingerbread house using a gingerbread house kit as the base. This food craft is a great gingerbread hack, and takes a lot less time than making a gingerbread house from scratch.
What you'll need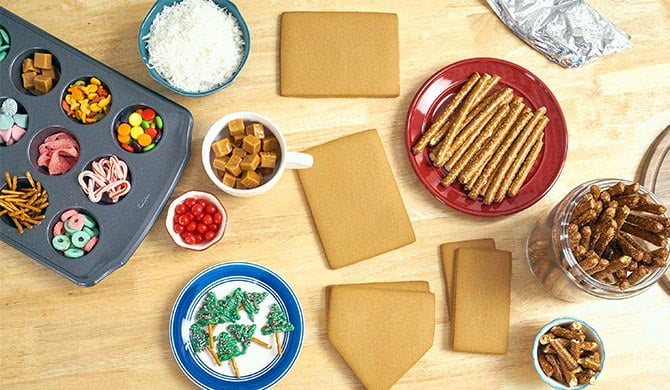 1 gingerbread house kit (unassembled)
1 pouch white ready-to-use decorator icing
12 oz package pretzel rods
Pretzel sticks (small package – snack size is fine)
7 oz package flaked coconut
Round tray or cutting board to hold (and move) the completed house
Assorted decorations
Cherry sour balls
Sour gummy circles
Green chocolate trees (see tutorial below)
Pretzel sticks (small package)
4 oz white chocolate
3 to 4 drops green food coloring
Rainbow nonpareils
Plastic freezer bag or pastry bag
Parchment paper
Instructions
Step 1. Lay out all of the pre-baked panels from your kit. Use a muffin tin to organize your decorating supplies and keep them in easy reach.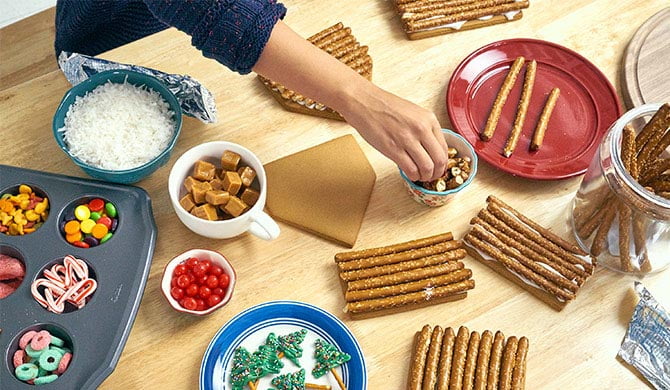 Step 2. Keeping house panels flat and unassembled, cover each with the icing prepared from the kit and lay down pretzel rod "logs." Trim pretzels to match size of house panels before setting into the icing, and use the smaller pretzel sticks to create details like a door or even windows.
Let the panels set for 1 to 2 hours.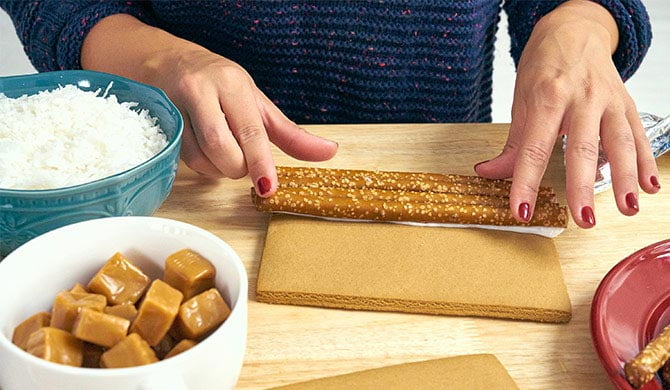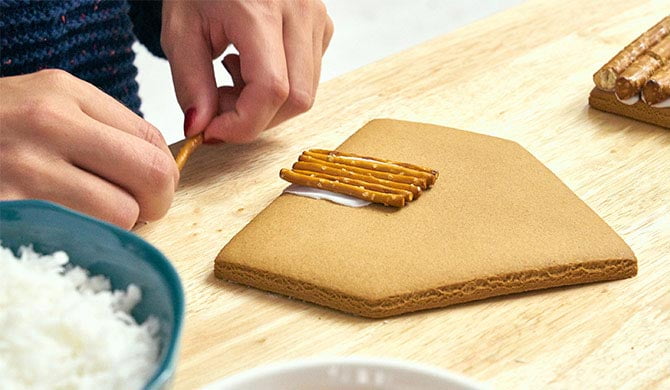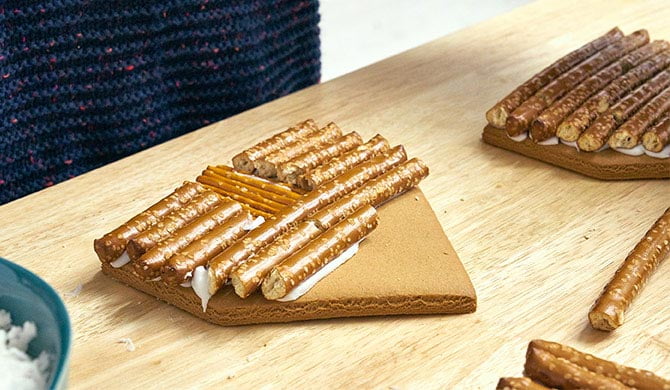 Step 3. Use the remainder of your icing to put walls together and build the house. (Note: use the extra pouch of icing you purchased if you need to.)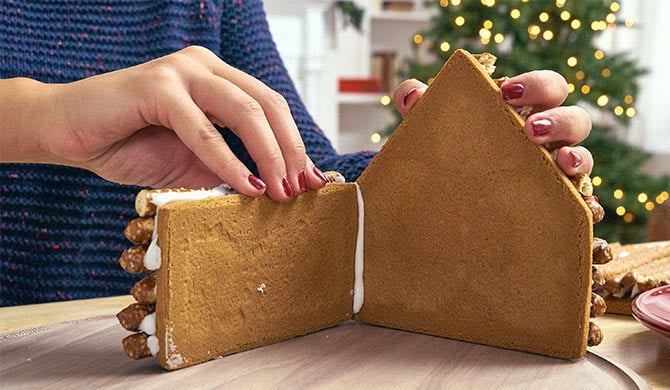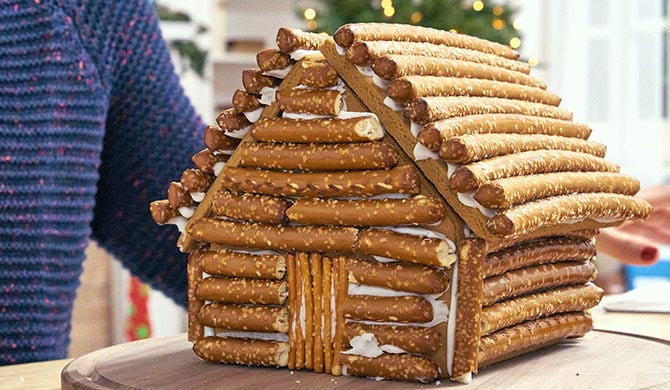 Step 4. Now it's time to decorate the house. Add a candy doorknob and a gummy candy "wreath" above the front of the house, using icing to adhere them.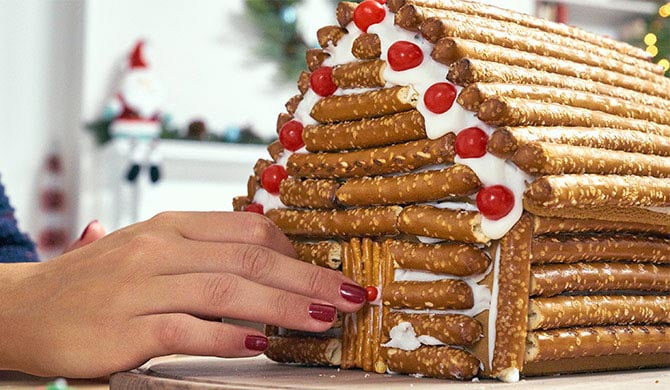 Step 5. Add a thick line of icing along the gutters to make a great anchor for sour cherry "Christmas lights."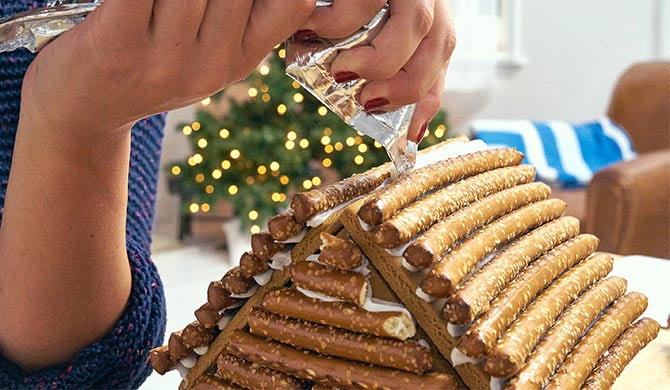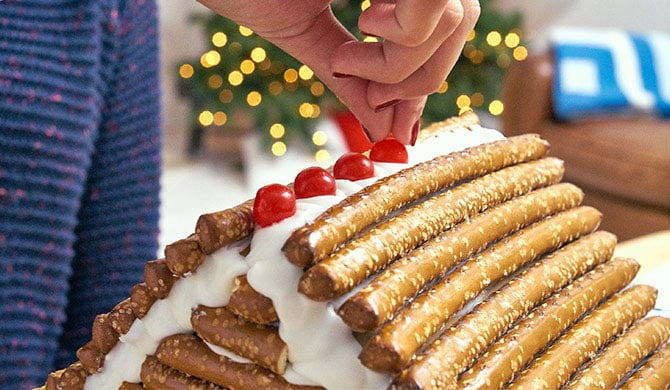 Step 6. Use any other candy decorations you like to make your snowy log cabin feel like home sweet home.
Step 7. Complete your wintry scene with festive green chocolate pretzel trees (see tutorial below) and then sprinkle flaked coconut "snow" on the roof and yard of the cabin.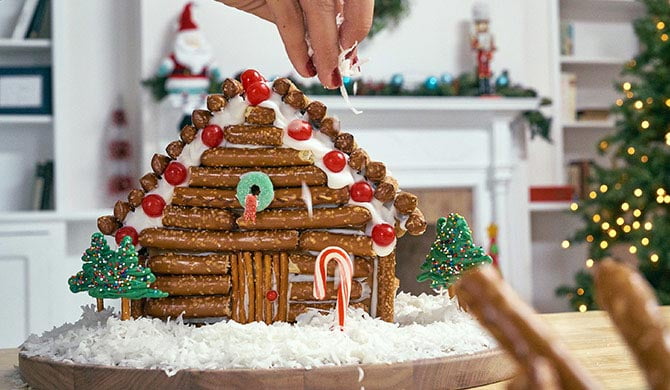 How to make green chocolate pretzel trees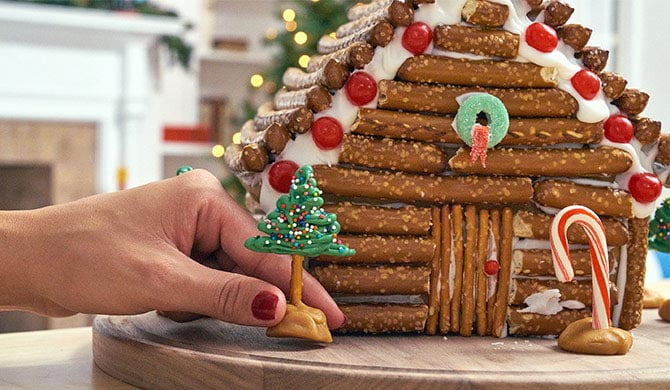 Step 1.  Melt white chocolate in a bowl using the microwave, adding 3–4 drops of green food coloring. Mix until smooth.
Step 2. Let melted green chocolate cool a couple of minutes, then fill a freezer bag with it. Snip off a small corner. Pipe a line of chocolate onto the paper and lay pretzel on top. Next pipe tree-like shapes on top of pretzel in a tight zig-zag. Sprinkle with small rainbow nonpareils (to mimic colored lights), sprinkles or sanding sugar. Allow to cool.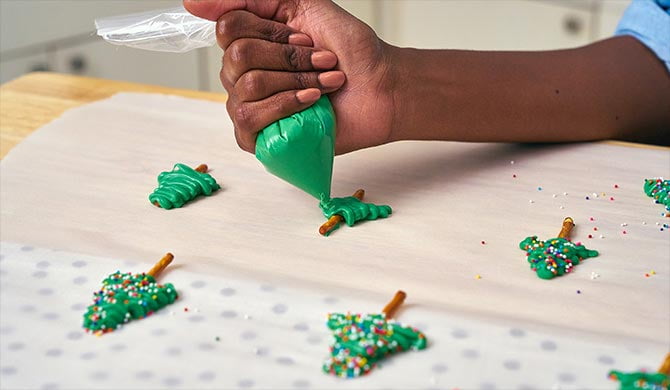 Step 3. For the log cabin, attach soft caramels to the base of the trees in order for trees to stand outside the log cabin.