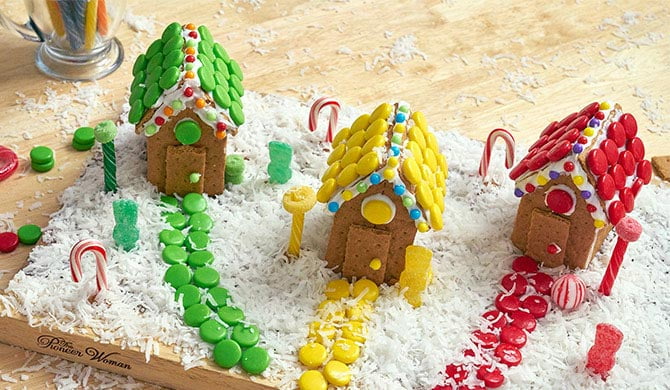 Get the step-by-step instructions for how to create colorful holiday cottages using graham crackers (instead of gingerbread) and a rainbow of candy decorations. This food craft is a great alternative to gingerbread house kits, and just as easy.
What you'll need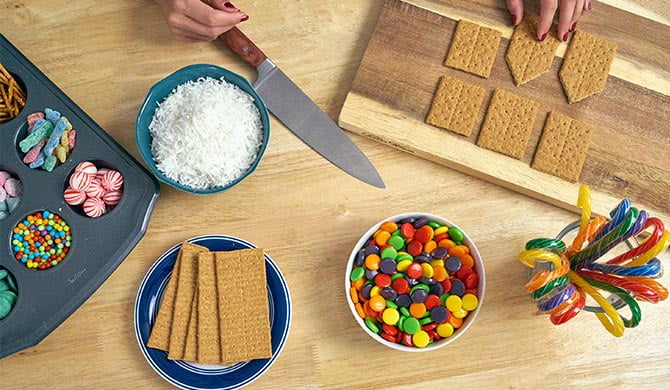 1 box graham crackers (you will need 5 to 6 whole crackers per house)
Paper plate or piece of cardboard work surface to hold the finished project
Serrated knife
Disposable icing piping bag
Assorted candies and flaked coconut (for snow)
Royal icing (see recipe below)
Assorted decorations
Flaked coconut
Rainbow candy such as Spree, M&M's, or Skittles
Colored candy canes
Sour gummies in assorted colors
Royal icing recipe
2 egg whites
3 cups confectioner's sugar
1/4 teaspoon cream of tartar
To make royal icing. Start by whipping the egg whites until frothy. Add the confectioner's sugar and cream of tartar, continuing to whip until volume increases and icing forms stiff peaks—about 7 to 9 minutes. When finished, fill piping bag with the icing.
Instructions
Step 1. Prepare the 6 basic pieces of your house, starting with 5 whole graham crackers.
Shape A. Cut 2. Shape A is the pointy piece, used for the front and back of the house: use a serrated knife to cut the corners off two crackers.
Shape B. Cut 2. Shape B is the longer piece, used for the sides of the house: cut one graham cracker in half crosswise.
Shape C. Cut 2. Shape C is the shorter piece, used for the roof: cut the bottom 1/4 off two crackers.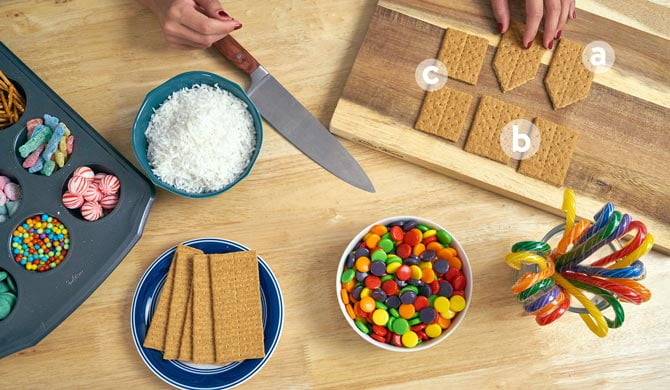 Step 2. Start assembling your house by piping a line of icing along the side of one Shape A (pointy) piece. Adhere a Shape B (long) piece to it, while placing on your plate or other work surface. You can also use a line of icing to hold the bottom of your house in place.
Step 3. Repeat with other Shape A and Shape B pieces, so all four walls are standing. Allow the icing to set for a few minutes.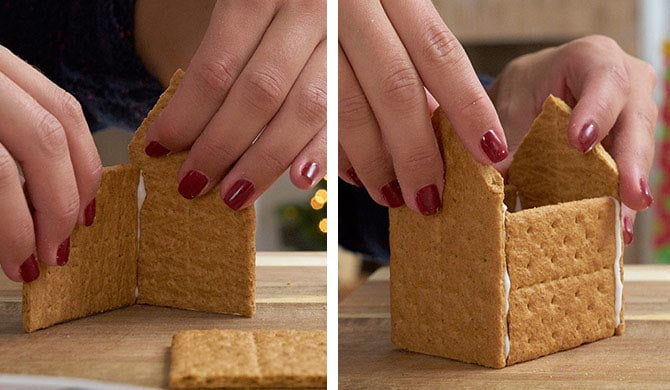 Step 4. Give your house a roof. Run a length of icing along the peak of Shape A (pointy) walls, and gently place the two Shape C (short) pieces on top. Pipe another line of icing along the peak of the roof for added strength and stability. You can stick on a quarter of one more whole cracker (trimmed to size) and create a door, or make one with candy later when you decorate the house.
Allow icing to set for at least 30 to 60 minutes before decorating.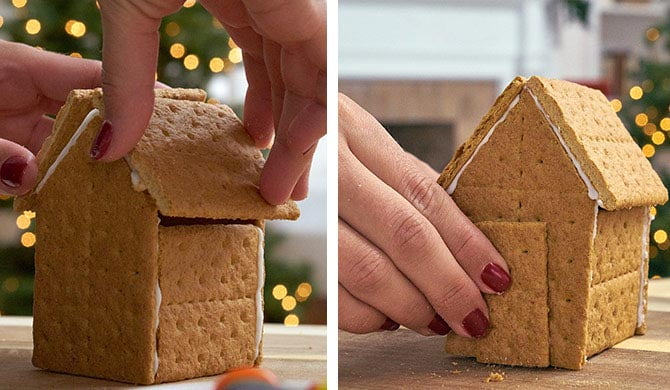 Step 5. Adhere candy pieces to house with icing. Be as creative as you like! Three houses decorated in their own color scheme make for a fun holiday "village."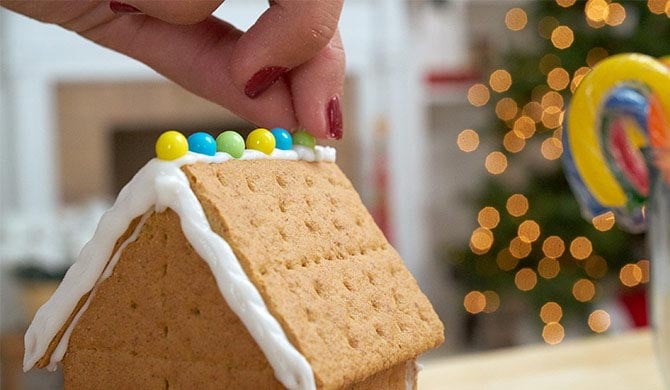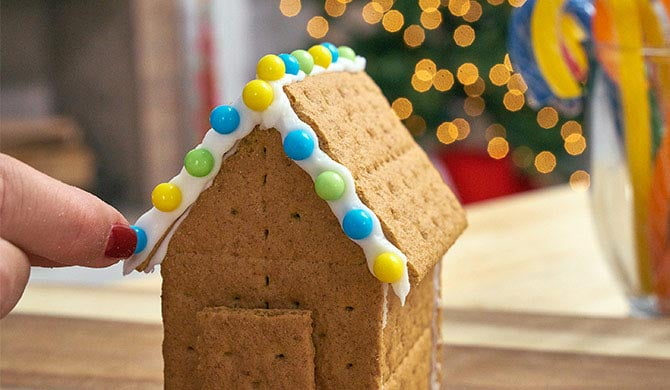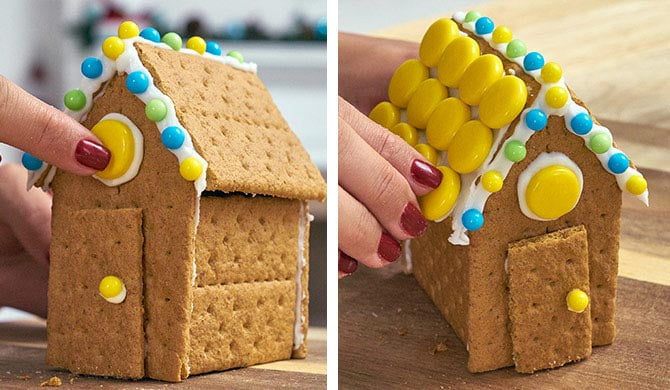 Step 6. And don't forget to add coconut flakes for a spectacular, snowy finish.