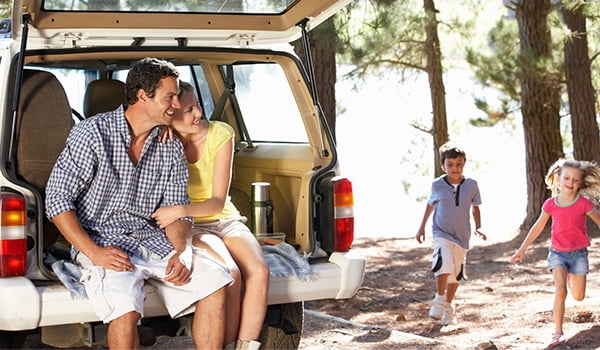 You count on your car for day trips, sports practice, errands, picnics and more. So when the weather warms up and your schedule moves into high gear, it's no time to deal with vehicle breakdowns.
Heat and sun can affect vehicle performance as well as the interior and exterior finishes of your car. Following a few simple vehicle-maintenance tips can help ensure safety and fun in the sun.
Nuts and bolts of performance issues
While you probably won't notice a difference in your vehicle's performance when it's contending with warm weather, you'll want to stay on the lookout for the following potential hazards:
Fluid levels within the transmission or cooling system can become depleted or break down from overheating.
Heat pressure can cause belts, hoses and clamps to burst or snap.
Heat can cause exterior paint to fade, and the upholstery and interior features to crack and wear.
These problems can increase your vehicle's risk of accidents and breakdowns, generating unnecessarily high repair bills.
Regular maintenance tips
To help your vehicle go the distance even in hot weather, be sure to perform the following maintenance regularly:
Rotate and check tires every 6,000 miles. If your vehicle has sensors that warn you about tire pressure, take care of this immediately as tires affect vehicle performance and safety.
Change the oil every 3,000–5,000 miles. Oil provides excellent lubrication for the vehicle so it can more effectively handle heat, humidity and pressure in stop-and-go traffic or longer distances.
Get the air conditioner — including Freon levels and the electronic cooling fan motor — checked out to keep you comfortable when heat levels are high.
Have the wiper blades checked and replaced regularly. Just because weather is warm doesn't mean the months will be rain-free.
Be sure to keep a written record of all maintenance so you know what's been done and what will be coming up.
Preventative maintenance will enhance gas mileage, which can save you money since fuel costs tend to rise considerably during warmer months.
Interior and exterior car care
Keeping your vehicle in tip-top shape is important. Here are some quick, cost-effective tips for keeping your car clean and family-friendly.
Put the kids to work washing and waxing the car regularly with various exterior car-care products.
Check under the vehicle for any excess mud and road grime that may build up and cause damage to your car's exterior.
Wipe down the interior and use conditioning products on leather seats.
Use car-seat covers to extend their life and protect them from sticky food and drinks.
Clear out that junk in your trunk to make room for warm-weather gear, extra bottles of water, a complete first-aid kit and an auto-repair kit.
Revved and ready
Now that your car is safe and looks great, why not hit the road? Consider one of these family-friendly activities to make the most of the warm weather.
Grab some goodies for a healthy and tasty picnic at the park.
Pack up the sand toys, SPF lotion and towels and hit the beach.
Plan educational day trips to museums while the kids are on break.
Whatever you do, put safety and reliability first with regular warm-weather car maintenance to protect yourself and your family.