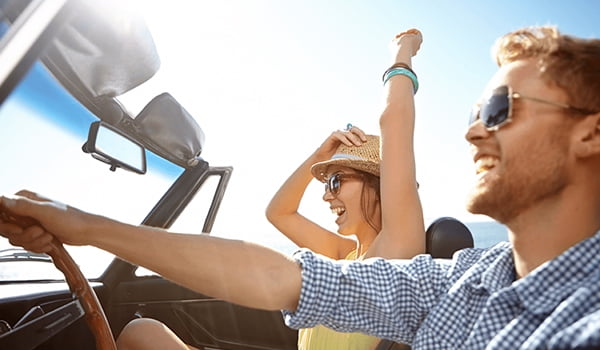 Follow this checklist to be sure your car is prepped and ready to get your family safely on the road for summer's small trips and big adventures.
Heading down the highway
Ensure a smooth, safe driving experience by preparing ahead of time for extended stretches on the road.
Don't wait until the last minute to get your car checked out. Schedule an auto maintenance appointmentف to 2 weeks prior to your departure that includes a complete overview of the vehicle. Make sure brakes, battery, oil and fluid levels, belts and hoses, wiper blades, lights and tire pressure are in proper order. Immediately fix any leaks, cracks or pressure issues.
Get the cooling system checked and flushed, if necessary, so that the air conditioning can perform up to expectations.
Pack a spare tire or purchase a new one to keep on board. Don't rely on a doughnut tire, which may only last 50 miles at a low speed.
Put together a road map with a basic plan of how much ground you will cover. Book overnight accommodations in advance and be aware of nearby attractions.
Pack kids entertainment including maps, travel games, CDs and DVDs to avoid the "Are we there yet?" blues. Don't forget plenty of snacks and water.
Bring along a GPS for easy navigation. It will give you the confidence to take side trips, upping the adventure factor.
Tailgating at the big game
Tailgate party season is in high gear during the summer and early fall months. Since a tailgate party takes place in and around the car, consider these suggestions for getting it ready for the celebration.
Wash and wax the exterior so your car shines as a beacon for party-goers.
Empty out the inside to maximize space for the party essentials.
Attach team flags to your car's windows and use washable paint to decorate the vehicle.
Install an entertainment system, such as a portable DVD console or upgraded CD player, to play music or videos of the team's highlights. This will pump up the team spirit.
Pack folding camp chairs, blankets, ice coolers on wheels, trash bags, portable barbecues and all the fixings, including snacks, food and beverages.
Take jumper cables if you use the car battery to power appliances. Also, consider a small generator that can be plugged into your vehicle to run a mini-fridge, a space heater for chilly evenings or cooking equipment.
Don't forget some other "wish you had thought of" items, such as a tool kit, a first-aid kit for unexpected mishaps, and rolls of toilet paper and hand sanitizer to help your family cope with portable restroom facilities.
Cruising to the beach
Get the most out of your trip to the beach by following these tips for cool cruising through the salty sea air.
Use a protective wax product on your car to protect its finish from sun, sand, salt and potential rust.
Clean the underside of the car and the hood before and after a trip to the beach to remove any salt and grime that has built up. If left untouched, these contaminants can cause problems with your car's electrical connections and brake lines.
Since your car may have to sit in the direct sun while you enjoy the beach, be sure to wipe down the interior with a UV protector to keep the surfaces safe from the sun's harsh rays. Add a UV-blocking gloss to your tires to help prolong their inflation pressure.
Buy rubber mats for the driver and passenger floor areas to catch the sand that always manages to creep into the car.
Empty the car of unneeded items before you leave to make room for all your family's beach toys and tools. Umbrellas, towels, sand toys, Frisbees and footballs, surfboards and boogie boards, bottles of sunscreen, and coolers full of bottled water and snacks will give you plenty of activities to enjoy together on the sand.
With your vehicle set and ready to go, it's time to hit the road for family fun.