Skip Header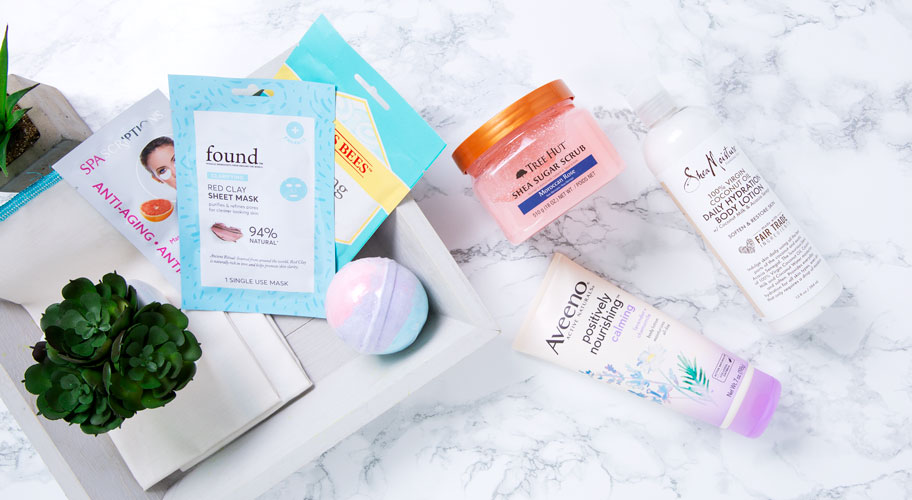 Make your me-time count
No matter how much (or how little) time you have, you can always slip in some self-care. How? Already-made-for-you masks, bath time delights & overnight treatments that work while you sleep.
​"
Self-care at home: DIY spa day
Treat your skin, hair and body to a spa day without leaving your house by shopping our health and beauty products, all of which are offered at Every Day Low Prices. Whether you have 10 minutes or 10 hours to pamper yourself, you'll find something for every schedule, budget and lifestyle. Use these products as part of a self-care afternoon or as quick pick-me-ups when you have some spare time to relax.
Take a bath: Melt away the stress of a long day with a relaxing bath. Baths can improve your mood, ease muscle pain, sooth your skin, improve your sleeping habits and offer numerous other mental and physical health benefits. There's a wide variety of products that help you turn bath time into the ultimate self-care ritual. Start with a bath bomb to fill the room with a pleasing scent and the water with healthy essential oils that provide benefits ranging from reduced stress to moisturized skin. If you've been on your feet all day or overdid it at the gym, opt for some Epsom salts (or a product containing the salts) for a soak that helps soothe aching muscles and joints. While you're in the tub, lather up with a body scrub that removes dead, dry skin and leaves you with an unbeatable glow after dissolving into your bathwater.
Treat your face: Skincare might already be an important part of your daily routine, but going the extra mile can help your skin transform from regular to radiant, especially when it comes to your face. Cleaning, exfoliating and moisturizing are essential for reducing the signs of aging, keeping pores unclogged, preventing breakouts and making sure you make an excellent first impression. We offer a vast selection of cleansers, scrubs and moisturizers from your favorite brands. That includes several products you can leave on overnight on those days you don't have time to wait. Choose products based on your particular skincare concern, such as acne or signs of aging. Or, select based on your skin type, whether that's oily, dry, sensitive or combination.
Beyond your daily routine, consider using a mask a few times a week for a DIY in-home facial. If you're short on time, a quick sheet mask can reduce inflammation and puffiness while adding a youthful dewy glow to your face. These masks are made of fibers or fabric-type sheets soaked in serums that help you target specific skin issues like wrinkles or dullness. Most are single-use. Again, choose one for your skin type if you're prone to dry, oily or sensitive skin. Clay and mud masks are ideal for cleaning out clogged pores. These typically come in tubs for multiple uses, and you can apply them with a brush or your fingertips.
Love your skin: Your face isn't the only part of your body where the skin deserves some self-care. From your neck to your toes, a little regular pampering can reduce the signs of aging and leave you feeling refreshed. Use a body scrub two to three times a week to remove dead skin, and follow it up with a lotion or moisturizer, especially during the dry winter months when humidity is low and skin is parched. Avoid products with scents and dyes if you have sensitive skin. If you need a little boost in the sleep department at night, try a lavender-scented lotion or moisturizer for a peaceful, calming effect.
Care for your hair: You may not have time to hit the salon every time your hair looks dull or feels unruly, but regular home spa treatments only take a few minutes. Start by using the right shampoo and conditioner when you wash, and elevate your hair game by throwing a mask into the mix at least once a week. Think of the hair mask as an intense version of your favorite conditioner. Use it in place of your normal conditioner when your hair feels weak or damaged, and you should see some results like improved strength and softness instantly. Just like your skin, hair tends to be dryer and require more attention during the cold winter months. If you spend time swimming or in the sun during the summer, this can also lead to damage. Of course, hair dyes, blow dryers, straightening irons and other products can also lead to damaged hair, so you may need to use your hair mask more frequently if you fall into any of these categories. Finally, treat your hair with products that protect you from the elements, such as those that contain heat protection or SPF to protect your color.
"
Electrode, App-category-app, Comp-889282810, DC-prod-az-westus-15, ENV-prod-a, PROF-PROD, VER-9.28.0, SHA-05ac263637365594a46cbeabb51f69c10a4d9255, CID-