Skip Header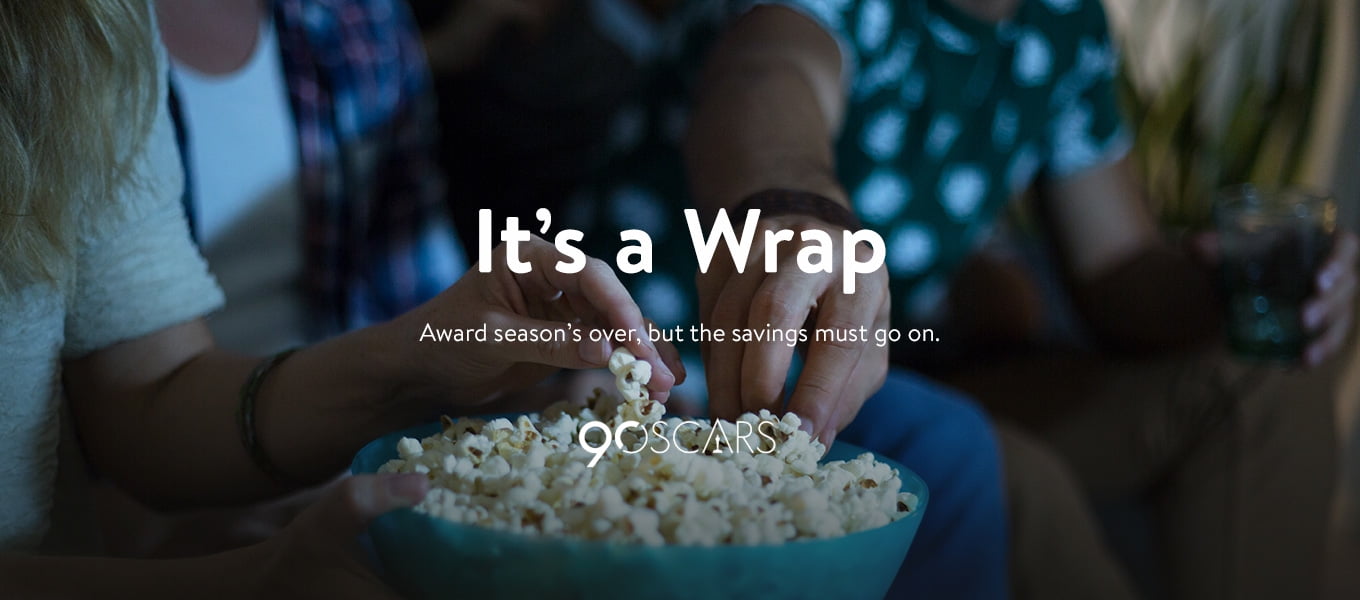 "
The Oscars
Each year, the Academy of Motion Pictures Arts and Sciences hosts the Academy Awards, also known as the Oscars, and awards top movies, actors, directors and other film industry professionals for their excellence. As soon as these films are available digitally or on disc, you can have immediate access to them outside of the theater. Here's how.
Watch Academy Award-winning films on Vudu
Vudu is our platform for watching Oscar-winning movies digitally so that you can access the films anytime and anywhere you have an Internet connection. Watch at home on your computer or laptop or when you're out and about on your Android or iOS device. Vudu movies also stream on many other devices including smart TVs, connected Blu-ray players, streaming devices like Roku and Chromecast, game consoles such as Xbox and PlayStation, and almost all other living room platforms.
You don't need a subscription or contract to watch movies on Vudu. Instead, sign up for a free account, find the movie you want and choose to rent or own. You can browse the selections or use the search bar to find the exact movie you're looking for, such as 2019's Oscar Best Picture winner Green Book (PG-13), a dramatic yet comedic look at race relations in the 1960s South through two unlikely friends, an Italian-American bouncer and a refined African-American concert pianist.
How to watch a movie on Vudu
You can watch almost all of the Oscar-winning movies that have won Best Picture on Vudu since the Academy Awards' inception in 1928/1929 when Wings, a drama about two WWI fighter pilots falling in love with the same woman, won the award. When you get to the movie you want to watch, you'll see your viewing options:
Rent –The cost of the rental will show, and you'll have access to the movie for 24 hours .

Own – Choose this option for unlimited viewing of your movie. The movies you've purchased will be accessible from your My Vudu library on the Vudu website or app to watch any time.

Disc + Digital – This gives you a hard copy of your movie in DVD format sent to your home, and you also have access to it digitally through Vudu.
Helps to decide which movie to watch
To help you make a decision on which movie you want to watch, the landing page for each film has most or all of these resources:

Watch the trailer and read the brief synopsis to get a good idea of what the movie is about.


Check the MPAA (Motion Picture Association of America) rating to determine if it's appropriate for those who'll be watching.


Note the genre, such as drama, action, romance, comedy and so on to see if it matches your interests.


Read the reviews written by several professional movie critics to get their opinions.


Scan the cast and crew list to see if your favorite actors or directors are involved in the movie.
If you choose to own a movie, you often get access to bonus features such as deleted scenes and commentary. For greater savings, choose Bundle & Save movies, which are two or more related movies in one package. Many movies can be viewed on Vudu in Closed Caption.
Own Oscar-winning movies on DVD
Along with buying your movies on DVD through Vudu's Disc + Digital option, you can browse our website or shop in-store. Buying through the website lets you put multiple DVDs in your cart and pay with one click. Orders $35 or more may be shipped to you for free, and some movies will be eligible for same-day pickup at a Walmart near you.
When you shop in-store and buy a DVD, you can add your movie to your Vudu collection with our Disc to Digital feature. Using the Vudu app, scan the UPC code on the DVD box after you've purchased it, and your movie will be instantly available digitally.
Read the books that inspired the movies
Either before or after you watch an Oscar-winning or Oscar-nominated movie, reading the book that inspired it can give you a different perspective on the plot or characters as well as details that couldn't be added to the movie. A few examples of Best Picture winners that are in book form include:
2018 -The Shape of Water by Guillermo Del Toro

1991 -Dances With Wolves by Michael Blake

1969 -Oliver!, an adaptation of Oliver Twist by Charles Dickens

1965 -My Fair Lady, an adaptation of Pygmalion by Alan Jay Lerner
Which Best Picture Oscar winner to watch next
Nearly 100 films have been awarded the Oscar for Best Picture so far and hundreds of others have received additional Oscar awards such as Best Actor in a Leading Role and Best Animated Feature. Here are a few examples Best Picture Oscar winners to help you decide which ones you'd like to put on your watch list.
Musicals: 2003 -Chicago ( PG-13), 1966 -The Sound of Music (G), 1962 -West Side Story (NR ), 1937 -The Great Ziegfeld(NR), 1929/1930 -The Broadway Melody (NR)
Family-friendly: 1969 -Oliver! (G), 1957 -Around the World in 80 Days (G), 1990 -Driving Miss Daisy (PG), 1982 -Chariots of Fire (PG), 1977 -Rocky (PG)
Westerns: 2008 -No Country for Old Men (R), 1993 -Unforgiven (R), 1991 -Dances With Wolves (PG-13), 1931/1932 -Cimarron (NR)

Biography: 2011 -The King's Speech (R), 1996 -Braveheart (R), 1988 -The Last Emperor (PG-13), 1985 -Amadeus (R), 1983 -Gandhi (PG)

Comedy: 2015 -Birdman (R), 2012 -The Artist (PG-13), 1999 -Shakespeare in Love (R), 1974 -The Sting (PG), 1974 -The Sting (NR)

History or war: 2014 -12 Years a Slave (R), 2010 -The Hurt Locker (R), 1994 -Schindler's List (R), 1971 -Patton (PG), 1960 -Ben-Hur (G)
Electrode, App-category-app, Comp-afb84e81-6d66-4732-93ea-5f76317bbbb0, DC-wus-prod-a17, ENV-prod-a, PROF-PROD, VER-9.39.0, SHA-e47dc5c972d3302f34b6ef6b3de0d9316682f564, CID-