Skip Header
Classic neutral
Timeless pieces & soft hues to suit any style or gender.
See more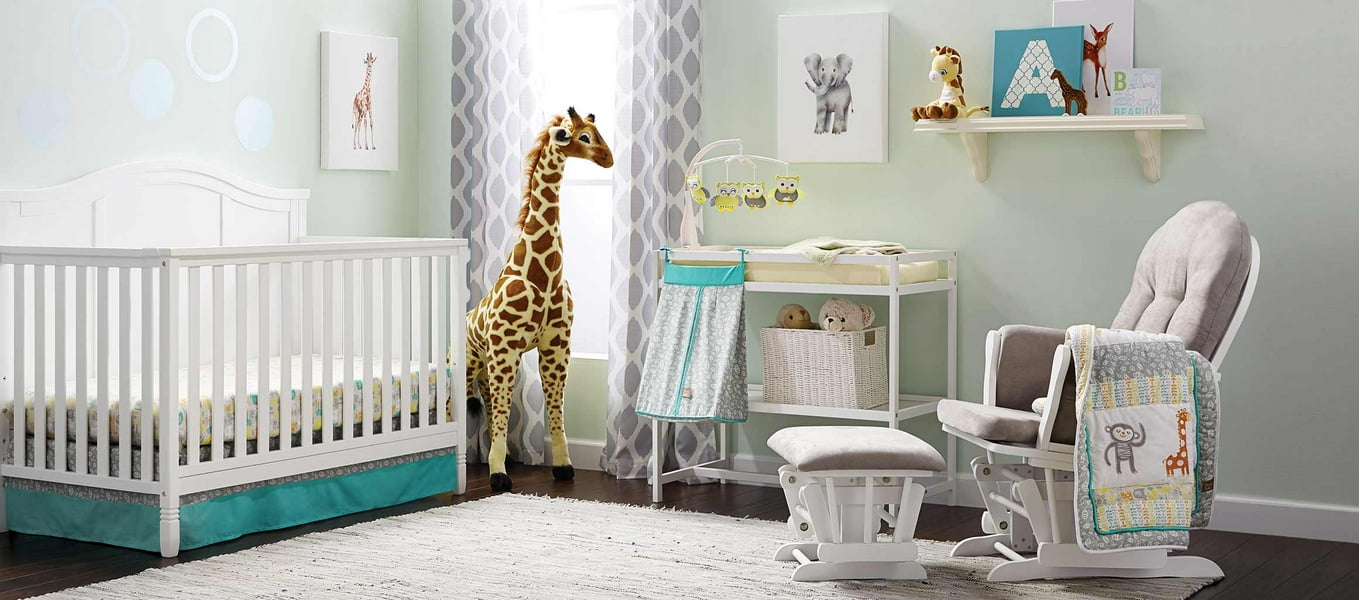 Neutral decorating ideas for your baby's nursery
Sometimes the most peaceful and soothing nursery is one decorated with neutral colors and themes. Whether your baby's gender is a surprise or you know it, classic neutrals help you get your little one's room ready in a way that's calming, comforting, and beautiful. A neutral nursery is one that can grow with your child as their interests begin to develop and you introduce decor and themes in different colors. Best of all, neutral colors help the room transform into a peaceful, tranquil space where you can bond with your baby. Here's what to think about as you shop for neutral nursery decor.
Why go neutral?
Are you planning to be surprised about your baby's gender? Opting for neutral tones in accents like bedding, curtains, and other decor ensures the space is comfortable and appropriate for a boy or a girl. Perhaps you want to extend the life of your nursery furniture so you can use it for more than one child. Or maybe you just prefer the tranquility that comes from a neutral color palette. These are all great reasons to go neutral.
Generally, neutral nurseries are practical. Choosing a neutral wall color instead of something bright means you likely won't need to repaint the room in a few years. Neutral furniture also has the potential to grow with your child. If you select a white or gray dresser, for example, it'll be something your child can use in their room well into their teenage years.
Choosing a color
Neutral nurseries are all about neutral colors like white, gray, and beige, so it makes sense to pick a color palette as you begin. Neutral nurseries often have a monochromatic look, meaning the decor is in light and dark shades of the same color. You might also go for muted pastels. Or, you could start with a foundation of white by purchasing the bigger furniture items in a glossy white color. Then, add fabrics that bring in additional elements of color. With a neutral base, it's easy to add pops of color here and there.
Choosing a theme
Themed nurseries are fun and simplify the process of decorating the room. If an item fits your theme, there's a great chance it'll look wonderful in the space. You could focus on an animal theme for your little one's room with a safari, barnyard, or woodland twist. Or, build a nursery around a favorite children's story book or a movie you enjoyed when you were young. Even if some of the pieces are colorful, again, neutral tones make for an inviting backdrop where anything you choose stands out and looks great.
Using patterns
Even with a neutral color palette, there are ways to add a pop of color to your nursery decor. Try a bold area rug with a chevron pattern or curtains with a pretty neutral plaid design. Muted patterns on wallpaper can also be a fun and easy way to add interest to a calm color palette. A white crib with neutral bedding might become satisfyingly interesting when you add a crib skirt with a single bright stripe. Pick up the same color from the stripe in an abstract wall hanging over the crib. You can also add pleasant patterns with the crib sheets and bedding you choose. Don't forget how easy it is to add patterns to your decor with a throw draped over the rocking chair and a matching pillow for comfort.
Adding embellishments
Once you have a plan for decorating the nursery and you've anchored it with a few big items such as the crib and a changing table, it's time to embellish to add some personality. This is where your personality begins to shine through, so have some fun injecting charm and whimsy. The crib mobile doesn't have to be flashy and colorful. Instead, choose one with a distinctly modern and neutral flair. A rocking chair and ottoman upholstered in a neutral fabric are essential for late-night feedings. Window coverings, area rugs, throws, lighting, and toys are a few more ways you can make the nursery a welcoming space. A bookshelf full of stuffed animals, framed prints, children's storybooks, and other assorted toys rounds out the room nicely.
Convenient registry options
As you're exploring your options for a neutral nursery, use our Baby Registry service to make shopping easy for your family and friends. Creating a registry is extra-easy thanks to our intuitive registry-builder tool, and you can even make one on the go with our app.
To create a registry on Walmart.com:
Click on "Baby" in the main navigation bar, and then click on "Baby Registry."
Select the option to start your registry now. If you already have a Walmart account online, log in now. If you don't have one, we'll help you get set up before you open a registry.
Let us guide you through the setup process and have you answer a few questions. You'll be able to choose your preference for nursery styles and let us know you're looking for neutral decor.
Once you've answered some questions, the site provides some ideas for things you can automatically add to your nursery that fit your style.
Share your registry with friends and family by clicking the blue icon at the top of the page.
To set up a registry in our app on your mobile device:
Visit the services menu (on iPhone) or the top left navigation bar (on Android) and click "Baby Registry."
Allow the app to automatically guide you through the setup process.
Press the "Create Registry" button to get product recommendations and start adding essentials to your list.
With your list, you'll be well on your way to getting everything you need to set up your nursery. Add the things you want and need to make the nursery of your dreams, and simplify the shopping experience for loved ones who can't wait to meet your newest family member.
Electrode, App-category-app, Comp-4fe5eea4-cf66-41d0-a93c-43c2a8681c36, DC-scus-prod-a20, ENV-prod-a, PROF-PROD, VER-9.39.0, SHA-e47dc5c972d3302f34b6ef6b3de0d9316682f564, CID-