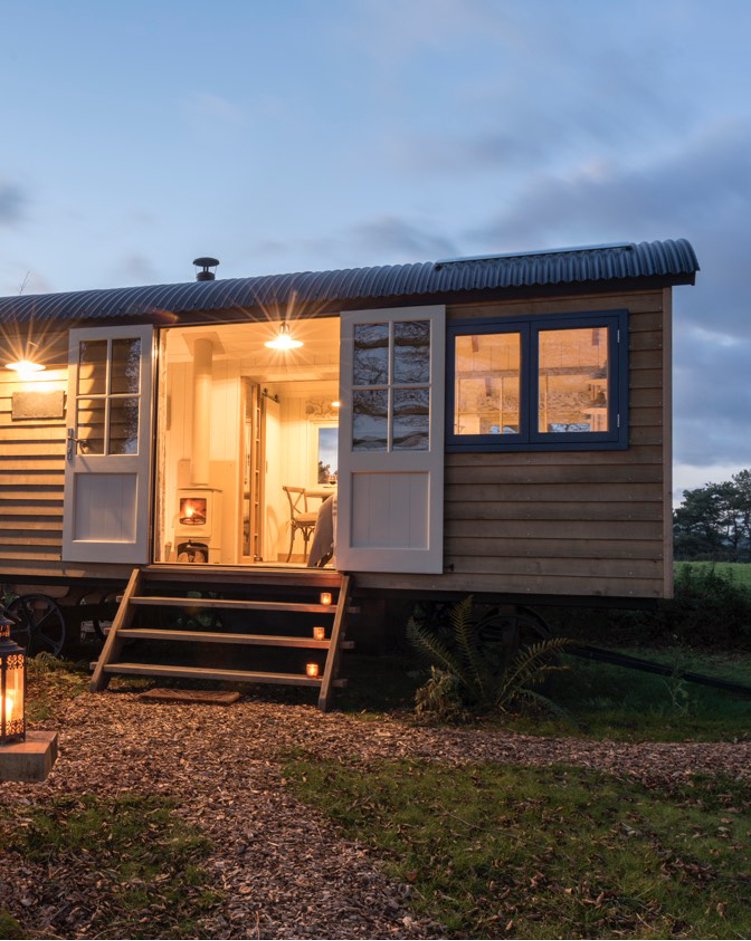 Weekender
This Glamping Destination is a Farmhouse Dream
Weekender
This Glamping Destination is a Farmhouse Dream
I first came across these charming shepherd huts, nestled in the English countryside, while browsing CoolStays. As soon as I saw the quaint farmhouse interiors – with apron sinks and freestanding bathtubs – I was in love. The white-washed walls, warm wood shelving, and the humble simplicity of the structures are romantic, connecting you with the surrounding Dartmoor National Forest. Tour these magical properties and book your stay or learn how to create this look in your own home. With a growing portfolio of over 1,100 handpicked destinations, CoolStays allows you to experience incredible accommodations. Each offers something quirky, noteworthy and/or stylish. From caravans to shepherd huts, teepees, yurts, tents, cabins, luxury tree houses, cave houses and deluxe beach huts to cool conversions of airplanes, boats, windmills and more, you can escape the mass market and stay somewhere extraordinary!
Look Inside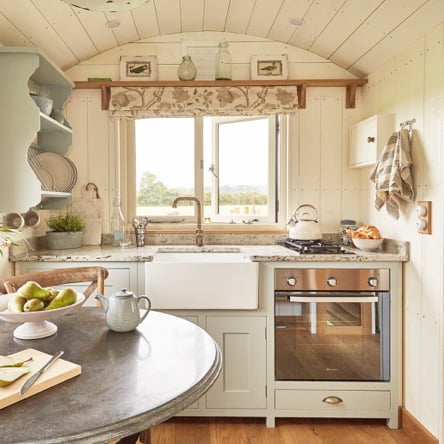 The Kitchen
I cannot get enough of the pale green cabinets and the matching traditional wall shelf. They're the perfect complement to the white-washed planks along the ceiling and walls of this shepherd hut. And that apron sink? It's pure perfection! Centered below the two windows, it allows guests to gaze out at the gorgeous view while tidying up. And can we talk about the warmth of those golden hardwood floors? They're the perfect contrast to the otherwise pastel palette and stainless-steel oven.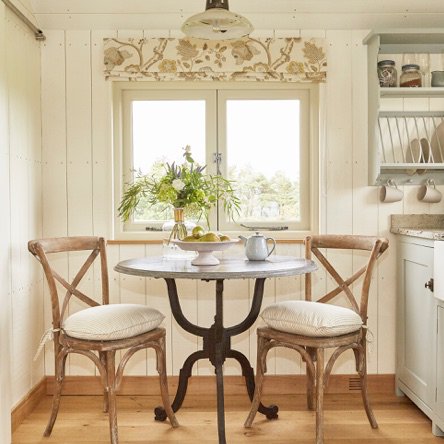 The Breakfast Nook
Tea time, anyone? I am obsessed with this little scene in the kitchen. Imagine sitting at the patina'd table with a glass of warm Earl Grey in your cup. Okay, so I prefer coffee, but when in England. The perfectly-weathered chairs are equipped with oversized cushions for comfort and natural light can stream in from two side-by-side windows. The nature-inspired curtains promise privacy during the evening and a pendant light above is an added light source.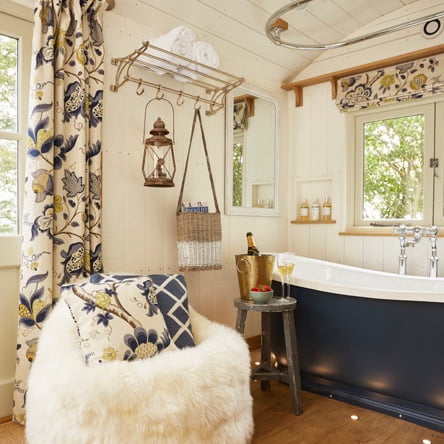 The Bath
This luxurious bathroom puts the GLAM in glamping and has everything you need to relax after a long hike. Imagine sinking down into that faux-fur chair with a favorite book. Better yet, soaking in that tub while sipping champagne from the nearby stool. I also appreciate the character that is added through the window treatments and corresponding throw pillow. Such a warm, cozy space. Sigh.