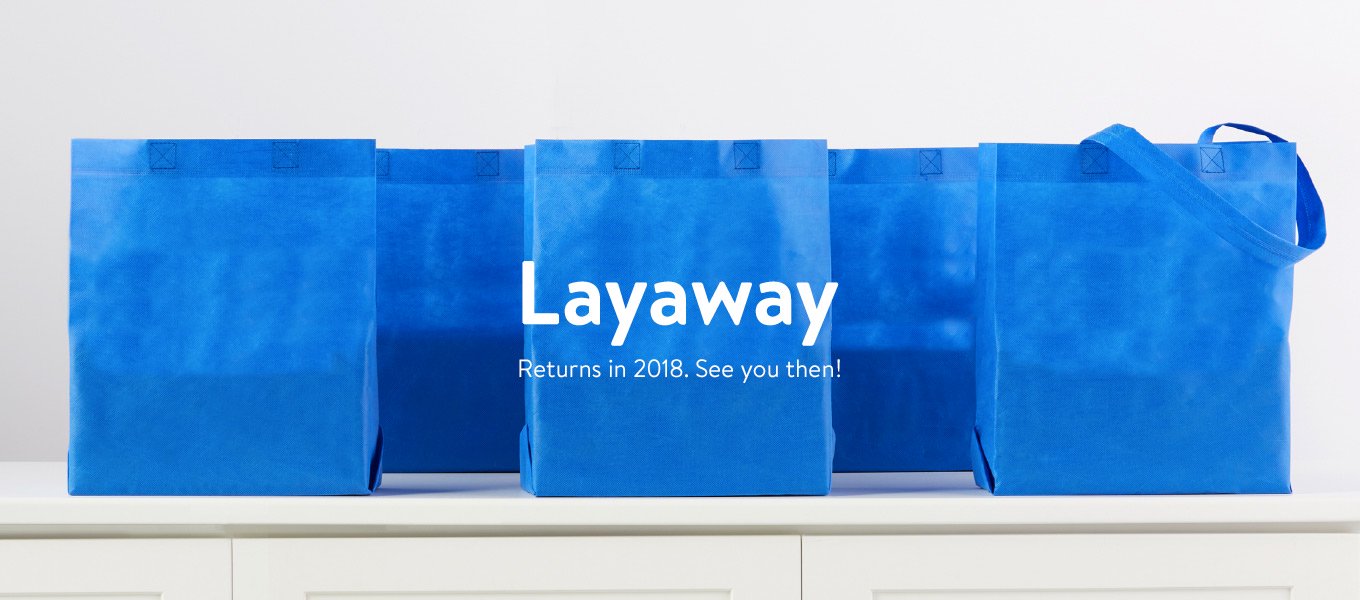 Your guide to Walmart's holiday layaway services
This holiday season, take more time to pay with layaway from early September to mid-December. Walmart is the perfect place to do your Christmas shopping thanks to Every Day Low Prices and a way to take more time to pay for your finds, a comprehensive Gift Guide to browse for gift ideas for everyone on your list, and our savings showcase for a huge selection of Holiday Clearance, Rollbacks and Special Buys.
We make it easier on your wallet to spread out holiday payments over a period of time. You don't have to use credit cards and you don't have to pay interest on your purchases when you use our Layaway plan. Here's your guide to having a happy Walmart holiday.
When Layaway is available
Walmart Layaway is available in stores during the holiday season, but check your local store for the exact days between early September and mid-December. Certain store locations offer the service year round for
jewelry
purchases. Please note that Layaway is not offered for online purchases, only for in-store purchases.
How it works
Opening a layaway plan is simple at Walmart and requires a few steps that you'll need to do while you're in the store. To initiate a layaway, bring the item or "tear pad" ticket for large and heavy items to the Pickup Service Desk in your store. There is no opening fee required for a layaway. All you need to do is make a small down payment of $10, or 10% on a single item, whichever is greater.
You can make payments anytime on your layaway at any register in the store and check with your store about sending you reminder emails about payments.
Read the fine print
Make sure you read the fine print about our layaway services to avoid any unnecessary surprises:
Layaway is not available for online purchases.
Layaway excludes wireless phones that require contracts.
Layaway is not available on Thanksgiving day or Thanksgiving night.
The minimum layaway for an individual item is $10.
The minimum layaway for a group of items must be $50.
A layaway can be cancelled and down payments and other payments will be refunded minus a $10 cancellation fee (cancellation fees do not apply in Ohio, Maryland, Rhode Island or District of Columbia).
What you can lay away
Even though you may wish you could put all items in the store on layaway, sometimes it's not possible. Some items are not practical to put on layaway because they may have a service plan attached, for example. Take advantage of the items you can put on layaway, and there are plenty!
Electronics (without service plans)
Infant furniture
Small appliances
Large furniture
Auto electronics
Select sporting goods
Jewelry
Walmart's Savings Showcase
Be sure to check the online Savings Showcase where there are Clearance, Rollbacks and Special Buys listed all in one place. To get to the savings, you'll find the "All Departments" menu on the left side of the website, so scroll down to find links to "Clearance," "Rollbacks" and "Special Buys" pages.
In addition to our Every Day Low Prices, Walmart has even more opportunities to save money while holiday shopping. Be sure to look for the following signs around the store for Clearances, Rollbacks and Special Buys.
Clearance signs can be found in every corner of every Walmart, so keep your eyes peeled for deals you can place on holiday layaway.
Holiday rollbacks aren't clearance items, but they're items that we've lowered the price on for a set amount of time. You'll find rollbacks listed in Walmart flyers, online and on in-store signage.
Holiday special buys happen at Walmart all the time to offer you low prices throughout the entire season, so you don't have to wait until Black Friday to grab an item that's on your radar.
Walmart's gift guide
We make it easy to select gifts for every occasion with an online gift guide. Simply go to Walmart.com and enter into the search bar "Gift Guide" and you'll be taken right there. You can review items in the comfort of your own home before stepping foot in the store. You'll see suggestions for all kinds of categories that are eligible for layaway, including:
Gifts categorized by price, from under $15 to under $100
Gifts for him and her
Gifts for babies, toddlers, kids
Gifts for decor, tech, gaming and electronics enthusiasts
Gifts for the sports and outdoor enthusiasts
Gifts for DIYers
Gifts for fashionistas
Holiday housewarming gifts
Stretch your dollars and find the gifts you really want to give this holiday season by taking advantage of Walmart's layaway services.