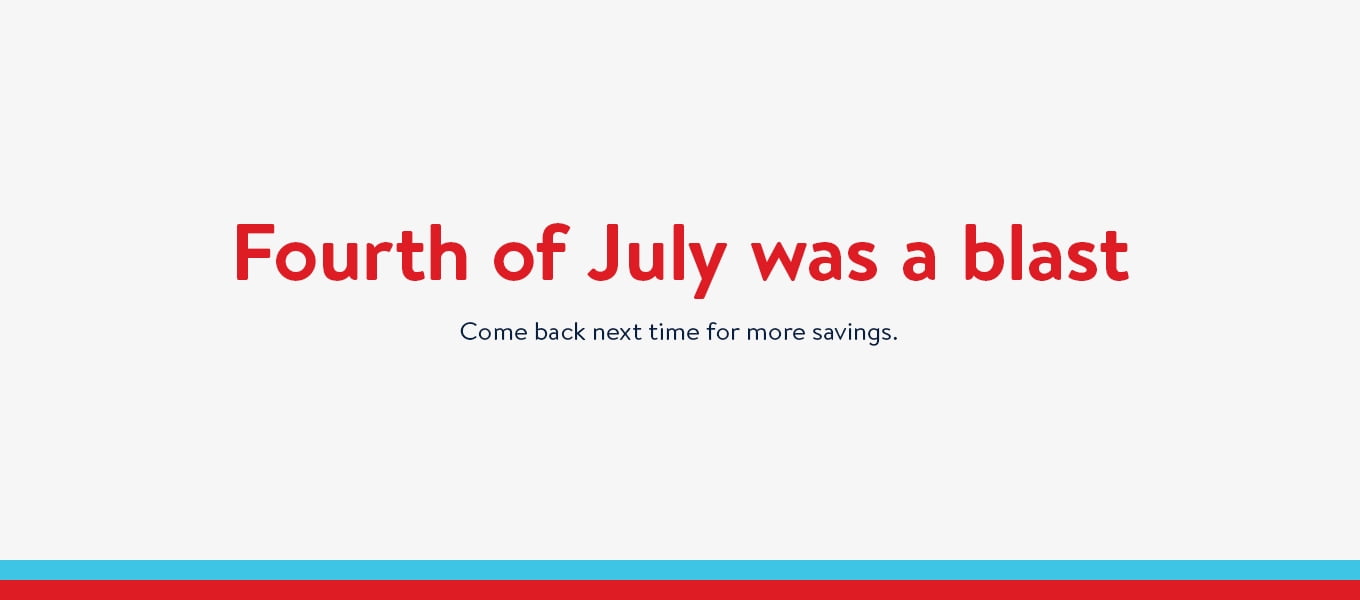 What to find at Walmart's July 4th specials event
Summer will soon be in full swing. At Walmart's July 4th specials event, you'll find savings in all your favorite departments, from groceries to clothing to sports and outdoors, among others.
Walmart has everything you need for your Independence Day celebrations.
Groceries
No Independence Day celebration is complete without food. Stock your fridge and pantry with items from Walmart's grocery department. Shop for some of the most popular July 4th foods for your barbecue including drinks, chips and snacks, dips and spreads, side dishes such as rice and shells and cheese, beans and chili, barbecue sauce, ketchup and other condiments, plus cookies, candies and dessert mixes.
When you feed your family, you have to make choices that can be challenging especially if you're on a budget, short on time, or dealing with special dietary needs. Fortunately, Walmart makes it easy to plan meals and stock up on delicious, nutritious and affordable food.
If you're confused by all the nutritional information that's available and you're not sure what's healthy for you, Walmart's "Great for You" products feature a simple icon that lets you know you're choosing a healthy item from fruits and vegetables, nuts and seeds, and lean meats, to name just a few. It's also easy to find foods that meet special nutritional requirements. Just filter your grocery searches by dietary needs and you'll find products that are gluten free, organic, low sodium, vegan, dairy free, nut free or kosher.
Barbecue
July 4th is a great time to fire up the barbecue. Grab some hot dogs, hamburgers, steaks, chops, corn on the cob and whatever else you like to grill and get ready for a fun food fest. You'll also find Walmart's lowest prices on picnic items including paper plates, napkins, plastic cups and plasticware.
If you need to pick out a grill, look at the charcoal, gas and electric options. If you like that old-fashioned charcoal taste with your hot dogs and hamburgers, a charcoal grill is the best way to go. Gas grills are another option. They can be easier to operate and clean.
If you don't want to use gas or propane, try natural wood pellets. An electric grill can also be a great idea because you can always bring it inside with you if necessary. Whatever grill you decide is best for you and your family, be sure to pick up a cover to protect it from the weather and get a good set of grilling utensils and cookware.
Get outside
In addition to barbecuing, enjoy your July 4th holiday in the great outdoors with camping supplies such as tents, camping chairs, sleeping bags and fishing accessories. Whether you're at home in the backyard or on a camping trip in the mountains, maybe it's time for a new tent. For the latest fishing gear, look for everything from rods and reels to tackle boxes, bait and boats.
Clearance and Rollbacks
When it comes to summer savings, Walmart has you covered. Shop Clearance and find the lowest prices on mattresses and bedroom furniture or browse the Rollbacks on televisions, tablets and smartphones. Those are just a few examples. Value bundles and Special Buys offer savings for the entire family on always-popular items including clothing, video games, toys, baby gear and so much more.
July 4th Specials
Stock up your wardrobe with clothing, shoes and accessories. Summertime is a great time for cool, everyday essentials for the entire family such as shorts, t-shirts, swimwear, sandals plus accessories including hats, sunglasses, sunscreen and more for men, women, boys, girls and toddlers. There's always something for everyone.
Maybe you'll want to make over your home with furniture and home improvement supplies. How about some new patio furniture with a canopy or umbrella or an above-ground swimming pool to help beat the heat?
If you'd like to expand your entertainment collection, check out the latest books, video games, movies and DVDs. There are also great items for the kids in the Baby and Toys departments. And don't forget to shop the extensive selection of Beauty and Personal Care products.
For the July 4th savings and Every Day Low Prices you're seeking, come to Walmart.